At this point last year, Ohio State had a bit of a numbers problem up front.
Because of various departures from the program, some recruiting misses and injuries, Greg Studrawa's unit couldn't entirely fill out first-team and second-team offensive lines with scholarship players during spring practices.
Ultimately, that proved not to matter much, as Rutgers transfer Jonah Jackson and a few incoming freshmen enrolled in the summer to bolster the line.
"We're building that depth to exactly where it should be at Ohio State," Studrawa said last summer.
Jackson proceeded to secure a starting spot alongside Thayer Munford, Wyatt Davis, Josh Myers and Branden Bowen and help the Buckeyes put forth a Joe Moore Award finalist-worthy line.
Gone to the NFL are Jackson and Bowen. But with Munford, Myers and Davis back to potentially play with two former five-star prospects – Harry Miller and Nicholas Petit-Frere – as first-year starters, Ohio State has a legitimate shot to once again be viewed as having the nation's best offensive line. 
And this year, there are no questions about depth. None at all. It's quite the opposite, in fact.
The Buckeyes have a remarkably well-rounded offensive line. At the forefront are three returning starters, including a first-team All-American in Davis. Petit-Frere and Miller have the inside track to start at right tackle and left guard, respectively. Paris Johnson, the nation's top incoming freshman offensive tackle, and Matthew Jones, a rising third-year interior lineman once ranked as the best center prospect in his class, could push them for the starting jobs. Fifth-year senior Gavin Cupp will bolster the guard depth, as well.
Behind all of them is a bevy of young, inexperienced, developmental prospects who litter the bottom of the depth chart, both offering the team depth in the short-term and allowing Studrawa to have patience in the long-term.
If Studrawa has his way, casual Ohio State followers won't know about Ryan Jacoby, Jakob James and Grant Toutant. Fans of other teams shouldn't hear the names of Enokk Vimahi, Dawand Jones and Trey Leroux this fall. Max Wray, Luke Wypler and Josh Fryar will be largely anonymous to a majority of the team's followers.
The plan for all of them, as of now, is to get them ready to contribute at a high level in future seasons rather than 2020. They might litter the starting lineups in 2021, 2022, 2023 and 2024. But having such a solid starting offensive line, along with high-end backups, this fall should allow for them to spend most of the season getting developed rather than playing meaningful in-game snaps.
If any of those nine underclassmen makes a rise to challenge for a starting spot, it would likely be Jones.
The 6-foot-8, 359-pound behemoth succeeds in the seemingly impossible task of making Ohio State's offensive linemen look relatively small in comparison. Entering the program last year as a presumed long-term developmental project, Jones shocked most by not redshirting. Studrawa's decision to play him in more than four games offered a lens into how the coaches view his ability to contribute sooner than later.
There's a chance he manages to pull off an upset, beats out Petit-Frere and Johnson and starts at right tackle. More than likely, though, he'll serve as the second-string left tackle.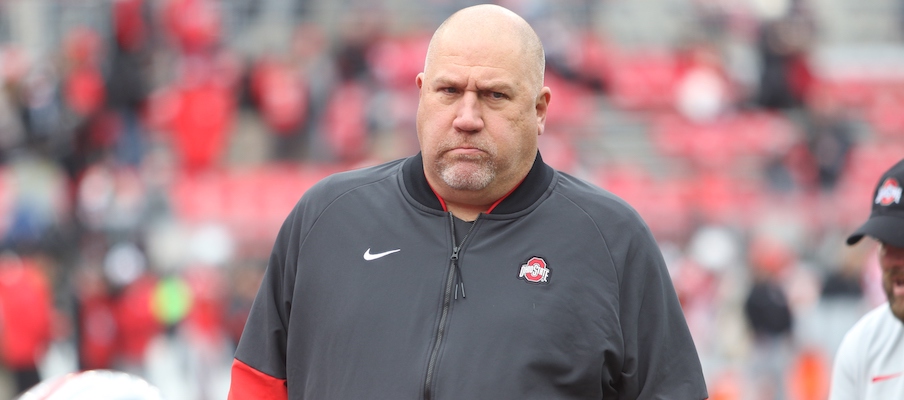 None of the others will start this fall, either, unless something completely unexpected happens.
Wray, though he's entering his third year, isn't in the mix to start. The one-time top-150 overall prospect from Tennessee remains a developing offensive tackle who hasn't yet made a charge up the depth chart. The 6-foot-7, 308-pounder has gotten passed on the depth chart by two younger tackles – Johnson and Jones – which shows he's still a while away from contributing.
Vimahi and Jacoby, a pair of redshirt freshman offensive guards, both hold long-term promise but haven't played much, if at all. They can take advantage of the depth by spending this fall improving before potentially competing to start as soon as 2021. 
Vimahi, who packed on 40 pounds between when he enrolled in June and when the season ended, played 62 snaps across three late-season games as a freshman. He also changed plans, opting not to go on a two-year mission trip with his church that would have kept him away from the team until 2022. He and Jacoby, who didn't play a snap as a freshman, are potential starters down the line but won't be counted on for major roles this fall.
Among the six freshmen at offensive line, Johnson will surely play the most as a freshman, but Wypler could contribute fairly soon, as well. Out of New Jersey, he was the No. 107 overall prospect and second-ranked center among incoming freshmen. Because of the interior depth, though, Wypler should have no pressure on him to play a meaningful role as a freshman this fall.
The other four first-year linemen – James, Toutant, Fryar and Leroux – are generally regarded as players who will need ample time in the program before contributing.
Of the quartet of three-star freshmen, Leroux's the only one who enrolled early. As the No. 1,136 overall recruit and 91st-ranked offensive tackle, he's also expected to need a while before he makes a run up the depth chart. Toutant offers length, Fryar gives Studrawa versatility and James is an Ohioan who should eventually slot in at guard. Each of them, though, likely won't contribute in major ways for at least a couple years.
Some seasons, having so many developmental prospects might be an issue. Not right now. Not to Ohio State.
Studrawa, because of the healthy state of his offensive line room, can afford to give the underclassmen time to progress. The patience in the freshmen and sophomores right now should benefit the Buckeyes in future years.