At the time Ohio State suspended – and eventually canceled – all in-person classes in March, about a month and a half of schoolwork remained in the spring semester.
For Harry Miller, the shutdown of the campus meant that once he got back to the United States from Nicaragua, where he spent a week with his teammate Tommy Eichenberg on a trip with Mission for Nicaragua, he wouldn't return to Columbus. Rather, he'd stay in Georgia for the foreseeable future. It also forced the recent Buford High School valedictorian to do his classes online.
But that didn't prove to be much of an issue. His mother, Kristina, said he spent some of his earlier years basically homeschooling himself. Miller would wake up, sign in to the online program, see his objectives for the day and complete them without any issues. She'd "very seldomly" have to follow up with him about assignments or work with him, able to "navigate on his own." While Miller might have preferred classes in Ohio State's classrooms, the virtual work kept him on course.
"I've never had to tell him to go do something. He just does it," Kristina said. "He was on the couch. He was like, 'This is great. I could do this. This is no problem.'"
Workouts were the same way, too. He and his mother contacted his personal trainer, Ryan Goldin, before they even left Nicaragua to tell him Miller needed to work out with him. Soon, they were back together in a routine, working out regularly between 6 and 8:30 a.m.
If all goes right, Miller won't get off track at all. And if he maintains his trajectory, wins the open starting left guard spot and rises to the level that some see him reaching, Ohio State could have the nation's best interior offensive line in 2020.
Maybe it's too early to make those types of claims considering Miller hasn't even started a game and played 181 snaps as a true freshman, with most of the playing time coming in the second halves of blowouts. But the other two interior linemen whom he would start alongside have legitimate claims to be viewed as the best at their respective positions in the country.
Wyatt Davis, a redshirt junior right guard, earned first-team All-American honors in 2019 for his outstanding first season as a starter. A one-time five-star lineman from California with deep football ties, he's back for what could be his final year as a Buckeye before potentially becoming a high-round NFL draft selection next spring. In the middle stands Josh Myers, a fellow second-year starter at center. The Miamisburg native was deemed a second-team All-Big Ten pick by the media and third-team all-conference selection by the coaches.
"Harry did a great job through the spring in the short time. He had three practices, looked really, really good."– Greg Studrawa on Harry Miller
It's hard to know exactly how Miller would perform be as a first-year starter, but the ceiling of an interior lineman trio that also includes Davis and Myers is quite high.
Similarly to Davis, Miller was rated as a five-star prospect out of high school, viewed as the No. 30 overall prospect and second-best center in the 2019 recruiting cycle. Despite not enrolling until the summer, he impressed enough in the preseason to earn a spot as Myers' backup at center. Before the season began, Greg Studrawa said Miller was making checks at the line of scrimmage that he hadn't ever seen a freshman do in his two decades as an offensive line coach. 
Myers said he hadn't ever seen anyone pick up the offense so quickly. Whenever anyone asked him about Miller throughout the season, he continued to rave.
"He's been super consistent, which as a freshman, is something that's really hard to do," Myers said in October. "And then obviously from the mental side of the game, he's doing an incredible job for a freshman. Stuff he shouldn't be able to do, he's doing."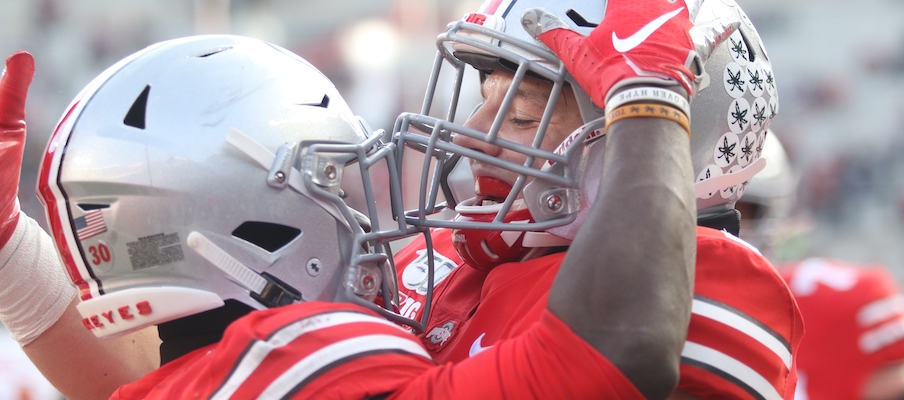 Naturally, after hearing rave reviews about his time as a Buckeye over the past year, Miller's now viewed as the clear frontrunner to replace Detroit Lions third-round pick Jonah Jackson as Ohio State's starting left guard even though he's competing with a few veterans.
To secure the job, he'll have to fend off Gavin Cupp and Matthew Jones, both of whom have spent multiple years in the program. 
Cupp, a fifth-year senior from Leipsic, suffered an unfortunately timed foot injury that sidelined him for winter workouts and the beginning of spring practice. He's got ground to make up in preseason camp. Matthew Jones has flown under the radar, but he's entering his redshirt sophomore season after entering the program in 2018 as a high-end four-star prospect ranked as the nation's best center prospect. Cupp and Jones each played more than 100 snaps last season.
"Harry Miller, Gavin Cupp, Matt Jones, all three of those guys are going to be working at that spot," Studrawa said last month. "Harry did a great job through the spring in the short time. He had three practices, looked really, really good. Matt Jones opened my eyes a little bit. I think he's got a certain maturity level now that it might be time for him to play, start to contribute. And then Gavin Cupp, he had the little foot thing he dealt with so we didn't get to see him. But I'm anxious now that he's had this time off to heal. 
"We've got three guys that I think are going to be able to compete for that job."
As of now, while there'll surely be somewhat of a competition in the preseason, it's Miller's job to lose. Ryan Day essentially said as much in March when he mentioned how Ohio State wants to get its best five offensive linemen onto the field as starters. He said the coaches intended to move Miller from center to guard to see if he can join Thayer Munford, Myers and Davis as the fourth starter on the offensive line before working through the right tackle battle.
Based on what we know about Miller, nobody has any reason to think he's been slacking or will be out of shape once the team can work out together again. All evidence points to accountability and self-motivation as strengths. Provided he's managed to remain on the same trajectory, he'll likely slot in at left guard between Munford and Myers on the line.
It also would give Ohio State a chance at having the best interior offensive line in the country. A first-team All-American, an All-Big Ten selection and a former five-star prospect who's blown away seemingly everyone since arriving in Columbus last year? That's one heck of a recipe.