By the time Harry Miller even learned Buford High School kept track of class rank, his accomplishments in the classroom already had him among the three top academic performers.
The five-star center, who arrived on campus and moved into his dorm at Ohio State this weekend, learned he ranked third in his class after his first semester of high school when he received his report card in the mail. The following semester, he moved up to second in the class of 336 eventual graduates.
"After that, I moved up to first, and I was like, 'Oh wow, maybe I could maintain this and that would be a cool thing,'" Miller told Eleven Warriors last week. "So I maintained it, and it was a cool thing."
Cool enough for him to become the valedictorian of his Georgia high school.
Throughout elementary school and middle school, he took part in programs for gifted students, but he had no idea where he truly stood in comparison to his peers. When he learned that class rank was calculated early in high school, he took aim at a long-range goal.
He was taught "if you want to do something, then do it." So before beginning his sophomore year, he decided he wanted to become the top student in his class, and on May 24, he delivered a speech at graduation as valedictorian.
"That was also one of the reasons I didn't want to early enroll," Miller said. "Because I didn't know if that would affect any kind of rank or whatever. It was really fun to finish out. We had an amazing class of seniors. We had one guy get a perfect score on the ACT. One guy get one point shy of a perfect score on the SAT. Some really, really crazy smart people."
Miller completed nine Advanced Placement courses at Buford High School, which wiped away more than a few general education requirements he would have had to take at Ohio State.
"The fact that he's on there writing the plays, studying film, calling me at night, 'Coach, what happened on play 19 in period six?' That tells me he's got a chance."– Greg Studrawa on Harry Miller playing as a freshman
Thus, this summer, he's starting out with an art history course before beginning a fairly daunting courseload for a freshman in the fall, when he plans to take calculus and physics.
"I'm going to see if that is a workload that is recommended for a fall load during the football season, or if I could move that to the spring and take an easier load," Miller said. "So I'll work that out."
That's probably not recommended for players spending the fall semester on the football team. But Miller isn't most students. His high school GPA, boosted by AP classes, crept closer to 5.0 than 4.0. He volunteers with his family on missionaries in Nicaragua. He plans to major in "some form of engineering" at Ohio State before pursuing a Master of Business Administration, the same graduate degree he saw Billy Price earn before leaving for the NFL.
Oh, and he's a pretty good football player – someone who offensive line coach Greg Studrawa thinks has a chance to play even as a true freshman for the Buckeyes.
"I have a gut feeling that he can," Studrawa said this spring.
Miller, the third-highest rated member of Ohio State's 2019 recruiting class, was the No. 30 overall prospect and the second-ranked center.
At 6-foot-4 and 305 pounds, he already has the size of a collegiate interior lineman. And he showed has the strength, too, when he repped 225 pounds on bench press 26 times in front of Mickey Marotti, per Studrawa. To put that into perspective, Michael Jordan managed 23 reps at the 2019 NFL Combine and Isaiah Prince recorded 19 reps.
More than anything, though, Studrawa cited his maturity and intelligence as reasons for his potential to play early – even in Year 1.
"The fact that he's on there writing the plays, studying film, calling me at night, 'Coach, what happened on play 19 in period six?' That tells me he's got a chance," Studrawa said.
Though Miller couldn't enroll early at Ohio State in order to maintain his status as a contender for valedictorian, he began ramping up preparation for his collegiate career in late February, two months after signing his National Letter of Intent.
He didn't want to waste any time.
"It's just kind of been getting into it, doing as much as you can off-site so that when I get on campus, I'm aware of zone plays, I'm aware of gap plays, I'm aware of all these things so I have a firm foundation that I can build the offense on," Miller said.
About two weeks before spring practice kicked off on March 7, he got an account set up so he could view Ohio State's film. He started watching film from past seasons in order to learn the verbiage that will eventually become second nature. And along with that came the hand signals.
"I guess the first biggest thing was studying the hand signals, getting used to hand signals and learning that and then getting into knowing what the plays mean," Miller said. "They have me listed or slotted to rotate on the interior. So knowing multiple positions and just getting used to the plays."
When spring practice began, Studrawa wanted both Miller and Rutgers transfer Jonah Jackson to partake in – or at least be present for – the offensive line meetings. With such a thin offensive line that left him barely able to put together two lines of five scholarship players this spring, he wanted to work the incoming players into the unit.
As often as possible, Miller and Jackson virtually attended meetings through FaceTime video calls. Miller, who said he clearly saw the film and heard the audio, called his vocal delay when talking the only drawback of an otherwise productive system.
"He watches everything we do," Studrawa said. "Every time we meet, I've got those guys in here on FaceTime video. So as we're meeting, they're on FaceTime watching it. And then he watches all the practice film. We talk on the phone. We're talking on FaceTime during the meeting and we go over it so when he gets here and hits the ground running, he knows exactly what to do."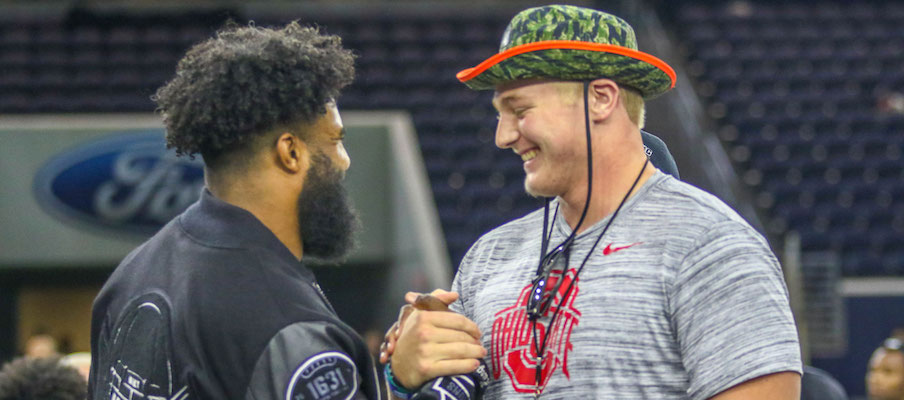 As often as four or five times per week, Miller was inside the meetings at the Woody Hayes Athletic Center – from his house about 600 miles away. Whenever the Buckeyes held their position meetings in the morning, he called in. Those he could attend began around 7:30 a.m., and he'd stay on FaceTime for about 40 minutes, leaving just enough time for him to make it to school by 8:30 a.m.
During those meetings, he filled up eight pages in a notebook with information.
"It's been a good semester of building some notes," Miller said.
Miller typically favors "really locking in and absorbing things" in classes, but time constraints led to him grabbing his pen and paper.
"I took notes to get it down just because there's not a lot of time for review because you're installing one day," Miller said. "And then for those guys, they have the day to rep it out or talk about it more. But for me, you FaceTime in, you go to school and then the next day you're on to something else. For me, a lot of the note-taking was just retaining."
After the offensive line meetings, those in Columbus had opportunities to practice whatever they installed on each day on the field. But Miller, still in Georgia, didn't have that option, so he configured his own line of Division I bound prospects.
He and three of his fellow Buford High School offensive linemen heading to SEC programs – Florida's Riley Simonds and Mississippi's Reece McIntyre and Carter Colquitt – spent time working together on the field "without sharing literal concepts and play names." They worked on concepts of plays and pointing out linebackers.
"It's actually kind of funny because everybody has different names for things, but when it comes down to it, it's like, 'You have to get these two guys and you guys have got to go to this guy,'" Miller said. "So it was really all kind of hearing more of the same thing, except they've just got different lingo for it than we do."
Despite all the preparation from afar and Studrawa's optimism, Miller isn't expected to start as a true freshman. Josh Myers has come close to locking down the starting center spot, and Wyatt Davis will start at right guard. Jonah Jackson will likely start at left guard, though Branden Bowen could make a strong push at that position.
Still, given the lack of experienced depth, Miller could find himself as a primary backup either at guard or center as a freshman. His spring preparation should aid him in competing for playing time as quickly as possible – or, at least, looking prepared in front of his coaches and teammates.
"Really, for me, it's to come in and not look like an idiot," Miller said. "Not slow down drills and not take up space and be useless. Really, it's something where whether it's early enrollee or just regular enrollee, it's like you've got to learn the stuff. My entire life, I've been pretty good at picking up stuff. And so I was just hoping that it would be more of the same and just kind of, again, being intentional."
So, did he learn what he hoped this spring?
"It definitely got to the point where I was like, 'OK, it's clicking. I'm able to make plays. I'm able to see things,'" Miller said.
Imagine that. The valedictorian feels like his work paid off. Almost like he's had that feeling before.