Paris Johnson Jr. taking first-team reps in his first-ever spring practice told us a lot about how highly Ohio State's coaches think of the true freshman offensive tackle.
If he's still getting first-team reps whenever Ohio State returns to practice, that will tell us even more.
Because the COVID-19 pandemic brought an early end to spring football, Johnson has still participated in only three practices so far as a Buckeye. Missing the other 12 practices could, presumably, be a significant setback for an early enrollee hoping to win a starting job.
Ohio State offensive line coach Greg Studrawa, though, says Johnson still has a chance to win what's currently a three-man competition to start at right tackle. He saw enough from Johnson in his first semester at Ohio State, even with only three practices and two months actually together in person, to believe Johnson will make a real push for the job once they are allowed to reconvene for preseason practices.
"Yes, it is a setback, but we're all dealing with setbacks. So we can talk about it as being a setback, or we can move forward," Studrawa said during a teleconference with Ohio State reporters in April. "Having them out there practicing, as an offensive lineman, there's no doubt they need thousands of reps before they can perfect the things that they're asked to do. But this kid, there's a little bit of difference about him. His maturity level and the way he attacks things leads me to believe that he's got that opportunity."
It's rare for a true freshman offensive lineman to start at Ohio State – Michael Jordan and Orlando Pace are the only two who have ever started in a season opener for the Buckeyes – but Johnson is no ordinary freshman. The top-ranked offensive tackle in the recruiting class of 2020, Johnson is already built like a college veteran at 6-foot-6 and 305 pounds, and he has superstar potential. So while most offensive linemen need at least a year or two to develop before they are ready to seriously challenge for a starting job at the collegiate level, Johnson is on the fast track to early playing time.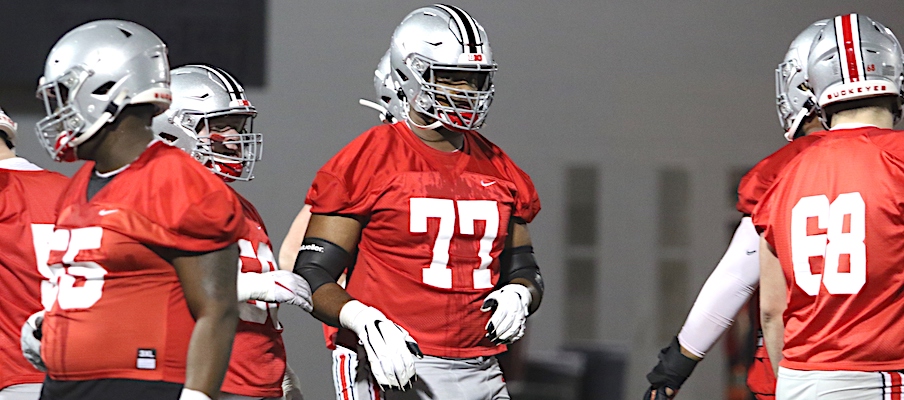 Studrawa has been struck by "how advanced and mature Paris is for a freshman," both physically and mentally. While Johnson didn't get to practice as much as he was supposed to this spring, enrolling in January did allow him to go through a full session of winter strength and conditioning workouts with Mickey Marotti, and Studrawa believes that has gone a long way in Johnson's preparation.
"Physically, he's done a tremendous job," Studrawa said. "Coming in early, the weightlifting part that he had in the winter was unbelievable. It transformed him. I think it's gonna put him on the edge of being able to do it physically, and that's the first thing. So once we get past that, it's just continuing to refine his techniques, continuing to mentally review the film, learn our offense inside and out. Because those tackles make pretty important calls in the pass protection game."
"This kid, there's a little bit of difference about him. His maturity level and the way he attacks things leads me to believe that he's got that opportunity."– Ohio State offensive line coach Greg Studrawa on Paris Johnson Jr.
While Johnson is back in Cincinnati for now, physically separated from his teammates and coaches until it's deemed safe for the Buckeyes to resume team activities, he's continuing to do what he can to stay in shape at home – his mother Monica told Eleven Warriors last month that he has been weight training with dumbbells and resistance bands – and Studrawa said he is still working regularly with Johnson and all of his other offensive linemen to ensure that they'll mentally prepared for the season.
"They're getting better now. They're studying film now. So I know they're not getting the reps, but it's been a good time to slow down, to get film with them and study the playbook with them, learn things with them," Studrawa said. "They're working on their individual technique on their own. And then when we get back together, it's gonna be a full-court press to go fight for the job."
Johnson has openly expressed his desire to start right away, and because of how talented he is, Ohio State is giving him a legitimate opportunity to make that happen. He's certainly going to have to earn it, though.
Nicholas Petit-Frere, who was also the top-ranked offensive tackle in his recruiting class, is likewise competing for the starting right tackle job – and remains the likely frontrunner for the job. Dawand Jones, who was a much-lower-ranked recruit but also has tremendous physical gifts, is also in the mix. He has impressed Studrawa with his development since arriving on campus last summer.
Unlike Johnson, Petit-Frere – who weighed less than 270 pounds when he arrived at Ohio State – wasn't ready to make a serious push for a starting job as a true freshman. But now that Petit-Frere is up to 305 pounds and has two years as a Buckeye under his belt, including one start at left tackle last season at Northwestern, it should be his time to earn a spot in the lineup.
"I think he's finally got his weight up to where it needs to be," Studrawa said of Petit-Frere. "He's finally got his strength up to where it needs to be. And I think he's finally learned, inside and out, what we're doing on the offense. So I think it's his time to shine."
Even so, Johnson was splitting first-team snaps with Petit-Frere during the first day of spring practice, and Jones was expected to get his share of first-team work over the course of the spring, as well. And that might say more about Johnson and Jones – especially Johnson, considering he could be just finishing up high school right now – than it does about Petit-Frere, who Studrawa said he doesn't think is "behind at all."
"The first three days of spring practice were unbelievable to see those guys go out there and compete," Studrawa said. "It's gonna take someone who wants to go out there and grab that position by the you-know-what and say that they want it.
"Nick's played a little bit more, he's been in some games, so he's got a little more experience, but what I saw out of Dawand and Paris, two young guys, in three days was pretty impressive," Studrawa added. "So it's going to take those guys right now, who's gonna buy in? Who's gonna do what it takes? Who's gonna go grab that spot and say that they want it? Because I believe all three of them are capable, so it's gonna be fun to see them work."