Paris Johnson Jr. is the worst offensive tackle in America.
He thinks so, at least.
It's the summer of 2017, and weeks after wrapping up his freshman year at Cincinnati's St. Xavier High School, the 15-year-old is standing in the kitchen of Willie Anderson's Atlanta home. He doesn't know it yet, but he's about to begin a series of talks with the former four-time NFL Pro Bowl offensive tackle that are going to change his life forever and jump start him down a road he had been talking about traveling since he was 5 years old.
One year before this, Johnson had been a slender 6-foot-3, 205-pound defensive end after packing on 45 pounds in eighth grade and freshman year. Eventually, he grew into a 6-foot-7, 285-pound behemoth as a senior, but right now only the height is there. Those extra 80 pounds are still a 5,000-calorie-per-day diet away from rounding out his frame.
Through family friends who were essentially his surrogate uncles, Floyd Walker and Corie Blount, Johnson arranged to stay with Anderson for a week-and-a-half down in Georgia.
Anderson, who went from an All-American career at Auburn to the Cincinnati Bengals' 10th overall pick in the 1996 NFL Draft, had known Walker, a church pastor, when he helped Anderson with community reachout programs in the Cincinnati area during his pro career.
"I'm telling you, the first time I saw him, he was awful. Awww-full," Anderson says. "I made him stop, like, 'Yo, stop.' Cause he was messing my workout up."– Former NFL Pro Bowl Offensive Lineman Willie Anderson on his first impressions of Paris johnson jr.
Anderson agreed to help out a kid whom Walker and Blount had known was making it his life goal, since he was a toddler, to make it to the pros.
So Johnson and Walker made the seven-hour drive down from the chili to the peaches to meet with Anderson, who was conducting workouts at a park in northwest Fulton County. Johnson arrived late to that first workout, a tardiness that became a harbinger of the negativity to come over the next half hour.
Johnson came walking up to Anderson and the eight linemen he was training, immediately grabbing Anderson's attention as the 6-foot-7, athletic sophomore-to-be looked the part of a budding star, and he impressed Anderson further when he told him he had already received his first scholarship offer – from Rutgers to be a defensive end, as he was in the infant stages of a full-time transition to offensive line.
"He came there, and I'm like, shit, this kid's big as hell," Anderson told Eleven Warriors. "Bro, he's 6-7 at 15 years old, and I'm thinking he knew about offensive line stuff."
Wrong.
"I didn't know what I was doing," Johnson told Eleven Warriors during a January interview.
Throughout his early career, Johnson had been a defensive end, tight end, wide receiver, cornerback and safety. Basically, every position except quarterback and offensive lineman.
So here he was, not understanding any of the pre-snap stances offensive linemen had, alien to the concept of three-point and two-point setups and not knowing a damn thing about pass blocking.
"I didn't know anything about offensive line," Johnson says. "I thought they just stood there. I thought they just pushed people. I didn't think there was any type of technique to it. So I struggled in the beginning.
"I thought you just attacked every time. When I was a freshman on defense, I was moving so fast, in my mind I didn't notice what they were doing."
In drills his first day in Atlanta, his feet were hitting every single orange cone lying on the ground, he was missing the bag that Anderson held in front of him, he wasn't striking hard enough during simulated run blocks, and he hardly understood a word the coach was saying.
"I'm telling you, the first time I saw him, he was awful. Awww-full," Anderson says. "I made him stop, like, 'Yo, stop.' Cause he was messing my workout up. These guys all knew me and had been working with me for at least six weeks or longer. They knew my vocabulary, my terminologies, my drills, and he didn't know any of that stuff. But I was just so surprised that in the drills he looked awful. I said, 'Stop. I'm gonna show you some stuff back at the house.'"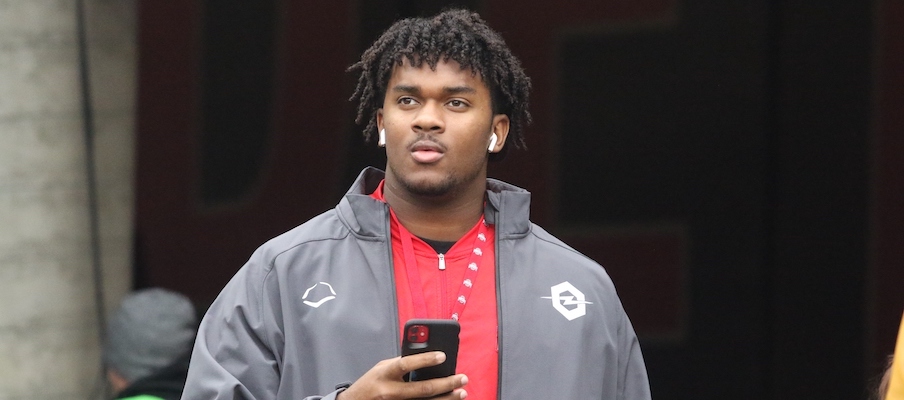 At the end of the session, the two had a quick back-and-forth:
Anderson: What year are you going into?
Johnson: My sophomore year.
Anderson: Good. 'Cause if you were a senior, I was gonna say you were done for.
It was about as embarrassing a first dabble into offensive line work as you can get. Here's this massive dude whose stature wowed the former pro and looked like the part of a star student when he walked up to join the class.
Instead, Anderson sat in his car, driving back to his house that first day thinking to himself, "'Woo, this kid – this kid is gonna be a piece of work,'" Anderson recalls. "That's how bad he was."
Little did he know what he was about to get himself into.
That's where Anderson pauses his story.
To get a grasp on how the following week could happen, you have to go back to Johnson's seventh-grade year. All the years leading up to then, Johnson had told his mom, Monica, that his goal was to make it to the NFL.
"Corie says, 'We all told Monica, like, Monica, is this a good idea?'" Anderson said. "The kid's trying to make it as a pro football player. The only person that believed in him was Monica. You can understand why she goes so hard for him because they all called that kid goofy, like he had two left feet."
To understand that faith and belief from Monica, you have to go back to when Johnson was in elementary school, playing for the West Chester Outlaws in the Cincy suburbs from 5-7 years old.
He had an instant passion for the game. But since he was the team's youngest and most inexperienced player, he would come home from practices and would bombard his mom with questions.
Paris and Monica would spend hours writing down questions and goals, and one goal included creating a better line of communication with his coach.
"He would have a little notebook and he would meet with the coach and write down everything the coach said, and then he'll come home," Monica told Eleven Warriors during a December interview. "He said, 'Mom, I need to work on my feet or I need to be a little bit more aggressive. So how can I do that?'"
The more things change, the more they stay the same.
When Anderson and Johnson arrived at the Atlanta home, that's when Anderson got a fistful of relentless questions from the teenager, hooks and jabs coming at him from all angles.
Johnson walked around the house, looking at Anderson's old memorabilia – plaques from his three first-team All-Pro selections, the trophies he earned as the Bobby Dodd National High School Lineman of the Year and Alabama's 6A Player of the Year in the early 90s, game-worn Bengals and Ravens jerseys. All of that stuff enamored Johnson.
So here's Anderson the next morning, waking up and walking downstairs, and he finds Johnson already awake, sitting at his kitchen table looking at football-related items from Anderson's playing days.
And then the daily barrage began.
How's my stance? Can you tell me more about my footwork? Where should my feet be before the snap? What about my hand placement? Should they be lower when a guy dips inside? Where should they be if he tries spinning outside? What about a bull rush? My eyes, where should they be during a pass set?
How about you, Willie? What was it like playing ball in Alabama? How did you handle all the attention? How much trouble did you have when you first made it to the league? Who's the toughest guy you ever went up against?
"When I saw him asking those questions, I said, 'Mmm. That's odd. Only pros ask those questions,'" Anderson said. "That kind of intrigued me a little bit because most kids hear you talk and are like, 'OK. Whatever.' But he was constantly asking me questions. Over and over and over again."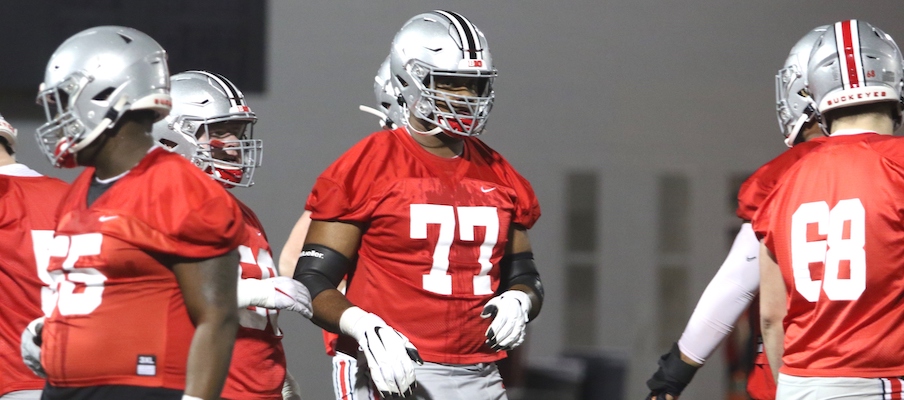 Every morning, it was a new list of questions.
So many people – family members, friends, youth ball and high school coaches – had grown to know that about Johnson. That he was relentless with his desire to learn as much as possible. But no one with Anderson's pedigree had yet detailed so many things or answered as many questions so critically.
Even if the amount of questions Anderson had to answer eventually made him want to rip his own hair out.
"All that week, I would show him stuff, and I tell people, what I think he got the most out of me was the talks," Anderson said. "Because he was only here for a week, but during that week, we talked so much football, and he would ask 1,000 questions. It would get on my nerves. He asked so many damn questions. It was like he was trying to get everything out of me – my whole life – in a week.
"But if you know PJ, he can do that shit. He can take an assortment – a crazy amount of information – and take it in, and he can grind it in his brain. He can do, what I call, regurgitating the information and spit it back out to you. To me, that's one of his biggest traits is he can take information so quickly and understand the information."
Anderson answered every question he could, and he showed Johnson some of his old NFL films, some where he was blocking nine of the NFL's top 10 all-time sacks leaders, including monsters like Reggie White, Bruce Smith, Julius Peppers and Michael Strahan. Having only given up 16 sacks across 13 seasons (184 starts out of 195 total games), he had plenty of highlights to choose from.
Johnson soaked all of it up like a sponge.
"What it told me, what it showed me," Anderson says with a pause. "He became – I tell the kids these stories about PJ – he became so obsessed. I don't know if it was from him being around me, or seeing all my NFL memorabilia and seeing my Pro Bowl stuff, I don't know what it was. But he became obsessed with absorbing information. That kind of spoke to me that, hey, this kid might be different. He's wired different."
Throughout the week, Johnson learned on the field, sure. But it wasn't this a-ha moment where everything clicked and he was suddenly a punisher in drills with his hands exploding to the perfect spots on the bag. He still struggled a lot.
But a seed was planted that first morning and then every evening and morning after that. Almost all of it stemming from those talks in Anderson's home.
"He taught me about responsibility off the field," Johnson says. "That's the biggest thing he taught me. On the field, he's taught me everything I do. Everything I've learned since I started playing offensive line is from him. I was able to work with one of the best offensive linemen to play the game."
(That's not exactly true, as Johnson later went on to credit a few more people, like St. Xavier's strength and conditioning coach, Terrell Williams, for being the one "who taught me to be an animal" and "painted the picture to me to be the most aggressive guy out there.")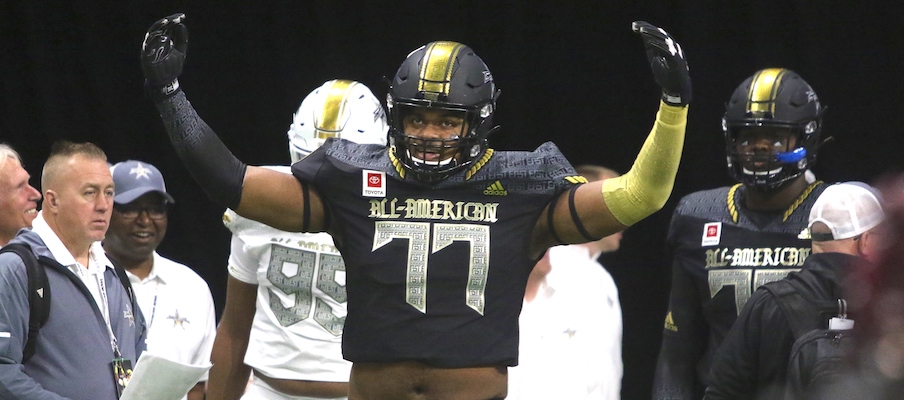 Then, he returned to Cincinnati.
When Johnson got back, Anderson later that week picked up a call from Monica.
"She said, 'Willie, I don't know what you told him.' I said, 'I told him the regular stuff. I don't know what you mean.' She said, 'No, Willie. Something's different about Paris,'" Anderson says. "She called him Paris. That's how I knew. When she calls him Paris, she's real serious about something. She calls him PJ, but she called him Paris. She said something's different about him."
Johnson's obsession with footwork, technique, hand placement and information-grabbing didn't die in Atlanta.
He kept in weekly contact with Anderson, the two of them forming a mentor-mentee relationship. If old bull told young calf to eat certain foods and to eat them a certain way, he would do it. When he told him what film to watch or what workouts to do, or how to handle media attention and interviews, he would do it.
When Anderson told him to go outside and do what Anderson labels "shadow boxing for linemen," to work on pass sets, kick work and general footwork, he would do it. Twenty times in a row by himself. Monica would record Paris on her phone doing the drills in the yard and send them to Anderson.
"He would do every damn thing I told him to do. My son won't even do everything I tell him to do," Anderson says with a laugh. "I tell people all the time, he's one of the kids that's the reason why I started this business up – my academy – after my son got to college. I wanted to reach kids like PJ."
Johnson took off from there. He stunned Anderson by learning, over the course of a handful of months, all the things he had taught him and then performing them to near-perfection as a St. Xavier sophomore.
"I've got kids who I work with every day that took a year and a half to do two things right," Anderson said. "He was already doing all the pass sets, the run blocking, and what I saw – that nobody can coach; he just has this in him – was the ability and want-to to finish and humiliate guys. He got that as a sophomore, and I was like, 'Damn!'"
He returned to Atlanta to work with Anderson in the offseasons, continuing to get better.
This grown man tryna fight after every play pic.twitter.com/X3mv9be0YA

— Footballism (@FootbaIIism) April 1, 2020
From there, you probably know his story.
When the initial 247Sports recruiting rankings were released in February following his sophomore year, Johnson was ranked No. 111 overall. Once more coaches and scouts got more of his film, he rocketed up to No. 7 overall a month later, and he never dipped lower than 10th the rest of his high school career. It was a rise that felt like it came about as fast as his honing of the offensive tackle position.
He became the No. 1 offensive lineman in America and one of the highest-ranked players Ohio State has ever signed.
In January, just two weeks after that signing, he took center stage at the All-American Bowl's end-of-year awards presentation to claim the Anthony Muñoz Offensive Lineman of the Year award. Less than 30 minutes later, he was heading back up there again to be presented with his Man of the Year award. 
After each big award like those, after a key high school win, or after a major feature story written about him, Monica gives Anderson a call to thank him for what he's taught her son.
"It's crazy going from that to Lineman of the Year," Johnson says, referencing that week in Atlanta. "Because at one point, I was probably the worst lineman in America."