EVANSTON, Ill. – Nicholas Petit-Frere didn't know until minutes before kickoff that he would be making his first career start for Ohio State on Friday night.
While he had spent most of the week practicing with the first-team offensive line at left tackle, Thayer Munford – who was listed as a game-time decision for Friday's game due to a nagging injury – went through warmups with the rest of Ohio State's offensive linemen before the game.
Ultimately, though, the Buckeyes opted to turn to Petit-Frere – a redshirt freshman who had served as the Buckeyes' backup right tackle for the first six games of the year – to start in Munford's place.
It was the first time Petit-Frere was called upon to play for the Buckeyes in a starting role, but the unusual scheduling of Friday's game at Northwestern actually made it feel more familiar for the redshirt freshman, who was a five-star recruit out of the Berkeley Preparatory School (Tampa, Florida) in 2018.
"I was like, 'Hey, this is just like Friday night lights at Berkeley again,'" Petit-Frere said after the game. "There was a good amount of pregame jitters, but Thayer and (Branden) Bowen and the whole offensive line just came up to me and were like, 'Hey, just play your game. We know you can do it. We trust in you. That's why you're here. Just show us why you're here.'"
After Petit-Frere had some struggles in the first quarter, Ohio State decided Munford was healthy enough to play and put him in the game for most of the second quarter. Munford helped lead the way for a 68-yard J.K. Dobbins run on his very first play in the game, and the Buckeyes scored on three of his five possessions in the game. Munford did not return to the game in the second half, however, as Petit-Frere returned to the lineup to start the third quarter.
Ryan Day said after the game that he thought both of them deserved credit for how they played.
"That was gritty by him. He played hurt. And that says a lot about him," Day said of Munford. "But I thought Nick stepped up. Nick played well. We did a good job with him in there. That was his first real time where he had to start, and I thought that was good."
The Buckeyes also put a third left tackle into the game, true freshman Dawand Jones, for their final two possessions of the fourth quarter. And just like Munford, Jones also helped lead the way for a long run on his first play in the game – which wasn't just his first play in the game, but the first offensive snap of his Ohio State career – as he cleared a lane for Master Teague to run for a 73-yard touchdown.
MASTER. TEAGUE III.

He breaks away for 73 yards to extend @OhioStateFB's lead. pic.twitter.com/thg0da350s

— FOX College Football (@CFBONFOX) October 19, 2019
"That goes to show the depth that we have on the offensive line," Day said.
Arnette playing through wrist injury
Munford wasn't the only Buckeye who played through an injury on Friday night. Starting cornerback Damon Arnette, as he has all season, battled through a wrist injury in Friday's 52-3 win over Northwestern.
Arnette has been playing with a cast on his wrist all season, but underwent a procedure during the bye week that forced him to play in an even bigger cast after he missed the second half of the Buckeyes' previous game against Michigan State.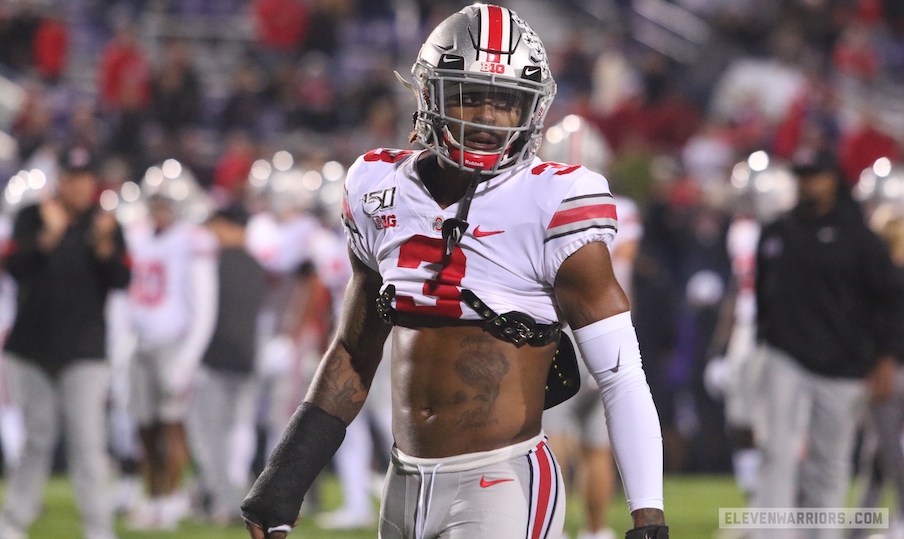 Once again, Arnette came out of the game early on Friday; after he appeared to be in pain following a play early in the third quarter, he was replaced by Cameron Brown and did not return. Arnette said after the game, though, that he "was just a little bit sorer than normal."
"I'm good," Arnette said. "I knew before the procedure, I was going to be good. So everything works out."
Even though he underwent surgery last week, Arnette said there were no conversations about holding him out for Friday's game. As a fifth-year senior on a 7-0 team, Arnette wants to be on the field as much as possible, and he'll play through as much pain as he can tolerate to make that happen.
"I know for me – and I'm sure I can speak for Thayer, he thinks the same way – if you go down, you just feel like you're letting the brother next to you down, because with everybody out there, we're all stronger," Arnette said. "Me being hurt or hurting, that's small in the big picture. I can deal with that pain."
Arnette recorded three tackles in Friday's game, and Day certainly appreciated his effort to battle through his injury.
Proud of you brother. Keep swinging! https://t.co/21UivdMaap

— Ryan Day (@ryandaytime) October 19, 2019
J.K. and Chase reach top five all-time
Highlighted by his aforementioned 68-yard run, Dobbins ran for 121 yards in Friday's game, leaving him just 53 yards away from becoming Ohio State's second player ever to have three seasons with 1,000 or more rushing yards.
With 3,403 career rushing yards now, Dobbins also surpassed both Beanie Wells and Braxton Miller to move into fifth place in school history in career rushing yards, behind only Archie Griffin (5,589), Ezekiel Elliott (3,961), Eddie George (3,768) and Tim Spencer (3,553).
Unless Dobbins returns for his senior season next year, he isn't going to catch Griffin, the only other Buckeye with three 1,000-yard rushing seasons. But at the rate at which he has run the ball this season, averaging more than 135 rushing yards per game, he's well within reach of becoming the second 4,000-yard rusher in Ohio State history.
"My goal is to pass one of the people that made me come to Ohio State, and that's Ezekiel Elliott," Dobbins said after Friday's game. "I'm appreciative of that, but I'm going to keep going."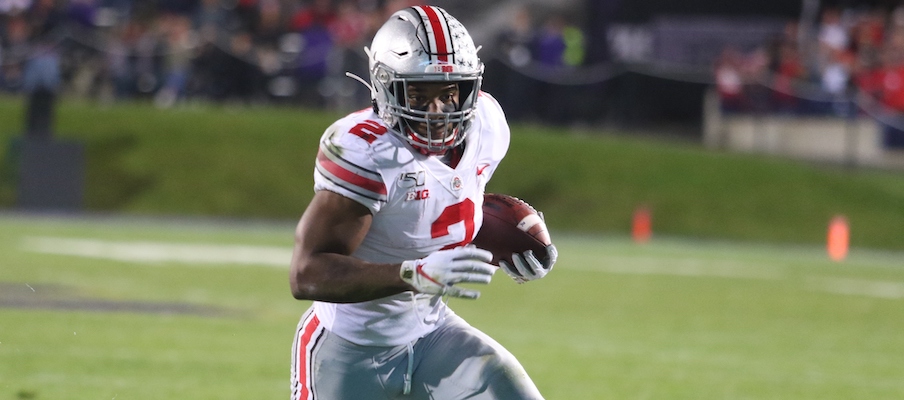 Another one of Ohio State's third-year superstars, Chase Young, moved into a tie for fifth in school history in sacks on Friday, when he recorded a sack for the ninth game in a row. That sack came on just Northwestern's second offensive play from scrimmage, when he ripped through Northwestern right tackle Gunnar Vogel and buried Wildcats quarterback Aidan Smith for a 9-yard loss.
With 23.5 career sacks, Young has now matched the four-year total of Tyquan Lewis in just two-and-a-half seasons. The only former Buckeyes who recorded more sacks in their Ohio State careers were Mike Vrabel (36), Jason Simmons (27.5), Joey Bosa (26) and Matt Finkes (25).
He is also now just a half-sack away from joining Vrabel and becoming the second player in school history with two double-digit sack seasons.
Like Dobbins, Young probably won't break the all-time Ohio State record unless he makes a surprising decision to stay in Columbus for his senior season instead of entering the 2020 NFL draft. He appears to be well on his way, though, to climbing up to second-place all-time by the end of the season.
Young's primary focus isn't on trying to break individual records, though, but to try to make as many plays as he can win to help the Buckeyes keep winning.
"I really don't go on the field searching for a sack, because then that's going to take you out of your game," Young said. "That's going to take you stop doing your job and things like that. So I just got out there and try to do my job. If a play can be made, I'm going to try to go make it."