The Hurry-Up is your nightly dose of updates from the Ohio State football recruiting trail, keeping tabs on the latest from commits and targets from around the country.
Johnson family makes the most out of tough situation
Monica Johnson was just starting to get used to having a little bit heavier of a wallet each month.
Back in December, Johnson detailed to Eleven Warriors her son's, Ohio State offensive tackle Paris Johnson Jr., nutritional plan. That included a 5,000-calorie diet with expensive monthly grocery bills at Kroger, Trader Joe's, Sam's Club and other stores in order to keep the 6-foot-7, 280-pounder at his current weight.
She had been looking for a little bit of a rest from putting many of those meals together. But about as quickly as Paris had left the house in January to enroll early and begin his development under Mickey Marotti in Columbus, he was back in Cincinnati with Monica and the rest of the family after the COVID-19 outbreak put a suspension on all sports-related activities.
"Grocery bill is back up to $800 a month. I had a great two months off," Monica said with a laugh. "Since Paris has been back home, I feel like a short order cook."
"Paris has to come up with creative ways to workout on his own since gyms are closed. Our uncle was able to share a few of his dumbbells. He said he wasn't using them. They were just collecting dust."– Monica Johnson on her son, Paris Johnson Jr., developing a new way to work out
All that is said in jest, of course, as the Johnson family – Monica, Paris and the youngest, Sydney – are trying to make the best out of a tough situation as uncertainties abound due to the suspensions of all sports-related activities nationwide.
"All jokes aside I am extremely blessed to have both my kids under one roof, but we're all healthy and well," Monica said. "I am enjoying the family time and opportunity to rest.
"The kids are doing great. They are remaining optimistic. I remind both Paris and Sydney as often as I can that it's all about how we respond when an event occurs in our life that we do not have control over. And this is the time to show love, kindness, compassion and to pray for others."
Some of that optimism and love is shown through daily communication and FaceTiming with friends and family, playing board games together like Uno, Monopoly and Never Have I Ever: Family Edition, Sydney playing The Sims and going on runs to grab some Graeter's cookies and cream ice cream for the family, binge-watching TV together and Paris playing Fortnite and Call of Duty – oh, and staying on top of the football-related activities that a five-star freshman at a powerhouse program needs to do in order to achieve the lofty goals he isn't afraid of sharing.
That includes staying on top of academics, watching film every day of old Ohio State games and other film that he's been given – and scrapping together essentially a home gym out of necessity. 
"Paris has to come up with creative ways to workout on his own since gyms are closed," Monica says. "Our uncle was able to share a few of his dumbbells. He said he wasn't using them. They were just collecting dust."
It may not be a lot, but their uncle was able to give him a pair of resistance bands and a pair of dumbbells of five different weights: 65 pounds, 45 pounds, 40 pounds, 25 pounds and 10 pounds. 
He uses those dumbbells just about every day as he is doing what every college athlete is being forced to do these days: Whatever means necessary to stay polished, gain strength and maintain something close to playing shape.
"Paris has something you cannot teach," Monica said. "Paris has the physical size and elite athleticism that few people have, but most of the people that have that aren't as driven because they don't have to be. They can dominate because of their physical statue and athleticism but Paris has an internal drive that few elite athletes have. Michael Jordan, Kobe Bryant come to mind. Their work ethic plus their intelligence take them to a whole different level. That is Paris."
Johnson up to 308 pounds
Whether it's an open field somewhere or a back yard, players all across the country are finding new and creative ways to work out on their own. 
On Wednesday, Ryan Day said that he is letting Marotti and the strength coaches handle how to give "guidelines" for work outs.
"The first thing we're telling them is they need to follow the rules that are in place in their states," Day said. "There's differing rules and guidelines in each area. Everybody's so unique. There are some people that are in the middle of their city, and there's other guys who are out in the country with a field across the street where you can walk across and start running routes or throwing with a family member or something like that. Everybody's so unique, but Mick and his staff are really handling all of that."
As for Johnson specifically, he is starting to get some help from former Pro Bowl offensive tackle Willie Anderson – a relationship we detailed last week that you can read about here – as Anderson has begun helping Johnson with drills and techniques via FaceTime calls.
"Some kids I'm training from Alabama and Clemson, trying to find anywhere we can to train at," Anderson told Eleven Warriors. "It's tough. It's a crazy time right now. I feel bad for these kids because most of these kids – PJ is different. He's a freshman. He should still be at his mom's house right now. It's an easy transition for him, but a lot of these kids are home for the first time in two or three years, you know?"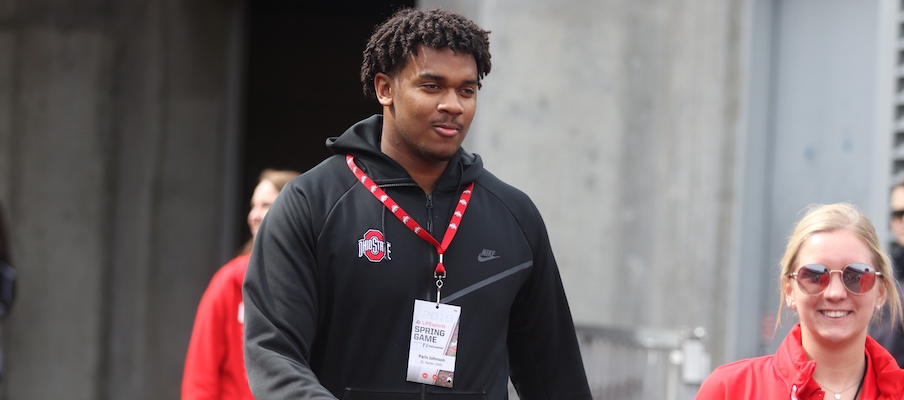 The Buckeye staff has a goal for the weight they wanted Johnson to pack on during the spring, and Johnson had already made substantial progress in a short amount of time by already moving up to 305 pounds. (Monica says he's now up to 308 pounds after having arrived at Ohio State at 290 pounds.)
"He was looking stronger and more explosive like, damn, I wish I had that in high school," Anderson said. "He's gotten that weight, and he doesn't wanna lose those gains. He's been lifting and running. 
"They have a goal for the weight they want PJ to come back with. I think Ohio State wants to keep him at a certain weight because he's one of those offensive lineman that, once he gets done playing football, he's not gonna be a fat guy. I'm an old fat guy. I've been a big guy my whole life. But PJ's body type's not gonna be like that. The day he stops playing football, Lord willing after 15 years in the NFL, he's gonna be back down lean and trim. With his body type, I think Ohio State wants to keep him around 305."
So Johnson will continue working out, he'll continue eating plenty of meals, and whenever it is that athletes return to campus – and whenever college football resumes – the goal is to make sure his body is as close to what it was when he left Columbus. (As close as can be hoped for, anyway, under the circumstances.)
"Oh, he's back home, and PJ eats like a man," Anderson said. "But his body is not a sloppy body. He has an athletic-looking body. I know that's one thing he wants to do is keep that weight because that's a good weight for him. Having that kid at 305 is a good place for him because he keeps getting stronger. He's more afraid of losing the gains that he made in those 2-3 months of school, and I'd be saying that too.
"The biggest goal is they want him to come back at that weight because they were so proud of him of the progress he made. The coaches were happy too because they know, at 305-310, that's a big-time college athlete size."