In a year that Ohio State had only three spring practices and in which it still remains unclear how much practice time college football teams will be able to have before the start of the 2020 season, returning experience could be as important as it's ever been.
The Buckeyes certainly have more of that at some positions than others, but are returning 11 players – six on offense and five on defense – who have each already played more than 600 career snaps on offense or defense for Ohio State going into this season. Every one of those players are projected to be starters or at least play a crucial role for the Buckeyes this year, and they'll all counted on to be leaders on their respective sides of the ball.
Below, we take a look at those 11 Buckeyes, ranked by the number of snaps each of them have played in their Ohio State careers as compiled by Eleven Warriors' Snap Counts over the past three years. 
Note that the following snap counts only include snaps played at Ohio State, so former Oklahoma running back Trey Sermon is not included, nor are the snaps Justin Fields played at Georgia. Because our Snap Counts only go back to 2017, they also do not include the snaps played by current fifth-year senior defensive end Jonathon Cooper in 2016, when he saw occasional playing time for the Buckeyes as a true freshman.
11. Chris Olave, WR (676 snaps)
Ohio State doesn't have as much experience at wide receiver as it did last year, when K.J. Hill, Austin Mack and Binjimen Victor were all fifth-year seniors who had already been starters for multiple years, but the Buckeyes do potentially have one of the nation's best wide receivers in Olave, who has proven himself as a top playmaker and reliable target for the offense going into his third year in Columbus.
After breaking into the rotation during the second half of his freshman year, in which he played 169 total snaps, Olave played 507 offensive snaps in 2019 – the second-most among all receivers, behind Hill – when he caught 49 passes and led the Buckeyes with 849 receiving yards and 12 touchdowns. He's the only returning Ohio State wide receiver who has ever started a game for the Buckeyes, and he'll be expected to step up into a leadership role for his unit this season as a result.
10. Baron Browning, LB (752 snaps)
Unlike the rest of the players on this list, Browning has never been a regular starter for the Buckeyes, but he has been a regular in the linebacker rotation for the past two seasons, splitting time at middle linebacker with Tuf Borland. And while it's unclear exactly what his role in Ohio State's linebacker corps will be for 2020, he's certainly expected to be an impact player for the Buckeyes' defense one way or another.
With Malik Harrison now in the NFL, Browning could potentially be Ohio State's third starting linebacker this season alongside fellow seniors Borland and Pete Werner, while he could also be in line to play at least some of his snaps in a pass-rushing capacity. He is expected to line up primarily at outside linebacker, but still has to earn a starting job in Ohio State's most experienced position group on defense. 
9. Justin Fields, QB (917 snaps)
Even though he is entering just his second season on the Ohio State football team, Fields is already one of the Buckeyes' most experienced players after starting every game and playing just about every meaningful snap at quarterback in 2019.
While there were major questions about his inexperience going into last season, as he played only occasional snaps off the bench during his year at Georgia, he's now proven as one of the best quarterbacks in the country, which is a huge advantage for the Buckeyes after an incomplete offseason.
8. Jonathon Cooper, DE (925 snaps since 2017)
As aforementioned, Cooper's actual Ohio State snap count is greater than 925 because he played as a true freshman in 2016, so he could rank even higher on this list. Exact snap total aside, there's no denying that Cooper is one of the Buckeyes' most experienced players going into 2020, and a player who will be expected to be one of the team's leaders as a returning captain.
Cooper's Ohio State career was supposed to come to an end last year, but he played in only four games and took a redshirt due to an ankle injury. Because of that, Cooper enters 2020 as a fifth-year senior who has played in 37 career games, including 17 starts. He's the Buckeyes' only defensive lineman who has been a consistent starter in previous seasons, and with the departures of Chase Young, DaVon Hamilton, Jashon Cornell and Robert Landers from last season, Cooper will be expected to lead the way for an otherwise less experienced unit.
7. Josh Myers, C (997 snaps)
After starting no games in his first two years at Ohio State, Myers became a staple in the middle of the Buckeyes' offensive line in 2019, playing all 925 snaps when the starting offensive line was on the field. He proved to be a rock-solid anchor for the Buckeyes' front five, playing like a veteran en route to earning second-team All-Big Ten honors.
Now as a second-year starter, Myers is expected to be a legitimate Rimington Trophy contender as one of the best centers in all of college football. Ohio State typically prioritizes experience at center – last season, Myers became the first starting center since Jacoby Boren in 2014 who didn't already have starting experience on the offensive line – and the Buckeyes are certainly glad to still have Myers as one of three returning starters up front.
6. Shaun Wade, CB (1,042 snaps)
After playing both slot cornerback and safety in his first playing season in 2018, Wade became a full-time starter at the slot cornerback position last season, when Ohio State moved to a three-cornerback base defense. Now with two years of playing experience under his belt, Wade is by far the most proven defensive back in a Buckeye secondary that is replacing its three other starters from 2019.
Set to play as an outside cornerback in 2020, Wade's decision to stay at Ohio State for another year provides a crucial boost to a position group that might otherwise be the biggest question mark on the team. Expected to be one of the best cornerbacks in all of college football this fall, Wade is now the biggest star of the Buckeyes' defense and will be expected to step into a leadership capacity on the back end.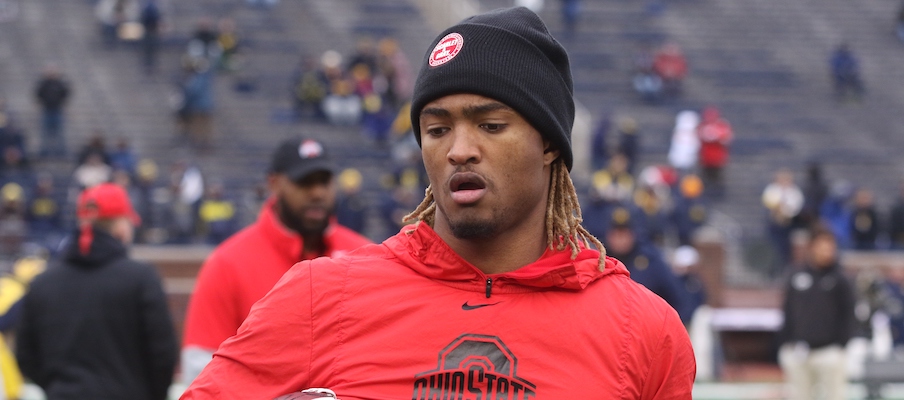 5. Wyatt Davis, RG (1,164 snaps)
Davis moved into Ohio State's starting lineup for the final two games of the 2018 season after Demetrius Knox suffered a season-ending foot injury. Then, like Myers, he became a staple on Ohio State's offensive line last season, starting all 14 games and playing 922 snaps.
Already a first-team All-American in 2019, Davis is widely considered to be the best guard in college football. His decision to stay at Ohio State for another year is a big reason why the Buckeyes' offensive line is expected to be one of the nation's best again in 2020.
4. Luke Farrell, TE (1,206 snaps)
One of the Buckeyes' most quietly reliable players, Farrell has started 24 games over the past two seasons – 10 in 2018 and every game last season – while leading the team in tight end snaps played in both years.
Farrell split snaps with Jeremy Ruckert (who is now the seventh-most experienced player on Ohio State's offense with 533 career snaps) last year and will do the same again in 2020, but there's no question Farrell will be viewed as one of the leaders on the Buckeyes' offense as a fifth-year senior. He might not catch a ton of passes – despite all his snaps, he has just 29 career receptions – but he'll play a substantial role in assisting the offensive line in the running game.
3. Tuf Borland, LB (1,336 snaps)
Set to be just the second three-time captain in Ohio State history (following J.T. Barrett), Borland has started 34 games for the Buckeyes over the last three years, the most of any returning player. Regarded as an excellent team leader, Borland will continue to man the middle linebacker spot and serve as a defensive signal-caller for Ohio State in 2020.
Like Barrett, Borland's play has been a polarizing topic among Ohio State fans, but inside the Woody Hayes Athletic Center, he's as trusted and well-respected as any player on the roster. He'll likely platoon at Mike with another linebacker such as Dallas Gant or Teradja Mitchell, just as he did with Browning for the past two years, but there's no doubt he'll continue to be on the field regularly as a fifth-year senior.
2. Pete Werner, LB (1,463 snaps)
Werner has been a mainstay in the defensive lineup at strongside linebacker over the past two years. He's started 27 games and played the second-most snaps among all Ohio State linebackers in both seasons, behind only Malik Harrison.
A three-down linebacker, Werner put his versatility on full display in 2019, when he occasionally lined up at safety in addition to his usual Sam spot. Now that Harrison is gone, it's also possible Werner could move to weakside linebacker this year – or at least play some snaps – but one way or another, expect Werner to be on the field for just about every play with the first-team defense in 2020.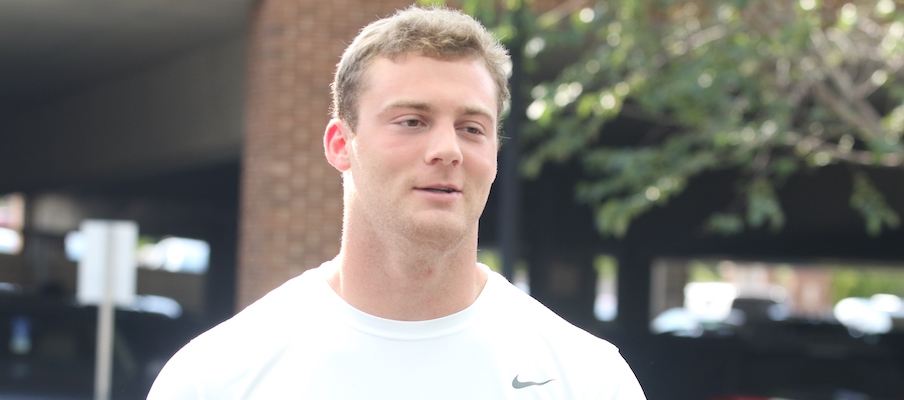 1. Thayer Munford, LT (1,922 snaps)
Even though he has had to battle through injuries that have kept him off the field at times over the past two years, Munford has played by far the most collegiate snaps of any Buckeye entering the 2020 season, having started all but one of Ohio State's games at left tackle in each of the past two seasons.
When healthy, Munford has been an excellent left tackle, and he'll look to finish his Ohio State career strong in his senior year. He provided crucial experience as the only returning starter on the offensive line in 2019, but going into 2020, there might not be any team in college football that has a better trio of proven offensive linemen than the Buckeyes do in Munford, Davis and Myers.