Mickey Marotti pursed his lips when recalling Jonathon Cooper's past year.
Sure, he's glad to still have Cooper as a Buckeye, but it wasn't the plan. Cooper didn't ever intend to remain at Ohio State as a fifth-year senior in 2020. The idea was always to suit up across the line from Chase Young, spend the 2019 season starting at defensive end as a senior team captain, have a breakout performance then head off to the NFL. His body had another idea, though. 
Before the season even kicked off, he suffered an ankle injury that kept him out of the first four games of the season. He returned to play 22 snaps against Nebraska in the fifth week, but defensive line coach Larry Johnson now concedes he might have rushed back a bit too soon. Cooper played 24 snaps each the next two games then found himself on the sideline again, his ankle forcing him to sit out.
"That's the hard part of this," Marotti said in January. "He had that look in his eyes. He was a captain. Even injured, he was a captain. That's the worst part of this job. You guys don't see him every day. Even the football coaches don't see him every day. The football trainers, the athletic trainers, the nutritionists and the strength coaches see him every single day, and you see how much they put in. You see how much time and effort. You see how much they sacrifice and dedication. All those things, you see it every day. 
"He is such an outgoing, positive, energized, juiced-up leader. You want to be around him. And then you see when that happens, it's awful."
Eventually, he got back to the point where he could play. But he had a decision to make: End his career by facing Michigan and playing a couple of postseason games or play one more game, take a redshirt and return for a fifth season at full health for Ohio State.
"Coop is a warrior, now. You look in a dictionary, find warrior, you're going to find Coop's name beside it. He's a resilient guy. He's got a lot of pride."– Larry Johnson on Jonathon Cooper
He chose the latter, opting to start and play 51 snaps in the 56-27 beatdown of the Wolverines, then sat out the Big Ten championship game and College Football Playoff semifinal in order to stick around as a Buckeye in 2020.
"I give him credit," Johnson said last week. "That speaks volume of his character, the kind of man he is, the kind of person he is that he decided I'm going to come back and do this again, not just for me, but I'm going to do this for my team. What an unselfish guy to be able to give himself back to our team and to our unit."
Cooper never intended for his career to take such a turn. As a one-time high-end four-star recruit out of Gahanna Lincoln ranked No. 33 overall in his class, he had his sights on being picked in last week's NFL draft at this time last year.
But there's a case to be made that this could benefit him in the long run.
To an extent, Cooper was somewhat of a known commodity. He was a great teammate, someone whom others flocked to and often referenced as one of the defense's leaders – even while injured. On the field, he had played three solid, if unspectacular, seasons at defensive end. He had 16 tackles, three tackles for loss and two sacks in 172 snaps as a sophomore, then became a starter as a junior in 2018, accumulating 25 tackles, 6.5 tackles for loss and 2.5 sacks across 632 snaps.
Based on past production, you had an idea of what his 2019 production might have looked like had he stayed healthy. But by the time he takes the field this fall, considering he both played injured and redshirted last season, it will have been nearly two years since a healthy Cooper played defensive end for the Buckeyes.
Will he have taken a significant step forward as a redshirt senior compared to what he had shown in past years? It's certainly possible.
"We're looking for great things from Coop," Johnson said.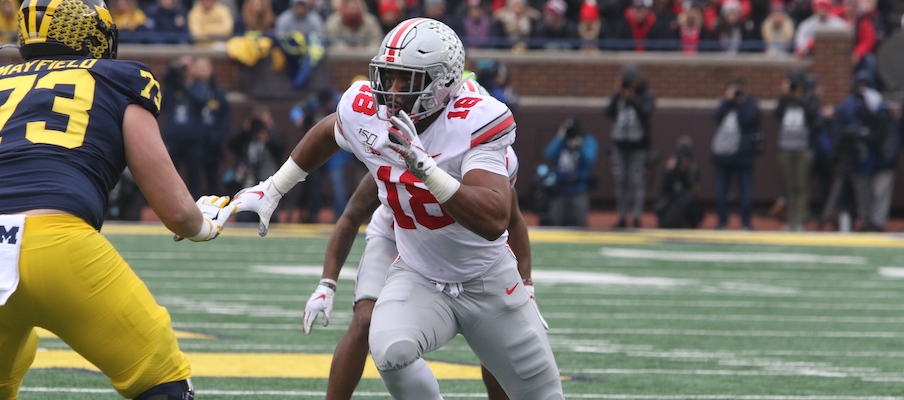 A fifth-year leap wouldn't exactly be an anomaly at Ohio State.
Just last year, DaVon Hamilton went from a solid defensive tackle to one of the best at his position in the Big Ten. That translated into him becoming a third-round pick. On the other side of the ball, Jonah Jackson transformed from an honorable mention All-Big Ten selection to a first-team all-conference pick between his fourth and fifth seasons. The year prior, both Terry McLaurin and Parris Campbell took major strides as redshirt seniors. 
It happens just about every year in Columbus, and Cooper wants to be the next to make a fifth-year jump, regardless of whether or not he thought he'd be in the NFL right now at this point a year ago.
"His leadership is off the charts," Johnson said. "He's been around some great players. He's seen it. You know how he works in that room, and he's taken a role that you expect a guy at this stage in his fifth year to have a chance to do. Just really pleased with where he's at right now. He's in a good place. He's healthy. He's strong. And really, he's just chomping at the bit to get going. I think he's going to be real valuable going into the fall, not only his position play, but his leadership role for the team and for our unit."
Both Cooper's production and leadership especially matter since Johnson can no longer rely on Young, who got picked second overall by the Washington Redskins a week ago.
Cooper will be the only returner on the defensive line who has ever started a full season before. Defensive tackles Haskell Garrett and Antwuan Jackson will also be seniors, but they're gearing up for their largest roles yet. Cooper started the entire 2018 season and would've been lined up opposite Young again in 2019 if he stayed healthy.
"The minute he said he was coming back, you're talking about the happiest coach in the world because you get a great leader back," Johnson said. 
Along with that leadership, Johnson could use Cooper having a breakthrough redshirt senior season on the field.
It'll be impossible to replace what Young offered with only one defensive end. Ohio State needs Cooper to take the next step in his development, and Johnson will also count on Zach Harrison and Tyreke Smith to make strides. Javontae Jean-Baptiste and Tyler Friday will be in the mix, as well.
Together, there's plenty to like about what they can become. But the potential is also largely unrealized for each of them. As the senior veteran among the defensive ends, Cooper will have a leading role in how they perform in 2020.
"Coop is a warrior, now," Johnson said. "You look in a dictionary, find warrior, you're going to find Coop's name beside it. He's a resilient guy. He's got a lot of pride."