At this point, it might be a foregone conclusion that Ohio State will have a multitude of NFL draft prospects next year. After all, the Buckeyes have had at least seven players selected in five consecutive drafts, and they've shown no signs of slowing down.
Even so, we're going to break down why Ohio State's draft class should be loaded once again in 2021 – specifically, with who could make up that loaded class.
Ohio State has had at least two first-round picks in each of the last five NFL drafts, and the Buckeyes look like they should easily have at least that many in 2021. There are at least 10 seniors on the 2020 roster who could be candidates to play in the league, and there are a multitude of underclassmen who could also be early entrants – some of who already look like obvious candidates to make the jump to the league a year from now, and others who could if they have a breakout 2020 season.
All of this, of course, comes with the caveat that the 2020 college football season could be impacted by the COVID-19 pandemic, which could potentially affect NFL draft decisions and how many opportunities players have to improve their draft stock.
For the purposes of this article, though, we'll proceed forward with the assumption that there will be a college football season this fall and that the 2021 NFL draft will also be held as scheduled.
Including C.J. Saunders, Ohio State's roster of scholarship players currently includes 18 seniors, 18 juniors and nine redshirt sophomores, so any one of those 45 Buckeyes could hypothetically emerge as a 2021 NFL draft prospect. Below, though, we take a look at the 20 Buckeyes who are most likely to hear their names called a year from now, divided up into three categories: Five potential first-round picks, 10 seniors who NFL scouts will be watching this season and five juniors who are candidates to be breakout NFL prospects in their third year as Buckeyes.
Five Top Prospects
Justin Fields, QB
Fields will enter his second and likely final season as Ohio State's starting quarterback as a legitimate candidate to be the No. 1 overall pick in the 2021 NFL draft. In his first season leading the Buckeyes' offense, Fields demonstrated both the physical tools and downfield passing ability to be an elite quarterback at any level, and if he can build upon that with another strong season in 2020, he should be one of the first players off the board next April.
Fields still has two remaining seasons of eligibility at Ohio State, but the expectation since he arrived in Columbus has been that he'd leave after his junior year – after all, he talked about playing to the NFL in his first interview session as a Buckeye – and there's no question that he, along with Clemson quarterback Trevor Lawrence, will be one of the top players in the NFL draft spotlight all year long.
Shaun Wade, CB
Wade could have entered this year's NFL draft and would have been an early-round draft pick, but he opted to return to Ohio State for an opportunity to play outside after playing primarily in the slot for the past two seasons. If he takes well to that move and proves his versatility, he'll position himself to be Ohio State's eighth first-round cornerback in eight years.
Wade has visions of being the best cornerback in college football in 2020 – Ryan Day has already said he thinks Wade is – and if he lives up to that expectation, it's well within the realm of possibility Wade could be a top-10 pick just like Jeff Okudah, the player he'll be replacing as Ohio State's No. 1 outside cornerback, was this year.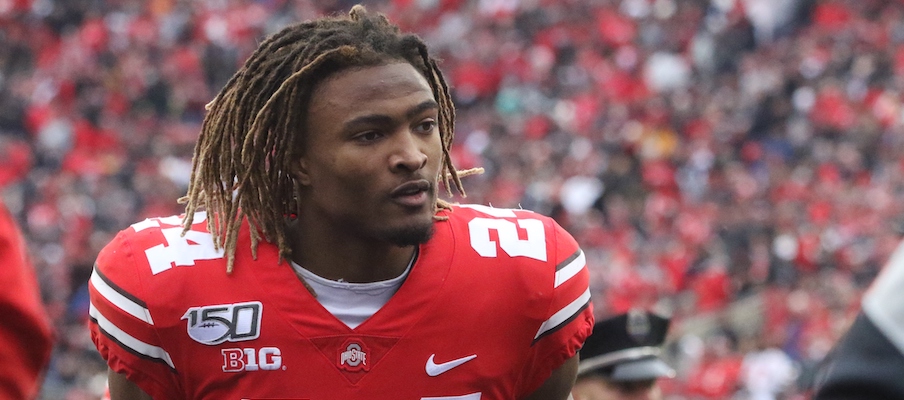 Chris Olave, WR
Olave didn't seem likely to be a three-and-done player when he arrived at Ohio State as the 399th-ranked prospect in the class of 2018, but he's emerged as another potential first-round NFL draft pick after leading the Buckeyes with 849 receiving yards and 12 touchdowns on 49 catches last season, making him a real candidate to go pro after his junior year.
A skilled route runner with great speed, reliable hands and a savviness for getting open, Olave's ability to both make big plays as a deep threat and contribute in the intermediate passing game makes him a potential NFL starter. Ohio State hasn't had a first-round wide receiver since Ted Ginn and Anthony Gonzalez in 2007, but if Olave has another big year in 2020, he just might end that drought in next year's draft.
Wyatt Davis, G
Davis, like Wade, is a fourth-year junior who could have declared for this year's NFL draft and likely would have been an early-round pick, but will look to cement himself as the top prospect at his position in what will probably be his final season at Ohio State this fall.
Had Davis entered the 2020 NFL draft after an All-American 2019 season, he already would have been a strong candidate to be the first guard off the board. At 6-foot-4 and 315 pounds with eye-popping power, the grandson of Pro Football Hall of Fame defensive end Willie Davis fits the prototype for an NFL guard. A second year of starting experience, though, will give Davis more time to refine his technique and become an even more dominant blocker.
Josh Myers, C
Davis isn't the only potential first-round pick for the 2021 NFL draft from Ohio State's interior offensive line. Myers hasn't yet gotten as much attention outside of Columbus as Davis, and the Ohio native could consider staying in school for his fifth-year senior season, but he's also one of the best returning offensive linemen in college football and has physical traits that should translate to the next level.
At 6-foot-5 and 312 pounds, Myers has excellent strength and quick feet, and he'll look to become Ohio State's third Rimington Trophy winner in five years this fall. If he can establish himself as the top center in the country, that could lead to a first-round draft selection, just as it did for Billy Price in 2018.
10 Seniors to Know
Thayer Munford, OT
Munford looked like a potential candidate to leave early for the 2020 NFL draft going into last season, but he made a smart decision to stay for his senior year after battling through injuries in his second year as Ohio State's starting left tackle. 
Those injuries affected his performance and likely would have hurt his draft stock, but if he can stay healthy and return to form this fall, he'll have a chance to be an early-round pick – especially considering the position he plays is typically one of the most highly valued in the NFL draft.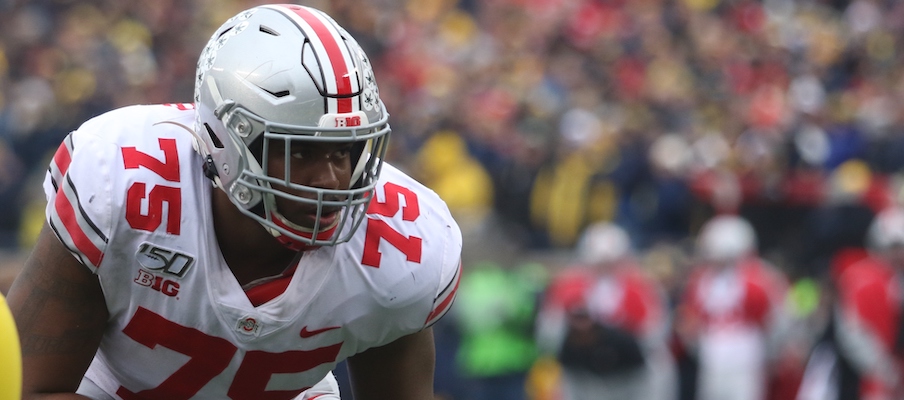 Pete Werner, LB
Werner still gets more criticism and doesn't get as much credit from fans as he deserves, but he legitimized himself as a future NFL linebacker last season, when he became one of the Buckeyes' top tacklers all the while showing the versatility to line up all over the field – from strongside linebacker to the slot to safety – in coverage. 
That kind of versatility is exactly what many NFL teams are looking for in modern linebackers, and Werner's combination of size, athleticism and instincts should enable him to translate his game to the next level. Don't be surprised if Werner ends up being a second-day draft pick.
Trey Sermon, RB
Sermon probably would have been a Day 3 pick if he entered the 2020 NFL draft, but he instead chose to transfer to Ohio State for his final season of collegiate eligibility. 
A 6-foot, 221-pound back with balance and power, the quickness to make defenders in the open field and ability as both a pass-catcher and blocker, Sermon has a well-rounded skill set that should translate to the next level, and if he can win Ohio State's starting job and pick up where J.K. Dobbins left off, he could shoot up draft boards.
Baron Browning, LB
Even though he hasn't yet been a regular starter at Ohio State, Browning could still be an early-round draft pick if he plays up to his potential in his senior year.
A five-star recruit out of high school, Browning is a first-round-caliber athlete at 6-foot-3 and 240 pounds, but his play has been inconsistent while splitting time with Tuf Borland at middle linebacker. Expected to move to outside linebacker for his senior season, Browning showed last season he can be an impact player as a blitzer and while playing downhill, but he needs to show growth as a tackler in space and in coverage to become a player the Buckeyes can consistently rely on and a player NFL teams can feel confident drafting.
Luke Farrell, TE
Farrell's ceiling as a draft prospect is limited, but he should be a solid middle-to-late-round pick. Having already started at Ohio State for two years, Farrell is a strong blocker with excellent size (6-foot-6, 258 pounds) and reliable hands.
He's never put up big numbers in the passing game, and that probably won't change in his senior year, but he's a capable short-yardage receiver whose blocking prowess and ability to contribute on special teams should lead to a steady NFL career.
Jonathon Cooper, DE
Cooper's hopes of having a breakout senior season last year were thwarted by an ankle injury, but taking a redshirt and returning as a fifth-year senior will give him one more opportunity to prove he can be an impact player and elevate himself as an NFL draft prospect this fall.
A 6-foot-4, 257-pound defensive end who was a team captain last year, Cooper likely projects as a late-round draft pick right now. If he can achieve more production as a pass-rusher and finally make the leap from role player to game-changer in 2020, though, his stock could soar given his physical traits and leadership qualities.
Tuf Borland, LB
We'll start by addressing the elephant in the room: Borland has subpar speed for an NFL linebacker, which is going to hamper his draft stock. He isn't likely to be a star at next year's NFL Scouting Combine, and in an era where a linebacker's ability to make plays in space is valued more highly than his ability to shed blocks and stuff runs between the tackles, his pro potential could be limited.
That said, Borland is about to become the second three-time captain in Ohio State history, and there's a reason why he's been a mainstay in the Buckeyes' starting lineup. True to his name, he's a tough, strong linebacker with excellent instincts, and he's a great leader who's earned the trust of his teammates. He probably won't be an early-round draft pick, but there will be NFL coaches who like the qualities he could bring to their teams.
Haskell Garrett, DT
Garrett, like DaVon Hamilton and Jashon Cornell this past season, will look to earn a starting job for the first time in his senior season and legitimize himself as an NFL draft prospect in the process.
His first three seasons in Ohio State's defensive tackle rotation have been quiet, but he has NFL athleticism at 6-foot-2 and 299 pounds, and he arrived in Columbus as a top-100 recruit out of high school. If he can beat out Taron Vincent to start at 3-technique and have a breakout final season as a Buckeye, a Hamilton-like rise up draft boards could happen.
Drue Chrisman, P
Much like his predecessor Cameron Johnston, Chrisman is set to be a four-year punter for Ohio State and should have a legitimate chance to earn one of the NFL's 32 punting jobs.
With a career average of 43.9 yards per punt that ranks fifth in Ohio State history, Chrisman is one of the best punters in the country – even though he might be best known for flipping water bottles – and should at least get an opportunity to compete for a roster spot in an NFL training camp in 2021.
Blake Haubeil, K
Kicker is the one position at which Ohio State doesn't currently have a player on an NFL roster, but Haubeil could change that in 2021.
He'll need to have a big senior year to have a chance to get drafted, but he has the leg strength to kick in the league – as evidenced by his 55-yard field goal at Northwestern last season – and is coming off a 13-of-15 season on field goals in which he proved he could be consistently reliable.
Five Juniors to Watch
Tyreke Smith, DE
After Nick Bosa and Chase Young went with the No. 2 overall pick in back-to-back drafts, NFL scouts will certainly be keeping an eye out for the next Ohio State defensive end to emerge as a star pass-rusher, and that could be Smith. 
He only has three sacks in his first two seasons as a Buckeye, but he's battled through some injuries while only seeing rotational playing time. Smith has the length and athleticism that NFL teams covet in edge rushers, and if he can stay healthy and continue to develop, it's easy to envision him having a breakout junior year and emerging as an early-round draft prospect.
Tommy Togiai, DT
Togiai only saw limited playing time as Ohio State's third-string nose tackle behind Hamilton and Robert Landers in his first two seasons as a Buckeye, but he might be a better NFL prospect than both of them, and he'll get his chance to prove it as a starter in his junior year.
Identified by multiple teammates as the strongest player on the Buckeyes' roster, Togiai is a true nose tackle who also has excellent quickness for a 300-pounder. Although he hasn't played regularly enough to show it yet, he has early-round pick potential.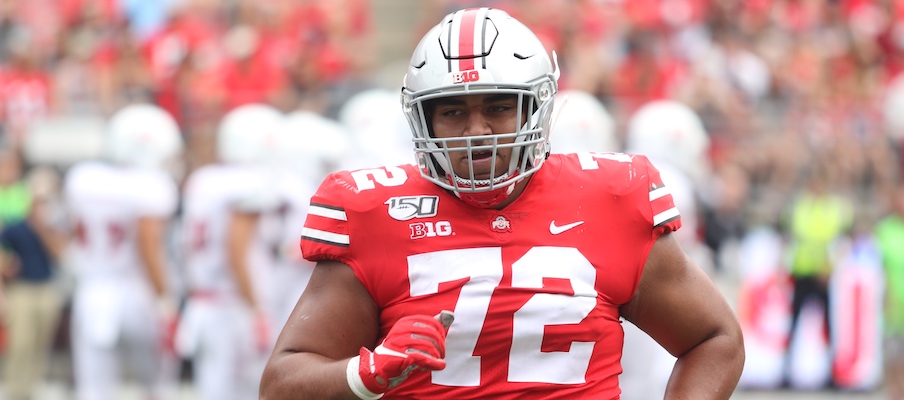 Josh Proctor, S
Proctor has spent his first two seasons at Ohio State waiting behind Jordan Fuller for his turn to start at free safety, but he has higher NFL upside than Fuller and is another candidate for a breakout junior year.
In limited playing time, Proctor has flashed excellent range to make plays on the ball as a deep safety while also showing that he can lay crushing hits on ballcarriers. He now needs to prove he can consistently play the eraser role on the back end – his whiff on Trevor Lawrence's 67-yard touchdown run in the Fiesta Bowl is a moment he needs to learn from – but if he can make the big plays he's clearly capable of while also preventing opponents from making big plays against him, he could be Ohio State's best safety prospect since Malik Hooker – whose draft stock also exploded in his third year as a Buckeye.
Jeremy Ruckert, TE
While it isn't very common for an Ohio State tight end to put up big numbers as a pass-catcher or leave early for the NFL draft, Ruckert just might be a candidate to do both in the upcoming year. 
An excellent athlete at 6-foot-5 and 253 pounds with the ability to stretch the field and make big plays downfield, Ruckert fits the modern prototype for a tight end who can create mismatches as an inside receiver. Even if he doesn't put up big numbers, which doesn't happen often for Ohio State tight ends these days, his potential as a passing-game option – while he's also a solid blocker – makes him a possible early-round draft prospect for 2021 or 2022.
Sevyn Banks, CB
There are numerous Buckeyes who could have gotten the last spot on this list – Nicholas Petit-Frere, Taron Vincent and Tyreke Johnson, all five-star recruits from the class of 2018, are others who come to mind as potential breakout NFL draft prospects for this upcoming year – but Banks, although he isn't as well-known yet as the other juniors on this list, is positioned to potentially emerge this fall as the next great cornerback in Kerry Coombs' secondary.
While he was among the lower-ranked prospects in Ohio State's class of 2018, Banks has drawn praise for his development since he's arrived on campus and appears likely to be one of the two new starters at cornerback – whether outside or in the slot – this season. He got off to a strong start this spring before coronavirus brought practices to a halt, and at 6-foot-1 and 200 pounds with athleticism and playmaking ability he's demonstrated in limited snaps and on special teams, he could quickly work his way onto NFL radars if he locks down a spot in the lineup.