For the second year in a row, an Ohio State player who nearly left the Buckeyes after four years chose to stay in Columbus for one more year and reaped the rewards as an NFL draft prospect.
Two years ago, that was Terry McLaurin, who had thoughts about entering the 2018 NFL draft – even though he was only projected to be a late-round pick, if he was to be drafted at all – but chose to stay at Ohio State for his fifth-year senior season. That decision paid off handsomely. McLaurin had his best season as a Buckeye by far, was selected in the third round of the 2019 NFL draft and made an immediate impact in his rookie season with the Washington Redskins, leading the team with 58 receptions for 919 yards and seven touchdowns.
Last year, that was Damon Arnette, who nearly entered the 2019 NFL draft – even though he wasn't expected to be an early-round pick then, either – before listening to the advice of former Ohio State wide receiver Cris Carter and the Buckeyes' coaching staff and opting to spend one more year in college. That decision clearly paid off on Thursday when Arnette, after he also had his best season by far as a fifth-year senior, was chosen by the Las Vegas Raiders with the No. 19 overall selection in the 2020 NFL draft, putting him in position to also make an immediate impact in the league as a first-round pick.
At this point, Arnette's growth over the past year has been repeatedly documented – including by us here at Eleven Warriors – but if the tweet below from Ohio State athletic director Gene Smith is any indication, Arnette's story is one that will be proudly retold inside the Woody Hayes Athletic Center for many years to come.
Last year, he decided to come back to Ohio State to complete his degree and play one more season.

Last night, he became a first-round NFL draft pick. Congrats to @damon_arnette & all of our Buckeyes! #GoBucks pic.twitter.com/F6NkmDP8P6

— gene smith (@OSU_AD) April 24, 2020
To Ohio State head coach Ryan Day, Arnette and McLaurin's stories both serve as shining examples of what an extra year with the Buckeyes can do for an NFL prospect if he puts his trust in the coaching staff and works hard.
"Now you have testimony with two guys, Terry McLaurin and Damon Arnette, both on different sides of the ball, who could have come out the year before. But it was our advice that they weren't quite ready yet, and then told them all the reasons why, and then put a plan together on what we needed to get done. And very, very proud in the last two years that we've done that with those two guys," Day said during a teleconference on Sunday.
There's different reasons why a player might blossom in his final year of college football, and sometimes they're circumstantial.
Both McLaurin and Arnette benefitted from playing for new position coaches with NFL experience in their senior seasons, as McLaurin's game grew under the tutelage of Brian Hartline in 2018 while Arnette's did the same with Jeff Hafley's guidance in 2019. McLaurin's 2018 production increased in part because Ohio State had a more pass-heavy offense with Dwayne Haskins at quarterback, while Arnette's 2019 performance improved in part because the Buckeyes implemented a new scheme that allowed their defensive players – especially their cornerbacks – to play to their strengths.
McLaurin was already a team captain as a redshirt junior and graduated before the end of the 2017 season, but even he admitted a year later that he was "probably a little silly" to consider entering the 2018 draft. Arnette, who needed to stay in school to graduate and didn't have a great off-field reputation early in his career, has admitted repeatedly that he needed to become more serious about his business, which he did over the past year.
"I chose to go back to school to rewrite my legacy at Ohio State. I feel like I wasn't the best player I could be on or off the field, so I decided to come back and regather myself and start over," Arnette said on a teleconference with Raiders reporters on Thursday. "What improved is really just my mentality, how I approached certain situations on the field, off the field, everything. Once I got my mind right, everything else just fell in line."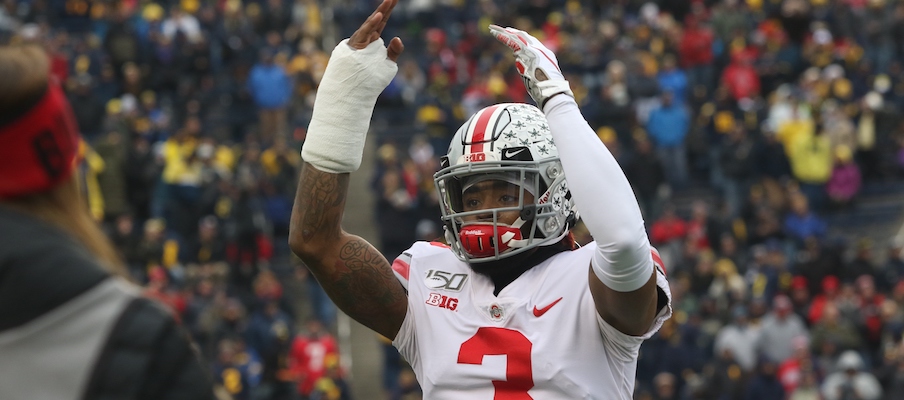 They're far from the only recent Buckeyes who have made significant strides in one final season at Ohio State that improved their opportunity to play in the NFL. 
DaVon Hamilton was coached by Larry Johnson for his entire Ohio State career, but it wasn't until his fifth-year senior season that he became a consistent difference-maker for the Buckeyes, enabling him to be selected in the third round of this year's draft. The same can be said for Jashon Cornell, who was a seventh-round draft pick this past weekend. Parris Campbell improved his stock to become a second-round pick in 2019 after he caught 90 passes – a single-season Ohio State record – for 1,063 yards and 12 touchdowns as a fifth-year senior.
Given that only three Ohio State players entered the 2020 NFL draft with remaining eligibility, there's plenty of candidates on the roster to have similar senior-year leaps to improve their stock for the 2021 draft. Perhaps Jonathon Cooper will finally have the breakout season he's been chasing after returning for an unexpected redshirt senior season due to an ankle injury. Haskell Garrett could be the next Hamilton or Cornell at defensive tackle if he can lock down a starting spot. Pete Werner, Baron Browning and Tuf Borland have all had their ups and downs at linebacker, but much like Arnette and McLaurin, any one of them could make their skeptics look foolish with a big senior year in 2020.
That's not to say that every Ohio State player should stay in school for four or five years. Chase Young and Jeff Okudah, who were the No. 2 and No. 3 overall picks in this year's draft, clearly made the right decision to leave school after three years, as their draft stock couldn't have gotten any higher. J.K. Dobbins fell a little further than expected in this year's draft before the Baltimore Ravens selected him with the No. 55 overall pick, but his stock probably wouldn't have gotten much higher after he ran for a school-record 2,003 yards in 2019, so Day didn't try to convince him to stay in school.
"I think J.K. felt like it was his time," Day said. "So I totally understood that and supported him in this decision. Would we have loved to have him back? Of course we would have. But I think that it made sense."
While Day and his staff would certainly love to have any NFL-caliber player at Ohio State for as many years as possible, they also recognize their responsibility to help their players make the best possible decisions for their future, so they're not going to beg a player to stay if they know he's ready to go pro. 
In the cases of McLaurin and Arnette, though, the coaches knew another year at Ohio State could help them achieve their dreams of playing in the NFL, and they were right – which gives Buckeyes with similar decisions to make in future seasons reasons to heed their advice.
"If we think that somebody's maybe ready early, then we give them all the best and support them, but then there's other guys for a variety of different reasons that maybe need another year. And there's nothing wrong with that," Day said. "Everybody has their own journey. Because the idea for those guys is to maximize themselves once they're in the NFL, not just to get there and just to get drafted, to go make a career out of it, and I think Damon is now ready."