On Feb. 5, the day Cameron Martinez finally signed his National Letter of Intent to play football at Ohio State, Ryan Day called him "the exception."
As a Michigan native joining the Buckeyes who had bypassed the Early Signing Period in December to reevaluate his options before locking down his decision two months later, he fit that bill for a number of reasons. But in the context Day used that description, he was referring to Martinez's ability to play on both sides of the ball. While many players line up on offense and defense in high school, few do so in college.
Day said Martinez, who played quarterback in high school and was evaluated by national recruiting services as a four-star athlete, will get a chance to play on each side of the ball as they figure out where he will end up. As Martinez nears his Friday move-in date to Ohio State, the plan to initially play both offense and defense remains in place.
However, the incoming freshman says he has been "mainly preparing" to play defense.
"I think it had a lot to tie in with coach (Jeff) Hafley, of course, being in there but he left and then coach (Kerry) Coombs came in," Martinez told Eleven Warriors on Tuesday. "So it's kind of just like me and coach Coombs had a relationship really fast. We were able to get close when he got the job, so that's kind of just like the same thing. I trusted him and I just really found a way to embrace the defensive side of the ball, and I'm really enjoying it right now."
Offensively, where he would likely play wide receiver, he "sometimes" works with graduate assistant Billy Fessler. Matt Barnes, the assistant secondary coach and special teams coordinator, has also talked about involving him in the return game.
But he's spent most of his time diving into the defensive playbook and taking part in meetings with the rest of the secondary. Martinez said he'll "probably" play cornerback, though there have also been conversations about him getting time at cover safety and nickelback, too.
"If I can get the whole process down and how everything all works, then I can maybe move around a lot on defense and just help any way I can to contribute," Martinez said.
In a weird, unexpected way, Martinez has actually benefited from the pandemic shutting down spring camp.
If the 15 practices happened in March and April as usual, since he didn't enroll early, he would have had to go over the playbook himself. High school basketball would have taken up much of his time, and the team would have spent weeks installing the playbook on the field. Because the Buckeyes only managed to have three practices this spring, he's been in the meetings as Coombs and his staff accomplished what they otherwise would have been doing on the field.
It has helped, he said, since there are "a lot of things that you don't know" at the college level.
"Me being a quarterback, I came into this whole thing open-minded and just learning a lot," Martinez said. "There's a lot of stuff that I've never really heard as far as concepts and things like that. Just the ability for me to learn and to come in and really have an idea of how this all works, it's just helpful for me."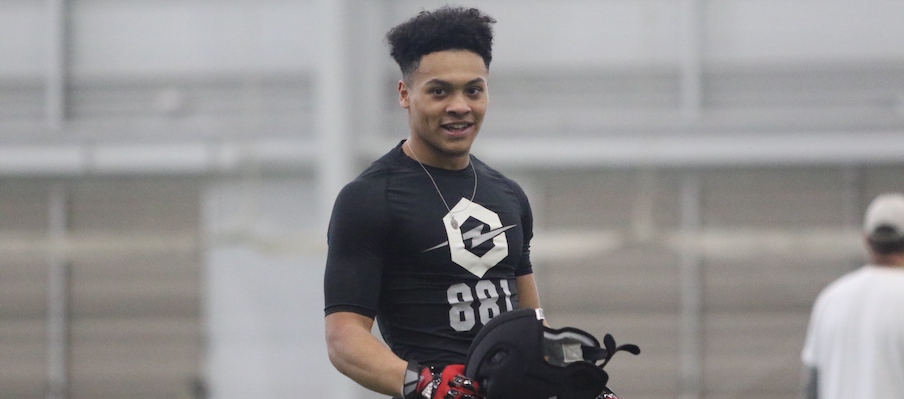 In readying himself for the next level, he has heeded the advice of Mickey Marotti.
As Marotti has learned, there was no simple solution for the Ohio State players who have had to work out at home for the past three months amid a pandemic. Nicholas Petit-Frere managed to bring down his gutter while doing pullups on it, and Matthew Jones spent some time lifting milk jugs filled with dirt and sand. Some players have been blessed with accessible gyms or personal trainers, while others have had to accomplish makeshift workouts.
One way or another, though, Marotti stressed getting into a routine. Last month, the head strength and conditioning coach said that's what his staff has "preached to our players."
Martinez listened, and he applied that thinking.
"It's kind of actually something that once this whole quarantine started, that was just my big emphasis is staying in a routine," Martinez said. "That's just who I am. I'm always in a routine. I just had to adjust to the resources I had and the things I had to do with being in the house all day. I was able to have one, and it's been going good ever since. I feel like I've been getting better with this whole thing going on."
Each morning, he and his older brother – Christian Martinez, who plays football for Northwood University – set alarms and begin working out at around 6:30 a.m. The workouts, which take place downstairs in their house, have been "up-tempo" and typically last around an hour. 
Then, later in the day, Martinez and his brother get in a second workout, also making time for field work and meetings with his Ohio State coaches.
"That's why (I'm) going through these two-a-days and waking up early," Martinez said. "It just gets my mind right, just trains it. I think that's a really big thing, as well. Just to make sure that I'm mentally ready."
Finally, Martinez's in-home two-a-days have come to an end. They're all over.
He and his family will pile into a car on Friday morning to begin the trip from Muskegon to Columbus, where he'll move everything in.
"A lot of my family members are in college," Martinez said. "They always talk about the experience, and I'm going to be able to experience that in a few days. So I'm just mostly excited about that and the next journey to learn a lot and to be the best player and person I can be."
Back in February when he signed with the Buckeyes, Martinez was anxious to get to Columbus. The past few months have only compounded that feeling.
On Friday, he'll finally move in.