MUSKEGON, Mich. – Cameron Martinez had felt this exact way before. 
The confidence fueling a decision he believed he was ready to make led to his July 4 commitment to Ohio State. Six months later when Jeff Hafley left for Boston College just days before the Early Signing Period opened in mid-December, Martinez had to reevaluate his options. 
After more than a month of thought, introspection, conversations, tough questions and various coaches trying to entice him to their schools, he was finally ready to put a stop to it all. He wanted to reaffirm his commitment to play football for the Buckeyes and sign his National Letter of Intent on Feb. 5.
So on Jan. 27, a few days after Kerry Coombs spent 12 hours in his hometown of Muskegon, Michigan, Martinez strolled into his parents' room. Laying on the bed watching television was his stepfather, Keith Guy, who's the athletic director and head boys' basketball coach for Muskegon High School. Martinez, who had remained committed throughout the process, told Guy he didn't want to deviate from his plans. He had made up his mind he wanted to sign with Ohio State the following week. 
"Me, being who I am, I was good with it, but I told him he had to convince me why," Keith Guy said. "I wanted him to convince me why he wanted to go there."
Like Rafael Nadal and Roger Federer, they began to go back and forth. 
The way Guy retells the story, he took the role of devil's advocate, asking rapid-fire questions to Martinez in succession. Again and again and again they went. 
Guy: "So you only knew coach coach Coombs for a day or you've only seen him for a day. How do you know?"
Martinez: "Well, I've researched him and we talk on the phone and I've seen what he's done to develop other players and his track record."
Guy: "If you've said you've prayed about it before and you said you prayed about it now, then what's different, because God doesn't change his mind in my opinion?"
Martinez: "No, I always knew it and I knew I had to, and it's just why I did it."
Guy: "Do you know what position you want to play? What if they put you on this side of the ball?"
Martinez: "Well, I can play on this side of the ball."
Guy: "But this might happen here. What if you get hurt?"
Martinez: "Well, I can get hurt at other places."
Guy: "This is The Ohio State. This is the factory. There's guys there that were five-stars."
Martinez: "Well, I don't care. I should have been a five-star."
His stepfather listened carefully to every answer. He paid attention to Martinez's body language, looking for any sign of his confidence shaking. He didn't see his stepson waver, and he heard a directness in each response.
After about 15 minutes, the questioning ended.
"He knew what he wanted and I was convinced," Guy said.
Or, at least almost convinced. Guy then required Martinez to abide by the family rule of not making a circus out of the recruiting process. He had his stepson call coaches from each school still recruiting him to tell them he had chosen Ohio State.
To his stepfather, the phone calls had two purposes. One, in his family's mind, they were the right thing to do. And two, they were the last step for Martinez to make it clear to Guy that he felt comfortable in his selection.
"It wasn't going to be a text. They wasn't going to find out via social media. It was going to be a call," Guy said. "That lets me know too, if you can make those calls and people that you've built relationships with and tell them that you're going to another school or you're not going to marry them, then that means the person you're marrying you really want to marry."
Martinez made his choice public the next day, telling the world he'd become a Buckeye.
I will be signing and honoring my commitment to be a Buckeye, a lifelong dream of mine!!! I couldnt be more excited and thankful to Coach Day and the rest of the Coaching staff!!! #GoBucks

— Cameron Martinez (@CM240) January 28, 2020
A week later, he sent in his National Letter of Intent. It was done. The process had ended. Finally.
"It's a big sigh," he told Eleven Warriors a few hours after signing with Ohio State.
---
Walk into Martinez's bedroom now, and you'll see an Ohio State bedspread. 
It wasn't always that way. That exact blanket actually used to cover his older brother's bed when Christian Martinez was the sole Buckeyes fan in the household. When the younger Martinez committed to play for Ohio State, it shifted rooms. 
Welcome to what their mother, Kiesha Guy, calls a "house divided."
Because Kiesha Guy grew up watching Michigan games with her dad, she cheered for the Wolverines. Her daughter and husband rooted for Michigan State. A framed photo of Keith Guy and Tom Izzo sits on display in his office. Christian reps Ohio State, which he has done his entire life. He once sent Jim Tressel a letter about calling plays and got a card in return. If anybody in the family would play for the Buckeyes, Kiesha wondered, how would it not be Christian?
Cameron Martinez, growing up, rooted for Michigan alongside his mother. Before the swap, he slept with a Michigan bedspread.
"I really thought Cameron would end up in-state, for sure," his mother said. "But I think it just speaks to him, too. Most kids in-state stay in-state. But he had to look at the process and see what he thought was best for him. That school happens to be out of state, and it happens to be Ohio State."
The football programs in Ann Arbor or East Lansing seemingly had all of the advantages any in-state team could ask for in the recruitment of a four-star prospect who ended his career as a two-time MLive Michigan Player of the Year. Yet neither came close to landing him – even though Ohio State's coaching turnover left an opening for others to jump in.
Martinez saw Coombs leave for the Tennessee Titans in early 2018. Taver Johnson was brought in as the replacement, began recruiting him, then wasn't retained when Urban Meyer retired in December of 2018. Another hire meant another chance for Martinez to get lost in the shuffle.
"It's like a cycle of all these coaches, so I never really knew if I was ever going to get an offer from them," Martinez said. "They were just going to have to restart again."
Along came Hafley, hired after seven years in the NFL by Day to coach the defensive backfield.
The affable co-defensive coordinator took a liking to Martinez, a 5-foot-11, 183-pound athlete seemingly able to play just about anywhere on the field. The Ohio State offer finally came on Feb. 15. Less than five months later, he committed.
Committed... Happy 4th pic.twitter.com/hUXPIdKghj

— Cameron Martinez (@CM240) July 4, 2019
As much as anything else, Martinez ended his recruitment at the time because he saw himself playing for Hafley, the first-year co-defensive coordinator who hadn't even coached a game for the Buckeyes yet. 
"That, by far, was the best relationship that I've had this whole recruiting process with any coach," Martinez said.
The following months passed, and Martinez's commitment didn't waver. He remained destined to become a Buckeye.
However, when rumors of Hafley's candidacy for head coaching jobs began to surface in early December, uncertainty began to creep into Martinez's mind. He remembers thinking, "If he does leave, what am I going to do?" 
To give Martinez's family a lens into what was happening, Hafley made a stop in Muskegon to see Martinez on Dec. 8, the day after the Big Ten championship game. They had what his stepfather called a "direct conversation." They let him know they had seen his name come up in job rumors, and Kiesha Guy remembers the family telling him outright that Martinez wouldn't sign his National Letter of Intent in December if he leaves.
"Look, I'm going to be up front with you. I want to be a head coach, but I don't see it happening this year," Keith Guy remembers Hafley telling everybody in the room.
Martinez said it "seemed like he was going to stay." 
A few days later, though, rumors turned into credible reports. Late at night on Dec. 13, Yahoo's Pete Thamel reported Boston College planned to hire Hafley as its next head coach, and other reporters soon corroborated the information. The next morning, Martinez got a call from Day. Having seen all the reports the night before, he already knew what it would be about.
Hafley was gone.
---
Emotional decisions don't rule Martinez or those in his family.
Keith Guy had a rule that whenever they went on college visits, Martinez couldn't commit on the spot. He wanted his stepson to have time to reflect in the days following what he called the "sugar high" of a trip to campus. Kiesha Guy had a term for the lure of Ohio State – the "bright, shiny" – to remember the need to step back at times to process everything. 
So when Hafley opted to depart for Boston College, Martinez didn't immediately decommit. But he didn't declare his intention to sign, either.
Four days to make a four-year decision. That's all Martinez had. 
"I believe in doing everything the right way and I don't want any regrets," Martinez said.
Some people like to tell recruits to commit to a school, not a position coach. It's a nice idea, but to many, it's also not particularly realistic.
To Martinez, Hafley's departure especially mattered because he didn't have a position set. Wide receiver, cornerback, safety, nickelback, returner? All of them seemed realistic to the high school quarterback, and he says he had put his trust in Hafley to figure out where he'd end up. Off the field, he also bonded with Hafley in ways he hadn't yet with anybody else on the staff. Plus, while Hafley stayed "constantly in conversation" with his mother, she didn't have a long-standing relationship with any of the other coaches.
"I kind of felt like I was handing him off to Ohio State and coach Hafley," Kiesha Guy said.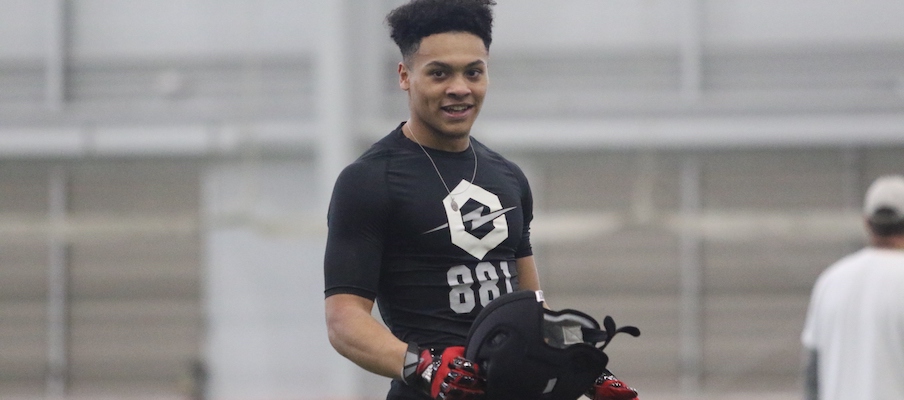 Because Martinez and his family weren't completely comfortable with the situation, he didn't ink his signature with the rest of Ohio State's recruiting class of 2020 on Dec. 18, the first day of the Early Signing Period.
Just in case anything changed, Ohio State sent a National Letter of Intent for Martinez to have in his possession. So, too, did a couple other schools hoping he'd flip. But ahead of that day, he had already let Day know he didn't plan to sign with anyone.
"Coach, I'm not sure," Keith Guy remembers Martinez telling Day on the phone. "It's not anything against you. I just had a better relationship with Hafley. I knew I'd probably be playing for him, and maybe I need to decommit. I'm not saying I'm not coming, but I just want to make sure I'm right."
Day then asked Martinez to talk to his father.
He told him that he understood why his stepson wouldn't sign with Ohio State in the immediate aftermath of Hafley's departure. He let him know his coaching staff wouldn't put any pressure on him to sign that day. But Day also told Keith Guy that he thought it best for Martinez not to decommit as he restarted the recruiting process.
"Stay committed but go ahead and see the other schools," Keith Guy remembers Day saying. "If he feels like those schools are best for him and Ohio State's not, we understand."
Martinez abided. He stayed committed. 
And in came the calls.
Northwestern and Minnesota, the two runner-ups before Martinez committed way back in July, both got involved again. Notre Dame made a push for him. LSU and Oregon, among other schools, expressed interest in him. The Tigers reached out through a former high school teammate – rising redshirt freshman offensive lineman Anthony Bradford – and Ducks head coach Mario Cristobal contacted Martinez directly. He rebuffed both of them due to a lack of time to evaluate them.
As that was going on, Day stayed true to his side of the agreement.
"He was great with it," Keith Guy said. "Didn't pressure him. Called, just recruited him just like he normally would and he just allowed him to go through his process and take his time."
To Kiesha Guy, Day's handling of the process went a long way. His involvement, she said, was the most important aspect of the re-recruitment.
He stayed in constant contact, answered tough questions and never put pressure on the family, she said. Day also helped quash her fears of sending him to what she had heard from outsiders was a "football factory." 
When Martinez initially committed in July, Kiesha Guy supported his choice because he's her son, but she was only 80 percent on board. She says Ohio State wasn't her first choice at the time. She didn't know Day well, and she worried about academics – especially when compared to Northwestern – and the possibility that he'd get lost among the other 84 scholarship players. Her kids having an identity beyond football is important to her.
As the calendar turned to January and conversation with Day picked up, he slowly gained her trust.
"This is business, no doubt about it, but you could still see the side where they want to take care of these kids," Kiesha Guy said. "Yes, they're all in business to win football games, but they really want what's best for these kids. And I could sense that in just getting to know (Day) and coach (Matt) Barnes."
On Jan. 17, Day and Barnes visited Muskegon, sitting in the same stands as Notre Dame and Northwestern assistants to watch Martinez play a basketball game. With the calendar creeping toward National Signing Day, Keith Guy says Day still didn't attempt to persuade him to sign.
"If there was a perfect way to handle it and there was an instruction manual, that was it," he said. "They did an excellent job with it."
One step remained.
Martinez and his family needed to meet Hafley's replacement. They needed to meet Coombs, the 58-year-old, coffee-infused defensive coordinator.
---
As the day of Jan. 22 dragged on, Martinez had to wonder whether he'd ever actually meet Coombs. 
Because he only spent a bit of time at school before going to his off-campus work-study job, two days after Ohio State made the hiring of Coombs official and the first day Coombs was unleashed on the recruiting trail, Martinez didn't get the opportunity to meet Hafley's replacement until later in the day. 
In the meantime, Coombs had a full itinerary.
He arrived at Muskegon High School around 9 a.m. and began meeting everybody not named Cameron Martinez. Initially, he spent some time with the academic athletic advisor. Then came time with a couple football coaches. Coombs soon walked over to the athletic director's office and spent a couple hours diving into everything with Keith Guy, who led him to the team room so he could catch up on paperwork and the playbook for two hours. 
"He had saw everybody else but me," Martinez said. "I was kind of just like, everybody's meeting him, I can't wait to meet him."
In the team room, Coombs finally met whom he had come all the way to see. There, Martinez got an unusually subdued greeting from the coach.
"It was calm, actually," Martinez said. "He was at the school all day."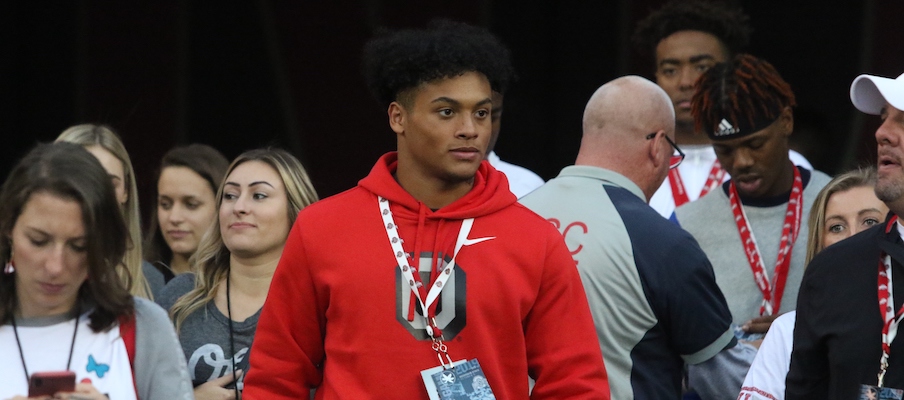 Coombs stuck around to watch Keith Guy lead a practice and team meeting for Muskegon's basketball team, on which Martinez plays. Around 5 p.m., they then headed to the family's home, and the conversation picked up.
They hit on "everything," Martinez said.
Coombs discussed his background, taking them through his coaching trajectory. He opened up about where he's from, his past jobs, his experiences coaching in high school, college and the NFL. He talked about Martinez's nine-minute, touchdown-only highlight tape, what he saw and his plan for how Martinez would be used in Columbus.
With such an abbreviated time frame and only one in-person meeting between Coombs, Martinez and his family guaranteed before a decision, they also had to delve into the possibly uncomfortable questions.
You don't really know him, so why would you want him?
We know you have other guys that you have to work with, and how's Cameron going to fit into the scheme of things?
Around 9 p.m., Coombs left their house.
The conversation left Martinez feeling "really good about everything." His stepfather agreed.
"I felt his passion," Keith Guy said. "I've been in this business a long time and have gone through it with other people's kids. I try to read people. There's no exact science. I get it wrong. But you can see when a person is genuine for the most part and when he's not, and I think me laying eyes on him and his conversation and him and I talking, it felt like it was real and it was the right person. That I could have coach Day and coach Coombs coach my son."
Coombs' mission accomplished? Maybe. 
But as was the case when he didn't sign in December, Martinez refused to make any rash decisions. So he waited, and waited, and waited. Northwestern didn't let up, chasing him as January crept along. Minnesota still wanted him, too. Martinez nearly set up an official visit to Notre Dame before he realized he wouldn't get what he wanted out of a day-and-a-half trip and shut that possibility down.
Days passed, and the decision became clear in his mind.
"I just processed it through and let it process through for a few days, and I was all in on Ohio State," Martinez said.
On Jan. 28, Martinez' recruiting process unofficially ended. He announced that he'd stick with his commitment and sign to play football for Ohio State.
On Feb. 5, it officially ended. He sent in his National Letter of Intent.
Forty-nine days later than expected, Cameron Martinez became a Buckeye.