Throughout the course of the offseason, Eleven Warriors is taking an in-depth look at the state of every position group at Ohio State.
Most of those who lined up at defensive end for Ohio State in 2019 have returned.
Jonathon Cooper's the veteran in the room, and he's joined by fellow upperclassmen Tyreke Smith and Tyler Friday. Rising sophomore Zach Harrison, redshirt sophomore Javontae Jean Baptiste and redshirt freshman Noah Potter are joined by true freshmen Darrion Henry-Young, Jacolbe Cowan and Ty Hamilton to make up a talented position group.
The one notable absence, though, changes everything.
Chase Young, who was selected second overall by the Washington Redskins in April's NFL draft, accounted for 16.5 sacks in 577 snaps last season, and the rest of the returning defensive ends managed 11 sacks in 1,106 snaps in 2019. Without Young around anymore, the Buckeyes will need a bevy of others to step up this fall.
"Of course, our ends always have to be a factor in what we do," defensive line coach Larry Johnson said. "It's great to have Jonathon Cooper back, and along with Zach, Tyreke, JB and Tyler Friday, those guys will be a factor going into fall."
Today, we're taking a deeper look at the defensive ends, both this season and their long-term future.
The Personnel
Jonathon Cooper (RS-SR): Because of a lingering ankle injury that never quite fully healed, Cooper decided late in the 2019 season to redshirt and return for a fifth year at Ohio State. He'll be the sole senior defensive end on the roster this fall. Once a near-five-star recruit, Cooper is still searching for a breakout season. He maxed out at 2.5 sacks in 2018 and managed one sack in four games while playing hurt last year. He's expected to start in 2020.
Tyreke Smith (JR): Like Cooper, Smith battled an injury that kept him out of a few games and limited his production in others in 2019. He had 12 tackles, five tackles for loss and three sacks last fall. Now an upperclassman, Smith hopes to have his best season yet. He was once ranked as the 34th-best recruit in his class, underscoring the physical potential he possesses.
Tyler Friday (JR): A top-100 overall recruit in 2018, Friday enters his junior season having picked up three sacks in two years. He's one of the many defensive ends on the roster hoping to take a significant leap in 2020. Friday doesn't have the standout measurables of some of his teammates, but he remains a key part of what Johnson wants to do this fall.
Javontae Jean-Baptiste (RS-SO): As a freshman, Jean-Baptiste spent the year putting on weight to an imposing 6-foot-5 frame. Last year, he finally got extensive time on the field as an edge rusher, playing 201 snaps. He could have a similar role in 2020 as he looks to secure a spot in Johnson's regular rotation.
Zach Harrison (SO): If someone was building a Create-A-Player in the NCAA 14 video game, they'd make someone with the athletic traits of Harrison, who was second among the team's defensive ends in snaps last season despite being only a freshman. Harrison had 24 tackles and 3.5 sacks in 2019. This fall, he has a chance to win a starting job.
Noah Potter (RS-FR): The Mentor native was Ohio State's only defensive end to take a redshirt last season. At 6-foot-6 and 271 pounds, he's physically advanced for a second-year player, though he remains behind plenty of returning veterans who could impede his rise up the depth chart for the immediate future. At some point in the next couple of years, especially given the way Johnson rotates, Potter's time will come.
Cormontae Hamilton (RS-FR): Originally a tight end, Hamilton shifted to the other side of the ball in order to line up as a defensive end with Cade Stover moving to tight end. There's certainly a chance that Hamilton moves inside to defensive tackle, but the opened on the edge. The 2020 season will undoubtedly be used as a developmental year.
Darrion Henry-Young (FR): Once thought to be a future defensive tackle at Ohio State, Henry-Young opened his college career on the edge after cutting weight before enrolling in January. The Princeton High School graduate is listed at 6-foot-4 and 275 pounds. He was the No. 153 overall prospect and second-ranked Ohioan in his class.
Jacolbe Cowan (FR): Like Henry-Young, Cowan was once viewed as a defensive tackle – and could still end up there – but began spring camp with the ends. His 6-foot-4, 275-pound frame gives him the versatility to move around. Following Jaden McKenzie as the second defensive lineman from North Carolina to join Ohio State in two years, Cowan was viewed as the No. 162 overall recruit in the 2020 cycle.
Ty Hamilton (FR): The younger brother of NFL-bound defensive tackle DaVon Hamilton, Ty Hamilton will look to follow in his footsteps as an under-the-radar recruit who thrives under the tutelage of Johnson. The Pickerington Central graduate is the only defensive end who didn't enroll early. The 6-foot-3, 250-pounder was rated the No. 759 overall prospect and 24th-best Ohioan in the 2020 cycle.
Ohio State also has two defensive ends committed in future classes.
Jack Sawyer (2021): One of the nation's top rising seniors, Sawyer made an early commitment to Ohio State on Feb. 5, 2019. In doing so, he gave Ohio State a five-star pledge from Pickerington North, a high school just a short drive from campus. Sawyer is viewed as a potential future star and surefire NFL defensive end. He's the No. 3 overall prospect and top-ranked Ohioan in his class.
Tunmise Adeleye (2021): A longtime target, Adeleye joined Ohio State's class on April 15, pairing with Sawyer to create a high-powered defensive end duo. A Texas native who plays for IMG Academy in Bradenton, Florida, he chose the Buckeyes over Alabama, Florida, Tennessee, Oklahoma, Texas and others. Right now, the 6-foot-3, 240-pound four-star end is ranked No. 32 overall in his class.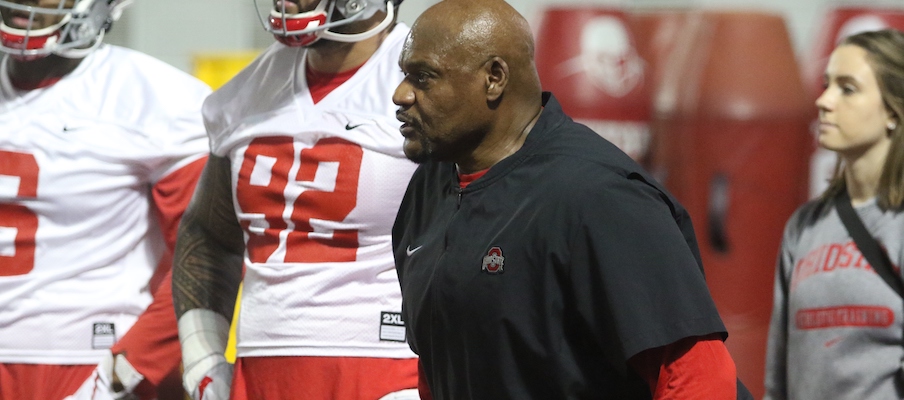 Outlook in 2020
We know the players who will line up at defensive end for the Buckeyes this fall. But do we know how they'll play? Not really.
The natural talent and level of athleticism in the room should excite both Johnson and Ohio State fans. But the lack of past production from those expected to be prominently featured among defensive ends should temper some of the expectations. Undoubtedly, there's a boatload of potential among the edge rushers, but most of it to this point has been unrealized.
State of the Position
Ohio State needs a few defensive ends to go through breakout seasons in 2020.
Harrison isn't the team's most veteran defensive end, but he might be the most important. A ridiculous athlete with a 6-foot-6, 265-pound frame, he's a future star. Harrison starting in the Fiesta Bowl as a true freshman tells you everything you need to know about how much Johnson believes in him. The question right now is whether he can be a star as soon as this upcoming season.
As a sophomore, Young pulled off a 10.5-sack season, which is a high yet seemingly attainable bar for Harrison to reach. He's on that type of path, which should take him to the NFL after his junior season.
"I think in time, (Harrison's) role is going to grow fast because not only does he have the talent, he has the drive," linebackers coach Al Washington said. "He has the passion. All those things are important for any great, elite player. And I'm not gassing him up, I'm not pumping him up. I'm just stating a fact. That's how important the game is to him and his teammates are to him. There's not a better young kid that you would build a program around like Zach, in my opinion."
Smith is viewed in a similar light as someone who could become an impact edge rusher. Many projected he'd make such a leap in 2019, but injuries held him back, and he never got it rolling when on the field. The pressure's on Smith to have his best season yet in 2020.
Cooper, who returned for an unexpected fifth season, will likely start with either Harrison or Smith.
"The minute he said he was coming back, you're talking about the happiest coach in the world because you get a great leader back," Johnson said. "You get a guy who's been through the war and who's seen great players, and he gets to share that with the young players. And he's doing that right now. Everything that we thought he was going to be, he is now because that's the kind of leader he is. We're rooting for him to have a great season."
So far, Cooper has been a solid player, but he hasn't impacted games in the way he's hoped. However, a late-career breakthrough shouldn't be ruled out. It's been a while since we've seen him on the field rushing the passer while healthy.
Friday and Jean-Baptiste will help Harrison, Smith and Cooper. Can either or both of them take the next steps as pass-rushers? It's a common sentiment – who among these defensive ends will break out – but it's also the biggest hovering question for just about everybody at the position.
Potter might contribute more after playing only 37 snaps in four games as a freshman, but he still has a lot of veterans ahead of him on the depth chart. Henry-Young, Cowan and Hamilton could run into the same issue.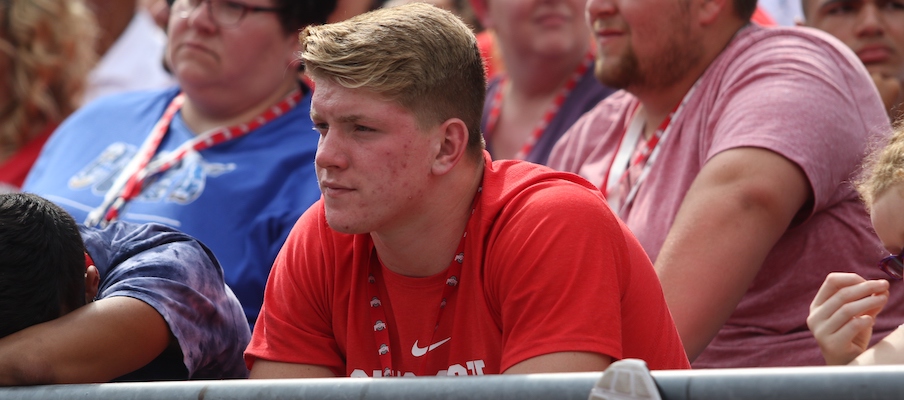 Strengths of the Position
Talent, talent, talent.
Yes, Young is now in the NFL. But because Johnson has consistently replenished the front four with top-level recruits, Ohio State's defensive ends don't lack any natural ability. The room features a bevy of high-end four-star prospects – including Smith and Cooper – to go along with a mega-recruit in Harrison.
Of course, a major benefit for all of those players is the defensive line coach.
Johnson has developed a reputation as one of the best position coaches in the country, having produced 13 first-team All-Americans between his time at Ohio State and Penn State. He's a technical wizard who has respect of everybody – both players and fellow coaches – in the Woody Hayes Athletic Center. Ryan Day couldn't do any better than Johnson as his defensive line coach. While he's in his upper 60s, he hasn't slowed down one bit.
Right now, he's coaching a group that both has potential stars – Harrison and Smith – and several others who could be playmakers as edge rushers. It's an exceedingly deep group, which will remain the case the following season, too.
Johnson has Sawyer and Adeleye in the pipeline to maintain what he has built. He's one of the top defensive end recruiters in the country, and he has a strong case to be viewed as the best.
Weaknesses of the Position
For all of the players with high ceilings, Ohio State's defensive ends who return simply haven't yet produced at the level they'll need to this fall. They collectively averaged one sack per 100 snaps played in 2019.
After the Buckeyes relied so heavily on Young last fall, is anybody ready to be a star? Who will be a consistent edge rusher who overwhelms offenses that suddenly have to plan everything around shutting down a defensive end? Maybe Harrison or Smith rises up and becomes that type of player. But there's also a chance Ohio State doesn't have someone like that in 2020.
Long-Term Outlook
Projected 2020 Depth Chart
Starters: Jonathon Cooper, Zach Harrison 
Backups: Tyreke Smith, Tyler Friday
Projected 2021 Depth Chart
Starters: Zach Harrison, Tyreke Smith
Backups: Tyler Friday, Javontae Jean-Baptiste
Projected 2022 Depth Chart
Starters: Jack Sawyer, Javontae Jean-Baptiste
Backups: Noah Potter, Ty Hamilton
Moreso than most positions, who starts and comes off of the bench doesn't matter much. In Johnson's room, he wants to have at least four defensive ends in order to rotate them as often as possible. 
For the next couple of seasons, it's fairly easy to project who'll be those in the regular rotation. 
The 2020 rotation is already widely known, with Cooper and Harrison the most likely starters. Smith and Friday are the odds-on favorites to serve as backups. Jean-Baptiste will be in the mix, too. The next year, Cooper will be gone, but all four others will return. By then, Potter could be in the rotation, too. Sawyer will be on campus, as well, and it's hard not to imagine him getting early snaps even in what has a chance to be a veteran-filled defensive end room.
In 2022, Jean-Baptiste will be a fifth-year senior, giving him a chance to be the veteran starter at defensive end. Sawyer is likely to be on the Bosa-Young-Harrison trajectory, meaning he could start as early as his second year on campus. A couple of pass-rushers from the group of Potter, Hamilton, Cowan, Henry-Young and Adeleye will likely round out that rotation.