Mickey Marotti has been around long enough to spot an athletic specimen at first glance. Zach Harrison, who now stands 6-foot-6 and weighs 265 pounds, would qualify as such.
Even back as a high schooler at Olentangy Orange, he was wildly gifted, clocking a 4.47-second 40-yard dash and a 37-inch vertical leap. These days, stories of him chasing down running and wide receivers from behind during practices are passed down second-hand and third-hand as though they're mythic lore. 
At the time, Marotti didn't care. He only had one reaction: "What are we doing?" No, he wasn't worried about losing Harrison to Michigan or Penn State, the two other teams chasing him hardest. He wanted to know why the Buckeyes were bothering to recruit Harrison at all. 
"He was so quiet," Marotti said in January. "He didn't want to talk. He wouldn't look you in your eye. It was so awkward. I'm like, there's no way. I don't care if he runs a 21.2 200-meter with no cleats on."
Marotti apparently didn't have the kind of pull that could keep the Buckeyes from going after a five-star defensive end raised in central Ohio. Now he knows he can thank himself for that lack of power. The first day Harrison got to campus as an early enrollee in January 2019, he was "the complete opposite," prompting Marotti to ask what happened. Harrison told him he just hated recruiting and never wanted to talk. Fair enough.
"He's like J.K. (Dobbins)," Marotti said. "You see him, you feel him and you hear him. You do all of those things."
Marotti sees what's coming next for Harrison, and this time he won't be wrong on his evaluation. Nobody will.
"I'm not gassing him up. I'm not pumping him up. I'm just stating a fact. That's how important the game is to him and his teammates are to him. There's not a better young kid that you would build a program around like Zach, in my opinion."– Al Washington on Zach Harrison
After a successful freshman season at Ohio State, Harrison's gearing up for what's expected to be a significant step forward as a second-year defensive end in 2020.
"I think the sky's the limit for Zach," defensive line coach Larry Johnson said last week. "The key is you have to keep growing, you have to keep moving forward. So I'm looking forward to see what happens his sophomore year."
The toughest part for Harrison right now is to remain on that trajectory during the coronavirus pandemic that ended spring camp after three practices and has everybody wondering when the team will get back together on campus. Linebackers coach Al Washington noted that since he's an underclassman, being away for so long can be "impactful to the development of a young player." But provided Harrison doesn't get off track, just about everybody sees what's ahead of him as being special.
Once ranked as the No. 12 recruit in the 2019 cycle, Harrison got onto campus a year ago and quickly showed what defensive line coach Larry Johnson called "incredible work habits."
"When you see that, you know a guy has a chance," Johnson said last week. "And he's got Chase (Young) in front of him as a role model. I think that helped him."
Though Harrison entered the program as a touted prospect, there was some thought that he might need a bit more developmental time than other five-star recruits while his technical ability caught up to his natural gifts. That proved not to be true.
Harrison followed Garrett Wilson to become the second true freshman to have his black stripe removed last spring, then he proceeded to play in all 14 games, seeing the field for 284 snaps, the second-most among all of the team's defensive ends. Along the way, he racked up 24 tackles, including 5.5 tackles for loss and 3.5 sacks. He picked up a sack in the Big Ten championship game, then Johnson turned to him as a rare freshman starter in the Fiesta Bowl.
For a first-year defensive end, in Washington's mind, Harrison was a player who "fundamentally grew" from the first game to the last.
"A guy like Zach, you saw him at the end of the year, he started playing really good football, and guys who know football, you notice his footwork, you notice his hands," Washington said. "Coach Johnson's the best on the planet at what he does, and so you saw him start to act out the things that he knows he should have done. So I think in time, his role is going to grow fast because not only does he have the talent, he has the drive. He has the passion. All those things are important for any great, elite player. 
"And I'm not gassing him up. I'm not pumping him up. I'm just stating a fact. That's how important the game is to him and his teammates are to him. There's not a better young kid that you would build a program around like Zach, in my opinion."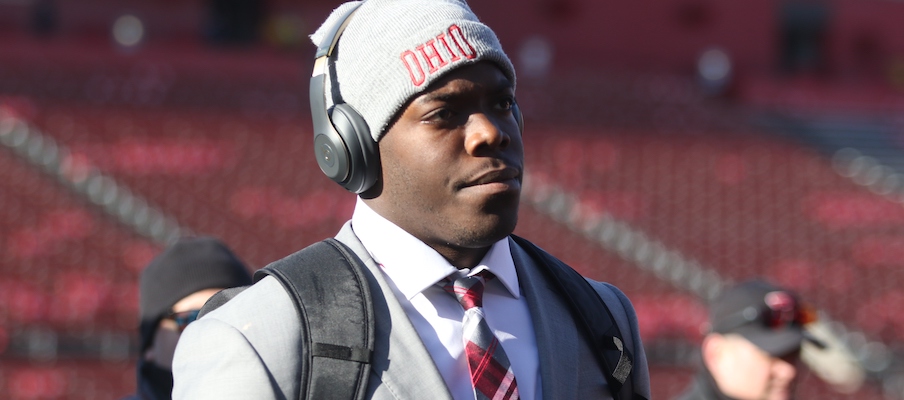 You've all seen this story before with top-of-the-line defensive ends playing under Johnson.
Most recently it was Young, who recorded a nearly identical stat line to Harrison as a freshman – 18 tackles, five tackles for loss, 3.5 sacks – before exploding as a sophomore with 10.5 sacks then riding a 16.5-sack junior season to become the second overall pick in the 2020 NFL Draft. Before him, Nick and Joey Bosa took this path, each eventually turning into top-three NFL draft selections. Each of their breakthroughs came as sophomores at Ohio State under Johnson.
Harrison might be next. Yes, it's an absurdly high standard for anybody to be held to, and it's certainly a bit unfair. But he's that kind of talent. Just ask Marotti.
"His ceiling's pretty high," Marotti said. "He's got that high basement ceiling. Sometimes you go into those basements, they're real low, like houses that were built before 1980. He's got that 12-foot basement ceiling."
So is it fair, in his opinion, to think Harrison has the ability to be thought of in the vein of Young and the Bosas?
"He's pretty talented, so we'll see," Marotti said. "It's early."
It might be early, but the answer's evident. He has that type of potential. Will he get there? That's the unanswerable question right now. Nobody's betting against him, though.