Throughout the course of the offseason, Eleven Warriors is taking an in-depth look at the state of every position group at Ohio State.
Up front, Ohio State lost Chase Young, DaVon Hamilton, Jashon Cornell and Robert Landers. At the back end of the defense, it no longer has Jeff Okudah, Damon Arnette and Jordan Fuller.
At the second level of the defense, the Buckeyes lost Malik Harrison, a third-round pick. He might not be easily replaceable, but he's the only one linebackers coach Al Washington and co-defensive coordinator Greg Mattison have to play without. Otherwise, everybody else is back, including seven upperclassmen.
This weekend, we're taking a deeper look at the linebackers at Ohio State.
The Personnel
Justin Hilliard (6th-SR): A one-time five-star recruit whose career has been derailed by various injuries is back for a sixth and final year at Ohio State. He got the additional season of eligibility approved by the NCAA in December. Hilliard, who has recently played strongside linebacker, will again look to secure a meaningful role to end his college career on a high note.
Tuf Borland (RS-SR): One of Ohio State's most experienced players is back, and he's expected to once again start at middle linebacker as a fifth-year senior. Borland, known for his leadership, will become the second-ever three-time team captain in program history. He has 181 career tackles, having cracked the 50-tackle mark in each of the past three seasons.
Baron Browning (SR): A 6-foot-3, 240-pound freakish athlete, Browning has shifted from middle linebacker – where he served as a backup to Borland last year – to the outside where he'll play strongside and weakside linebacker. He'll be in the mix to start at whichever position Werner doesn't man. Browning could also serve as a pass-rush specialist at times.
Pete Werner (SR): A two-year starter at strongside linebacker, Werner got looked at as a weakside linebacker this spring. It's unclear where he'll line up, but he'll certainly play a significant role at the second level of the defense. Werner earned honorable mention All-Big Ten honors a season ago with 64 tackles, including 5.5 tackles for loss.
Teradja Mitchell (JR): One a near-five-star middle linebacker out of Virginia, Mitchell's ascent has been slowed both due to injuries and veterans ahead of him on the depth chart. He played sparingly as a true freshman, then he was on the field for 99 defensive snaps in 2019. Mitchell will be in the mix to start at weakside linebacker, and he'll work to figure into a rotation either at Will or Mike this fall.
Dallas Gant (JR): Back for his third year as a Buckeye, the Toledo native is again attempting to wedge himself into Washington's plans at linebacker. He opened the spring playing middle linebacker, and he appears to be a possible complement to Borland who could play on passing downs.
K'Vaughan Pope (JR): A strongside linebacker, Pope's 2020 role largely depends on whether or not Werner shifts inside. If he moves from Sam to WIll, then Pope could be in line for a significant uptick in snaps on at strongside linebacker. If not, however, he might be a clear backup for the third straight year. Pope managed 13 tackles in 77 snaps last season.
Craig Young (SO): One of the most physically gifted players at Washington's disposal, Young didn't redshirt as a true freshman even though Ohio State has a packed linebacker room. A 6-foot-3, 228-pound linebacker, his position is unclear, but he could be a future starting Sam given his athletic pedigree. Still, he faces an uphill climb to even contend for a spot in the regular rotation in 2020.
Tommy Eichenberg (RS-FR): Before his freshman season began, Eichenberg dealt with injuries, which played a role in him eventually redshirting. Eichenberg, who attended Cleveland's St. Ignatius, is an inside linebacker who'll end up either at Mike or Will. Like the rest of the underclassmen, it's unclear how he'll factor into the plans this fall.
Cody Simon (FR): Since committing, Simon has somewhat flown under the radar despite being one of the top prospects to sign with a Big Ten team in the 2020 cycle. The New Jersey native was ranked as the No. 74 overall prospect and fourth-best inside linebacker in his class. He's likely a future weakside linebacker in Columbus.
Kourt Williams (FR): Though Williams doesn't have a position settled – he opened the spring at safety but is expected to end up at strongside linebacker – his athleticism and leadership skills make him an intriguing option for the Buckeyes. Out of California, the St. John Bosco product was rated as the No. 164 overall prospect in 2020.
Mitchell Melton (FR): Some view Melton as an incoming freshman who might end up as a defensive end, but all signs point to him getting a shot as a linebacker to begin his Ohio State career. The Buckeyes landed him out of Maryland, where he developed into the No. 347 overall recruit in the 2020 cycle.
Ohio State also has three linebackers committed in future classes.
Reid Carrico (2021): Having been committed since September 2019, Carrico is a fixture of Ohio State's 2021 recruiting class at this point. Washington secured his pledge out of Ironton. Rated the No. 69 overall prospect and fourth-best Ohioan in his cycle, Carrico is one of the 11 top-100 overall recruits committed to play for the Buckeyes. He projects as a potential future inside linebacker.
Jaylen Johnson (2021): As of now, Johnson isn't listed as a linebacker. Rather, major recruiting services rank him at safety. However, many analysts expect him to move to linebacker, where he could eventually fit in at Sam. Johnson, a rising senior at La Salle, is the No. 350 overall prospect and 11th-ranked Ohioan in the 2021 cycle.
C.J. Hicks (2022): Thus far, Ohio State only has three 2022 prospects committed, but that count includes a linebacker in Hicks. A rising junior at Archbishop Alter, he became the third commitment in his cycle on May 1. The 6-foot-4, 215-pounder is ranked No. 162 overall and No. 4 in Ohio.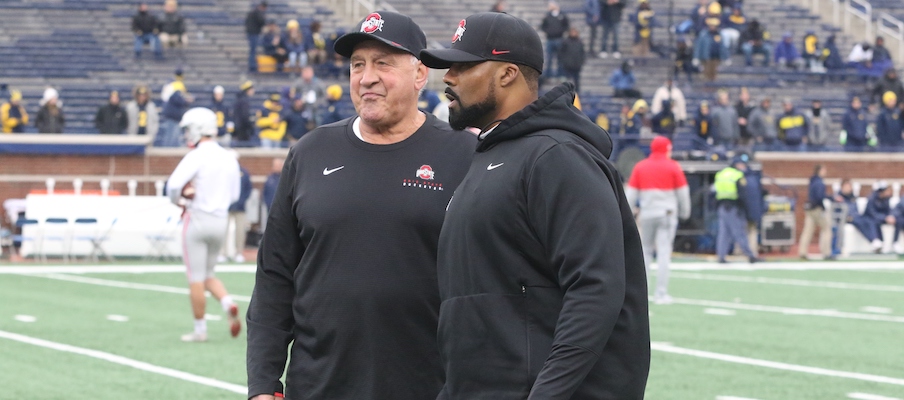 Outlook in 2020
With a roster featuring seven upperclassmen – including a sixth-year senior, a fifth-year senior, two true seniors and three true juniors – Ohio State has a downright fascinating crop of linebackers that allow Washington to have a bevy of options. Want to shut down the run? Play only two linebackers in a nickel lineup? Go with a traditional look? Add some speed? Roll with an experienced group?
Washington will have everything available. It'll be up to him to figure out how to unleash them all.
State of the Position
"We've got depth, and I think that if we can develop their skill set to fit at different spots, it helps with durability throughout the year, because you can roll guys," Washington said in the spring. "But it also helps with injuries. And it just helps overall culture because everybody's kind of feeling like, 'Hey, I've got a knack for rushing the passer. They're trying to help me do what I do best.' And that's kind of the goal that we're trying to do, and that's what we are doing."
Heading the linebackers are Werner and Borland, a pair of seniors who have each started at least two full seasons.
Werner has sneaky high-round NFL draft potential. His play at Sam led to the death of the Bullet in 2019. Yet it's unclear if he'll remain at strongside linebacker or not this fall. He got some reps at weakside linebacker.
Because of the minimized offseason and shortened practice scheduled in the spring, Ohio State won't have as much time to tinker with him, meaning he might be likely to stay at Sam, where he's an impact linebacker. But if he shifts to Will, there would be a big hole for Hilliard, Browning or Pope to fill.
Borland is the second returning starter, and he'll open games with the first-team defense at middle linebacker whether critiques of his play like it or not. He's clearly one of the slowest linebackers on the team, but he understands that defense and how to set it up at Mike exceptionally well.
Browning backed Borland up last year, but he's likely to find himself in the mix at Will this fall. He moved outside in the spring, saying he was getting reps at both Will and Sam. Most likely, he'll line up at whichever position Werner doesn't play.
The presence of Mitchell, Pope, Gant and Hilliard further complicates matters. The trio could start at just about any other Big Ten team, yet they're fighting uphill for starting jobs in 2020 and, most likely, will find themselves playing complementary roles – even though Washington wants them to stay ready.
"Guys are going to roll," Washington said. "Dallas Gant has got to roll. Teradja's got to roll. K'Vaughan's got to roll. When I say roll, they've got to play. And not just play; they've got to play at a high level. It's hard to think, 'Oh, I'm just (a backup).' I'm not thinking like that. I'm thinking like, 'Look, he's going to call my number out there and I dog-gone better be ready to play.' And that's the mentality we're preaching, myself and Greg Mattison, because he works with the Sams. That narrative is what we're all about."
Mitchell opened the spring at Will, where he'll challenge for a starting job. In the spring, Gant played Mike, where he might be an ideal linebacker to play in the middle during passing downs. Pope lined up at Sam, once again. How Washington uses those three juniors will determine whether or not he ultimately maximizes the talents of his linebackers. 
Hilliard will be an option for Washington, too, but it's unclear where he fits in. His best role might be at Sam if Werner shifts to Will, but there's no guarantee that happens.
The underclassmen on this roster – Young, Eichenberg, Simon, Melton and Williams – won't have many opportunities to play important defensive snaps in 2020 simply because of the veteran depth at the position.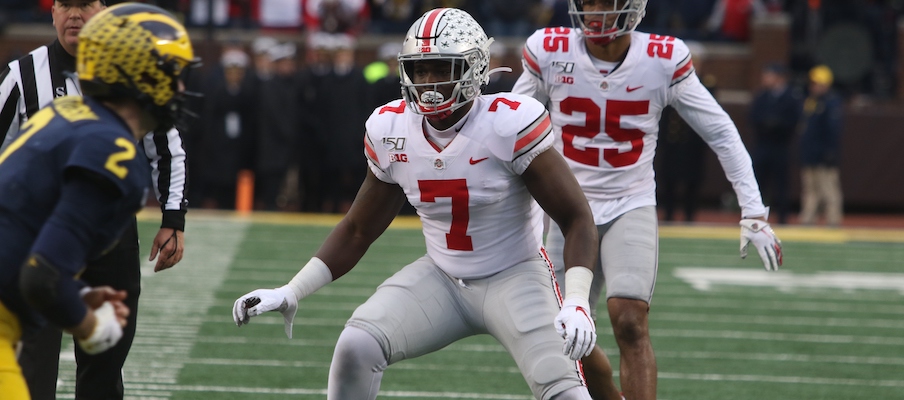 Strengths of the Position
Yes, it might be a bit difficult for Washington to manage seven upperclassmen linebackers who all want to play. But that's absolutely a positive. They have a variety of skillsets that'll allow him to mix and match depending on personnel and the opposition's game plan. Rarely does a position have this much veteran depth.
The leadership at linebacker is remarkable, too. Borland's a two-time captain, and it wouldn't be a surprise if Werner became a captain this fall in his third year as a starter. Hilliard's been through more adversity than almost anybody else on the roster, and Mitchell's regarded as a potential future captain. The linebackers will be the defense's leaders.
Even next year, the Buckeyes will have a veteran-heavy group of linebackers, which could include three seniors as starters.
Weaknesses of the Position
Does Ohio State have a stud on its roster? An absolute game-changing linebacker who impact games the way Chase Young and Jeff Okudah did a year ago? Is there one in the pipeline?
It's easy to pinpoint the no-doubt-about-it future first-round picks on the defensive line and in the secondary. At linebacker, the Buckeyes haven't had that type of player in the few years, and it's not clear when that'll come. It's not a necessity to win a national title, but it would certainly help. Maybe Werner can be that type of player, or possibly Browning finally makes his long-awaited leap. That's far from a certainty, however.
Long-Term Outlook
Projected 2020 Depth Chart
SAM: Pete Werner, Justin Hilliard
MIKE: Tuf Borland, Dallas Gant
WILL: Baron Browning, Teradja Mitchell
Projected 2021 Depth Chart
SAM: K'Vaughan Pope, Craig Young
MIKE: Teradja Mitchell, Tommy Eichenberg
WILL: Dallas Gant, Cody Simon
Projected 2022 Depth Chart
SAM: Craig Young, Kourt Williams
MIKE: Tommy Eichenberg, Reid Carrico
WILL: Cody Simon, Mitchell Melton
Three years, three completely different units.
Seeing three completely different trios of starters across three years is more than a bit weird. That almost never happens at linebacker. But because Ohio State has three rising juniors unlikely to start in 2020 who could open games the next year, it could happen for Washington's unit.
Pope, Mitchell and Gant would all start for most other Big Ten teams in 2020, so it's difficult to imagine who would prevent them from starting at Ohio State in 2021. They're not locks, but they're already the presumptive starters. While a year from now that trio will get much of the focus, how the rest of the linebacker unit shakes out will be nearly as important. Why? Because the backups in 2021 would have the insider track to become starters in 2022.
Right now, it's foolish to predict that far out when considering the six players in the projected 2022 two-deep depth chart have played a combined 20 defensive snaps as Buckeyes. But since we've done it for every other position group, we're doing the same at linebacker. So, congratulations to Young, Eichenberg and Simon for capturing the 2022 starting jobs.