During a conversation with Cameron Brown late last week, Scott Pingel couldn't help but notice the attitude change.
Maybe the Christian Brothers College High School head coach would have realized the difference in Brown had he caught the second half of the prior week's Ohio State-Michigan State matchup. But he tuned out at halftime. Brown, a St. Louis native, played 35 snaps in the Buckeyes' most recent game, spending the majority of the third and fourth quarter at cornerback while filling in seamlessly for Damon Arnette who left the game with an undisclosed injury.
Pingel didn't have an ah-ha moment when talking to Brown, whom he coached for three years before sending him and Kamryn Babb off to Ohio State last year. But over the course of their time together on Thursday and Friday, when Brown got to spend a few days at home during his team's off week, Pingel realized he was talking to the detail-oriented, relentlessly hard-working person he had always wanted his former player to become.
"It's more the small conversations," Pingel told Eleven Warriors this week. "You can see the maturation. He understands the game more. He's always been a smart guy. He's now telling me how much he's studying the game – how he knows what routes are coming from the offense by formation, by recognition of alignment. He's just really studying the game."
Pingel interpreted Brown's comments as the cornerback wishing he knew how hard he should work back when he played for his high school football team.
See, Pingel always knew Brown had plenty of upside, but he used the word "untapped" to describe how he used his athleticism in high school. Even though Brown snagged 58 passes for 934 yards and 13 touchdowns as a senior and had 1,023 yards receiving with 11 touchdowns as a junior while also playing cornerback, Pingel never felt he had truly begun to reach his potential.
"No one could catch him. No one could guard him," Pingel said. "But I think he would even admit that he could have worked a little bit harder in high school because things came pretty easy for him in high school, so he kind of got away with just being a freak athlete."
A relative lack of polish didn't keep the colleges away from him, though. 
Ranked as the No. 323 overall prospect in the class of 2018, he received scholarship offers from high-level programs throughout the country, including Alabama, Georgia, Tennessee, Iowa and Wisconsin. Brown twice committed to Nebraska before flipping to Ohio State and signing a National Letter of Intent on the first day of the Early Signing Period.
"If he keeps going, he'll be the next name you guys are talking about."– Jordan Fuller on Cameron Brown
How would Brown's career with the Buckeyes go? Pinkel didn't have a clear idea when Brown left St. Louis for Columbus. He believed in Brown's physical traits, but knew he had to grow elsewhere. Now, based on the focus and maturity that he believes has begun to match his athleticism, Pinkel is sold on Brown's future.
"You know, some guys make it, some don't," Pinkel said. "I would bet my house that he makes it."
That attitude should feel different to Pinkel because, per Ohio State's coaches, he's a changed man in the past year.
Jeff Hafley, who has tabbed Brown as the first cornerback off the bench this season, said he's quite possibly the most improved player since the first-year co-defensive coordinator and secondary coach arrived in January. He said Brown has "grown up," and Ryan Day doubled down with that assessment.
"I think Cam would tell you that maybe six or seven months ago, he wasn't ready for this," Day said earlier this week. "But he's matured into a really good young man who's taking care of all of his business off the field, in the classroom, and now on the field … Really impressed with how far he's come. And the good news with him, he's got a high ceiling, and he's got a long way to go."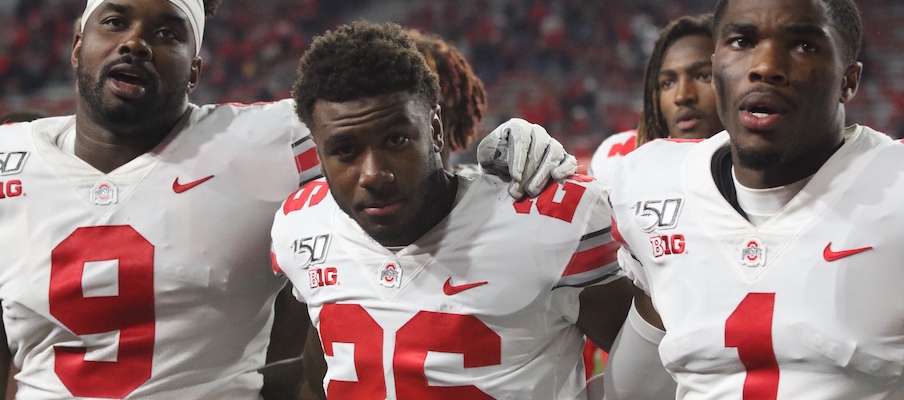 Brown's rapid development into Ohio State's top backup cornerback came unexpectedly.
Not too long ago, he wasn't even destined to play defense. Most teams, including Ohio State, envisioned and recruited Brown as a wide receiver, and they weren't alone. Pinkel also thought Brown's future was as a wideout, and he says Brown enjoyed playing the position more than cornerback.
The first attribute of Brown's that anybody mentions when they speak about him is his speed. Jordan Fuller called him "super fast," and Shaun Wade called him "very, very fast." In high school, that made him a big-play threat on offense.
"DB was just something he did really well for us because we needed him to, and he was that good at it," Pingel said.
Now, it's more than just moonlighting. He plays the position well enough to play meaningful snaps at Ohio State, and it also make him a millionaire at some point in the coming years, provided he continues down this path.
Just weeks after enrolling at Ohio State last summer, the coaching staff switched Brown to cornerback, a position at which Fuller said he was "kind of raw." He played 24 combined defensive snaps in the first five games of his freshman season in 2018 before suffering a leg injury that ended his first year in college early.
Then came the coaching change. With Urban Meyer retiring and Day becoming head coach, out went Taver Johnson, Brown's position coach, and in came Hafley from the San Francisco 49ers. What could have been another obstacle in Brown's development proved to be a catalyst for his quick development.
"I think he just instantly clicked with him," Pingel said. "He loves the guy. He goes, 'I love coach.' I even asked him. I said, 'How's your DB coach?' He said, 'I absolutely love the guy.' I think Cameron is all-in on his experience up there."
Slowly, Brown began putting it all together.
The academics. The work ethic. The film study. Pingel said he has "never seen him as focused as he is right now."
"He takes his preparation very serious, and that's something that I couldn't have said two years ago," Pingel said.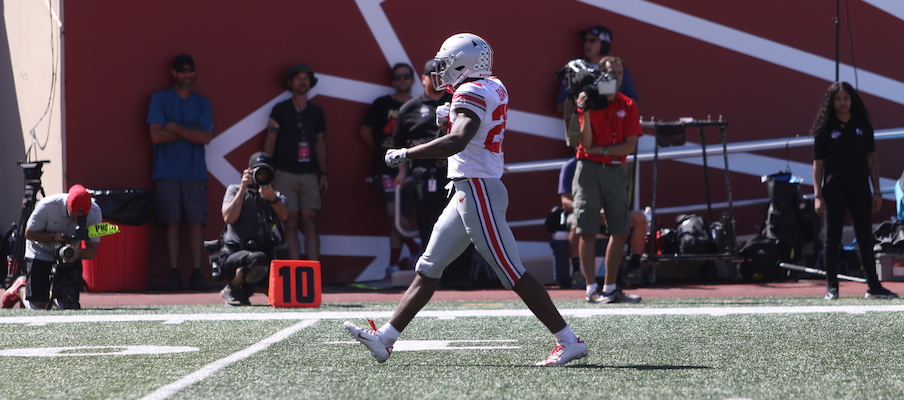 Late last week, Pingel asked Brown whether he missed playing wide receiver.
Brown had a quick response: "Heck no, because I know what we do to those kind of guys now."
He has found a home at cornerback, and it just so happens that he's growing up at the right time.
Provided everybody stays healthy, Brown's snaps will remain limited. So far this season, he has played 111 snaps in six games, with the majority of them coming in the second half of blowout wins. Hafley has a trio of cornerbacks – Damon Arnette, Jeff Okudah and Shaun Wade – that he can heavily rely on this year. 
Next season, though? That's a different story.
Arnette, a senior, will be out of eligibility. Okudah, a likely top-15 pick in the 2020 NFL draft, will almost certainly professionalize after this season, and Wade has turned into a possible first-round pick, too.
There's an ever-increasing chance that the Buckeyes have to replace all three cornerbacks next season, and since Fuller is also a senior, there's a chance Hafley loses his entire starting secondary to the NFL in the offseason.
That's where Brown comes in. His ascension past Tyreke Johnson, Sevyn Banks and Marcus Williamson on the depth chart has made the one-time wide receiver the early pole leader to earn a starting cornerback spot as a junior next season. 
"We've talked about that, and he is so locked in on that," Pingel said. "He gets that. He also knows that he's one snap away from getting a lot of playing time this year, too. He is so locked in right now. That's a hard thing to do when you're 20 years old, trying to stay focused. And that's why I said it's super focused. He gets the big picture. He gets what the future could look like, but he's also ready for the now when his number's called."
Now that he's paired what Fuller called "freak" athleticism with newfound focus, Brown has put himself in position to play a significant role in Ohio State's defense for years to come.
"If he keeps going, he'll be the next name you guys are talking about," Fuller said.