Before each week's Ohio State game, Eleven Warriors catches up with a media member who covers the opposing team to get his or her perspective on the Buckeyes' upcoming opponent.
As Ohio State heads to Evanston, Illinois, to face Northwestern in a Friday night fight this week, we turned to Noah Coffman – the editor-in-chief of Inside NU – to get his insights on the Wildcats.
What's wrong with Northwestern's offense, which ranks 128th in points per game and dead last in yards per play among all Football Bowl Subdivision teams this season? Was the Wildcats' 1-4 start somewhat expected, or a massive disappointment? And is the defense playing well enough to keep Friday night's game competitive?
Coffman shares his answers to those questions and more in this week's Across The Field.
Q: Northwestern is just 1-4 so far this season. What's the mood like around the team and around Evanston right now? Is this slow start a surprise after last year's Big Ten Championship Game run?
Coffman: The mood is pretty distinctly negative. I don't know if I would say that a slow start was expected necessarily, given that most people around the program projected this team to easily make a bowl at the very least (my 6-6 projection was on the low end), but thanks to this team's well-documented recent early-season struggles, it wasn't exactly unexpected either.
This start is a bit different, though. First of all, this team hasn't been 1-4 since 1992. Part of that is certainly due to more difficult early-season scheduling this year, but even though Northwestern has avoided the totally embarrassing loss that has plagued them in years past (Akron in 2018, Duke running them off the field in 2017, Illinois State in 2016), the Wildcats' consistent struggles against teams seemingly at their level or a little bit above (Stanford, Nebraska, and MSU) are arguably just as worrisome.
Q: Pat Fitzgerald was critical when it was announced that this game would be played on a Friday, and many people in Ohio don't like it either because of high school football. How does Northwestern's fan base feel about the Friday night game?
Coffman: The fans largely agree with Fitz. Northwestern was actually initially scheduled for two Friday night games last season, and they were (to my knowledge) able to negotiate themselves out of those, but had to take this game in order to do so. Fitzgerald is a big believer in high school football having its own day, which is the main reason he personally was upset, but fans were also displeased because of the difficulties in travel and increased traffic that will come with the game being played on a weekday. It might somewhat limit the amount of OSU fans willing to travel (though my gut tells me it won't), but it also serves as a significant inconvenience even to local Wildcat fans.
Q: Statistically, Northwestern's offense has been one of the worst in the country this year. What have been the biggest issues for the Wildcats' offense, and do you think those issues are fixable coming off a bye week?
Coffman: This offense, especially in the passing game, is just too predictable and vanilla. Since redshirt senior TJ Green, who was going to split time with five-star transfer Hunter Johnson initially, went down early in the second half of the opener against Stanford with a season-ending foot injury, Johnson and redshirt junior Aidan Smith have taken turns being handcuffed by the play-calling. Over the last two weeks, against a great defense in Wisconsin and a thoroughly mediocre one in Nebraska, Northwestern's starting QBs have thrown 53 passes. They have not completed a single one that traveled more than 11 yards in the air.
Both quarterbacks have had issues as well, with Johnson still working on decision-making, and Smith's arm talent seemingly just not where it needs to be. But each have also made some plays when called upon. The problem is that they have only been called on during two-minute drills and desperate situations. Otherwise, the offense goes run-run-pass-punt (with the occasional screen or flat route in place of one of those runs) repeatedly, which surprisingly doesn't really work.
Longtime offensive coordinator Mick McCall has been derided by fans for years, and the hot seat continues to get warmer as the offense plumbs the depths of the FBS rankings. But one thing he has always had some success with is scripting early-game drives. With a bye week in hand, he may be able to get some things rolling against the Buckeyes to start the game, or even to start the second half. Outside of that, after three full weeks of the same offensive failures, it's tough to see much changing against another fantastic defense.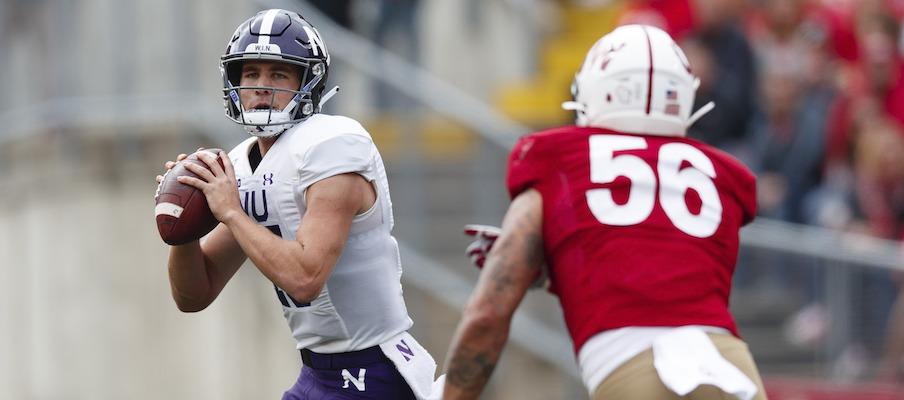 Q: On a more positive note, Northwestern's defense ranks in the top 30 nationally in both yards allowed and points allowed per game. How would you assess the Wildcats' play on that side of the ball this year?
Coffman: The defense has been phenomenal. After a somewhat slow start to the season, culminating in one of their worst performances in years against Michigan State, the group has kept the offense buoyed as much as possible. Junior safeties JR Pace and Travis Whillock have proved to be a dynamic duo in the defensive backfield, and though any pass-rush from sources beyond stud senior defensive end Joe Gaziano has been inconsistent at best, the front seven has fully firmed up against the run, as usual.
The secondary is largely relatively untested in the passing game. Though they have held up so far, they haven't faced any offense with nearly the amount of weapons that Ohio State boasts through the air. Greg Newsome II, who was banged up but did play in last year's Big Ten Championship, is one of the most underrated corners in the conference, but the Wildcats are thin behind the true sophomore. With redshirt senior captain Trae Williams likely out, they will rely on Cam Ruiz and Rod Campbell as their second and third CBs in a nickel scheme, and both will have to show a new level of ability against Justin Fields and the Buckeyes.
But with Gaziano continuing to excel, Paddy Fisher leading a group of linebackers that has bounced back well over the past two weeks, and the rest of the defense doing their jobs, this group has been tremendous. The Wildcats have always struggled, though, against mobile quarterbacks, and it's tough to see their bend-but-don't-break scheme holding up for four quarters, even if they may be the best group Ryan Day and the OSU offense have faced thus far.
Q: Who are some of the players that Ohio State and its fans need to be aware of entering this game?
Coffman: With Isaiah Bowser, who surged onto the scene during his true freshman season in 2018, banged up, the Wildcats have largely turned to Drake Anderson to lead the running backs. Though he has struggled at times in pass protection and catching the ball out of the backfield, the shifty youngster has the ability to make plays on the ground, and would help key any sustained Northwestern offensive success alongside the legs of whoever does end up starting at quarterback (both Johnson and Smith have shown the ability to make plays on the ground).
Given that Northwestern will likely be using him plenty, keep an eye out for sixth-year senior punter Dan Kubiuk as well. Thus far this season, the former walk-on's performance has been a mixed bag, but he has had a couple of very solid performances while seeing the field a ton. Another one of those would certainly help.
Defensively, though, there are plenty of playmakers. Gaziano is the guy. He has only 2.5 sacks so far this year, but boasts 19 quarterback takedowns and 26.5 total tackles for loss since the beginning of the 2017 season. He has also racked up two forced fumbles and two fumble recoveries on the young season. Dangerous in both the running and passing game, the fifth-year senior is certainly NFL-bound and a focus for any Wildcat opponent.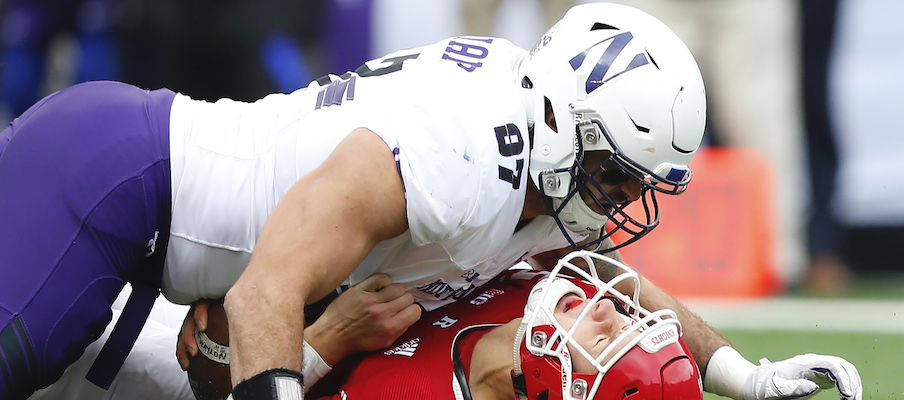 Q: For those who are making the trip to Evanston, any restaurants or other attractions you recommend visiting while in town?
Coffman: Bat 17 is a solid option as a slightly upscale sports-adjacent place. For the healthy among you, I'd check out Farmhouse. To be honest, the campus itself (and the lake, of course) is probably one of the best "attractions" in Evanston, though the Bahá'í Temple a bit north is cool. Obviously, there are lots of things to check out in Chicago (my hometown), which is always just a short train ride away.
Q: How do you see the game playing out? Does Northwestern have what it takes to keep this game competitive, or will its offensive woes be too much?
Coffman: It's certainly possible that Northwestern will at least compete, and I'd like to hope that they will. That said, the Wildcats are in a downward spiral and going up against arguably the best opponent in the country. This should be much worse than last year's conference championship. Ohio State 45, Northwestern 9