In less than 24 hours, Denzel Ward will officially be a professional football player. Sam Hubbard and Billy Price could be, too, if Thursday night's first round of the 2018 NFL draft goes the way they hope.
For Ward, Hubbard and Price and many of college football's other top players from last season, the day they have dreamed of since they were kids is finally here.
The 2018 NFL draft begins Thursday night at 8 p.m., when the first 32 picks of this year's selection meeting will be made. Ward, who will be in attendance for Thursday night's first round of the draft at AT&T Stadium in Arlington, Texas, is fully expected to be among the first 10 to 15 players to hear his name called, walk across the stage, shake NFL commissioner Roger Goodell's hand and hold up the jersey of his new NFL team.
"It means a lot because growing up, since I was like six years old, it's been my dream to make it to the National Football League," the former Ohio State cornerback told NFL.com's Nick Shook. "It means a lot to me, this weekend. I've been looking forward to getting to the day of the draft and seeing what happens."
Price and Hubbard, meanwhile, won't be at the draft but will undoubtedly be watching the draft – and their phones – closely alongside family and friends, as both former Buckeyes have also been projected as possible first-round picks.
The Cincinnati Bengals (who pick No. 21 overall) and Minnesota Vikings (No. 30 overall) are potential destinations for Price, who is projected to be one of the top three centers drafted. The New England Patriots (Nos. 23 and 31 overall) and Tennessee Titans (No. 25 overall) are among the teams that could target Hubbard, who appears likely to be the fourth defensive end selected. Both of them, however, also face the possibility of having to wait to hear their names called until Friday, when the draft will resume with the second and third rounds.
Either way, Hubbard and Price are expected to be the second and third of as many as 18 former Ohio State football players whose dreams of playing professional football could come true by the end of the weekend.
While Ward will almost certainly already be on a team, and Price and Hubbard hope to find out their fates on Thursday night, too, there are several other Ohio State products whose draft watches won't seriously begin until Friday. Those Buckeyes include linebacker Jerome Baker, offensive tackle Jamarco Jones and defensive ends Tyquan Lewis and Jalyn Holmes – all of who could come off the board in the second or third round on Friday but could also be left to wait until the fourth or fifth round on Saturday.
Damon Webb could potentially sneak into the third round of the draft, too, but the former Ohio State safety appears more likely to be selected at some point on Saturday – when the final day of the draft will begin with the fourth round and conclude with the seventh round – when a multitude of other Buckeyes will also be hoping to hear their names called.
Linebacker Chris Worley, quarterback J.T. Barrett and tight end Marcus Baugh aren't sure bets to be drafted, but all of them will certainly have their phones with them all day Saturday as well, as they should at the very least receive offers to sign free-agent contracts on Saturday night after the draft concludes. Other Buckeyes who will be hoping to either be drafted or ink a deal as an undrafted free agent include defensive tackles Tracy Sprinkle and Michael Hill, safety Erick Smith and former walk-ons Elijaah Goins, Zach Turnure, Nick Seme and Trevon Forte.
Ohio State's 2018 draft isn't expected to rival its historic 2016 draft, when the Buckeyes had 12 players selected, all in the first four rounds. The Buckeyes are expected, though, to have at least seven draft picks – the total they had last year – and appear likely to have eight or more.
In total, 256 players will be selected between the time the draft begins Thursday night and concludes late Saturday afternoon.
Ohio State's Prospects
As aforementioned, Ohio State has 18 draft hopefuls. Some of them are sure bets to be drafted, while others are long shots, but all are hoping to translate their careers as Buckeyes into playing professional football. A brief synopsis of each Buckeye prospect, beginning with those who are expected to come off the board first:
Denzel Ward, CB
A consensus All-American in his lone season as a full-time starter for the Buckeyes, Ward is regarded as the best pure cover cornerback in this year's draft class.
Sam Hubbard, DE
A three-year regular in Ohio State's defensive end rotation, Hubbard lacks the elite pass-rushing skills of an high first-round pick but has a well-rounded game that will still make him an early-round selection at a position of demand.
Billy Price, C/G
Price won the Rimington Trophy as college football's top center last season after playing guard in his first three seasons with the Buckeyes. He isn't a sure bet to be the first center selected in the draft, but either way, he should come off the board no later than the middle of the second round.
Jerome Baker, LB
A tremendously athletic linebacker, Baker has as much upside as any of Ohio State's draft prospects. He's coming off a disappointing final season with the Buckeyes, however, and must improve upon his fundamentals to take advantage of his athletic potential.
Jamarco Jones, OT
A two-year starter at left tackle for the Buckeyes, Jones lacks the athleticism of a top-notch offensive line prospect but is a technically sound player who has won far more battles than he has lost while facing high-level competition.
Tyquan Lewis, DE
The 2016 Big Ten Defensive Lineman of the Year was overshadowed by some of his Ohio State teammates in 2017 and has flown under-the-radar during the draft process, but performed well in pre-draft testing and should continue to be a rotational defensive end who can kick inside in pass-rushing situations – like he was at Ohio State – at the next level.
Jalyn Holmes, DE/DT
A big defensive end who can also move inside to play defensive tackle, Holmes' versatility is his calling card. He isn't as explosive an athlete nor was he as productive at Ohio State as Hubbard or Lewis, but offers the potential to line up at multiple positions in any defensive scheme.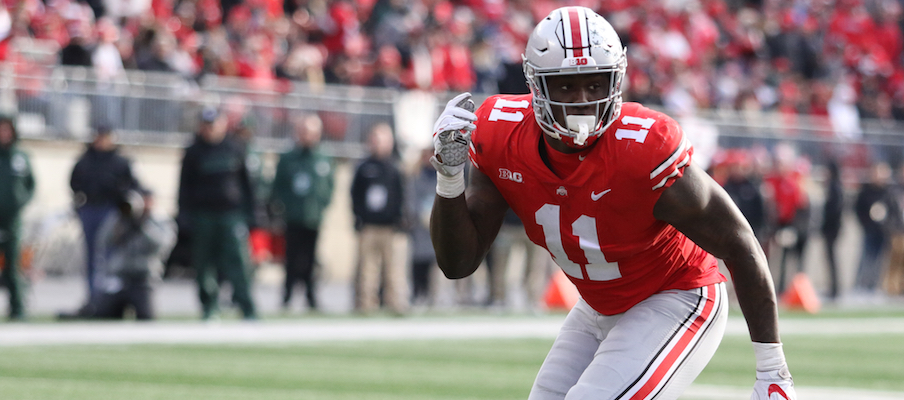 Damon Webb, FS
Webb tended to be a punching bag for criticism in his two seasons starting in an Ohio State secondary in which he was surrounded by players who went on to be or will be first-round draft picks. That said, he's drawn his fair share of praise leading up to the draft for his fluidity as a free safety, and he could end up being drafted higher than many expect.
Chris Worley, LB
Worley is a below-average athlete for an NFL linebacker, but he offers value as a potentially versatile backup and special teams player. He played all three linebacker positions over the course of his two years as a starter for the Buckeyes, while he also contributed significantly in the third phase of the game over the course of his two playing seasons.
J.T. Barrett, QB
Ohio State's all-time winningest quarterback is a proven leader with a demonstrated ability to step up and lead his team to victory in clutch situations. But while Barrett is a strong runner known for his intelligence and ability to run an offense, questions linger about whether he has the downfield passing ability to succeed in an NFL offense.
Marcus Baugh, TE
A big tight end with decent athleticism for his size, Baugh will be hoping for a team to take a chance on his potential after playing in an offense where he didn't consistently line up as an in-line blocker but also was not heavily featured as a receiver.
Tracy Sprinkle, DT
Ohio State's only regular starter from last season who is in this year's draft class yet was not invited to the NFL Scouting Combine, Sprinkle demonstrated his strength and ability to occupy blockers as a nose tackle in his final season with the Buckeyes, but looks to demonstrate more athleticism as a 3-technique tackle at the next level.
Michael Hill, DT
Hill played only sparingly in 2017 after being suspended for the first six games of the season due to a failed drug test, but was a starter for the Buckeyes in 2016 and is a big defensive tackle who offers upside as a run-stuffing nose tackle.
Erick Smith, SS
Smith also saw less playing time in his senior season than expected after a drug-related suspension, but was a regular on special teams when he was on the field. That's likely where he'll need to prove his worth to make it in the NFL, as he showed sub-optimal speed for a safety at Ohio State's pro day.
Elijaah Goins, CB
A former walk-on who was placed on scholarship prior to his senior season at Ohio State, Goins played almost exclusively on special teams for the Buckeyes but is an explosive athlete who could parlay his speed into continuing to contribute in that phase of the game at the next level.
Zach Turnure, LB
Another walk-on who earned his way to a scholarship in his final season as a Buckeye, Turnure never saw the field on defense at Ohio State but was one of the team's best special teams players, which is where he hopes to have the opportunity to make his mark in the NFL.
Nick Seme, FB/TE
A walk-on who saw a bit of playing time at defensive end in his one season as a Buckeye after transferring from Ashland, Seme has slimmed down and is hoping for a shot to play fullback or tight end while contributing on special teams in the NFL.
Trevon Forte, CB
Another walk-on who appeared only on special teams for the Buckeyes, Forte faces long odds as a 5-foot-8 cornerback but hopes his strength and experience practicing against Ohio State's top wide receivers will earn him a shot to make it at the next level.
Draft schedule
Thursday's first round of the NFL draft is scheduled to begin at 8 p.m. and will be televised on four different networks: FOX, ESPN, ESPN2 (which will be airing a college-themed broadcast of the first round) and NFL Network.
The second and third rounds of the draft will take place on Friday, with the second round beginning at 7 p.m. FOX and NFL Network will both air the entirety of the second and third rounds; ESPN will air the first hour of Friday's second round before shifting its draft coverage for the remainder of the night to ESPN2.
Saturday's final four rounds of the draft will air on ABC, ESPN and NFL Network, with the fourth round beginning at noon.
The majority of undrafted free agent deals will likely be struck in the hours immediately following the conclusion of Saturday's seventh round.
Eleven Warriors will have live coverage throughout all three days of the draft as it unfolds, providing updates and analysis on every Ohio State draft pick as they are selected.
More reading material
Eleven Warriors has written about all 18 of Ohio State's draft hopefuls in the months leading up to this week's event. So while you wait for the draft to commence tonight, here are some of the stories – in addition to those already linked previously in this article – that you might want to read to catch up on how the draft process has gone for the Buckeyes who now await their fate.