Zach Turnure wasn't even planning to play football when he arrived at Ohio State in 2013. Five years later, Turnure has his sights set on playing the sport professionally in the National Football League.
Initially recruited to Ohio State as a lacrosse player out of Christian Brothers College High School in St. Louis, Turnure decided halfway through his first year on campus that he wanted to play football again. After making the team as a walk-on in 2014, Turnure worked his way up to earning a scholarship and being a core special teams player for his senior season in 2017, when he recorded 13 tackles in that phase of the game and also saw some playing time on offense as a fullback.
Turnure admits that he "never imagined" that joining the Ohio State football team as a walk-on would ultimately lead to pursuing a career in the NFL. But after setting incremental goals for himself over the past four years, and achieving each of them along the way, Turnure decided that playing football at the sport's highest level is another goal worth pursuing.
"Being the underdog, kind of working in the shadows. I really kind of embrace it, honestly," Turnure told Eleven Warriors in an interview this week. "I just kind of figure, 'Why not prove a few more people wrong?' Try and really go for it all. Why not? There's really not much to lose."
Turnure is currently training at Ohio State with a group that includes three other former walk-ons – Elijaah Goins, who like Turnure earned a scholarship before his senior season, as well as Trevon Forte and Nick Seme – as well as former Buckeye safety Erick Smith, as the five of them prepare for their opportunity to impress NFL scouts at Ohio State's pro day on March 22.
Under the guidance of Ohio State assistant strength and conditioning coach Quinn Barham, Turnure and his teammates have been working on improving their speed and technique on the field and their strength in the weight room as they look to put up impressive numbers in drills like the 40-yard dash, pro shuttle and bench press next month.
While many of Ohio State's more high-profile draft prospects have traveled to facilities all over the country to train for their pre-draft NFL workouts, Turnure says he has enjoyed doing his training with familiar faces in a familiar setting.
"Everything that our strength coaches preach, and our whole strength and conditioning program preaches and teaches us, has really transformed us," Turnure said. "This is how we got to where we are today. So I definitely trust everything that they're going to be teaching us to get us to the point to perform on pro days."
As he tries to make it as a linebacker in the NFL despite never seeing playing time on defense in an actual game for the Buckeyes, Turnure knows he must turn heads at pro day to have a shot at being drafted. While he expects to perform well in the bench press, he is currently working to improve his speed in the on-field drills. Turnure was laser-timed at 4.68 seconds in the 40 prior to last season, but is hoping to run a sub-4.6 40 at pro day while also shooting to break 4.2 seconds in the 20-yard shuttle.
Turnure certainly is an underdog going into the NFL draft process, but what he's trying to do is not unprecedented: Nate Ebner, who also began his Ohio State career as a walk-on, was selected by the New England Patriots in the sixth round of the 2012 NFL draft despite playing almost exclusively on special teams during his Ohio State career, and has remained with the Patriots ever since as a special teams standout and backup safety, winning two Super Bowls along the way.
Turnure thinks back to this past season's game against Penn State, when he made a tackle at the 15-yard line on a kickoff return by Saquon Barkley – a potential top-five overall pick in this year's NFL draft – as a moment when he began to see playing in the NFL as an actual possibility.
"That's kind of when it was like, it hit me where I was like, 'I should probably keep this going,' because I was just loving it out there on special teams," Turnure said. "And I hear so many times about guys who have made livings in the league on special teams, and then it kind of just really sparked with me, like 'I could really see myself doing that,' so that's pretty much where it hit me. And then since a young age, I obviously had like the little boy's dream of always wanting to play professional football, since I started playing in grade school, but I never really knew it could be a reality or would be a reality until as of this past year, I kind of got a taste of what it was like to make plays on a big stage, and I wanted to keep it going."
"Why not? There's really not much to lose."– Zach Turnure on why he is pursuing an NFL career
Having been one of the Buckeyes' top special teams players this past season, and seen many Ohio State players before him go on to have success playing on special teams in the NFL, gives Turnure confidence that his skill set can translate to the professional ranks.
"The things that we've put a focus on here as far as honing our skills, specific techniques especially on special teams that Coach Meyer teaches us, those techniques seriously translate over to the next level and that's why a lot of guys are successful, even the bigger-name guys because they can go in and they've learned the technique for everything," Turnure said. "There's technique that we learn here that translate to every position: special teams, offense, defense, everything. And learning those techniques, honestly, help you overall in anything that it is you do at the next level."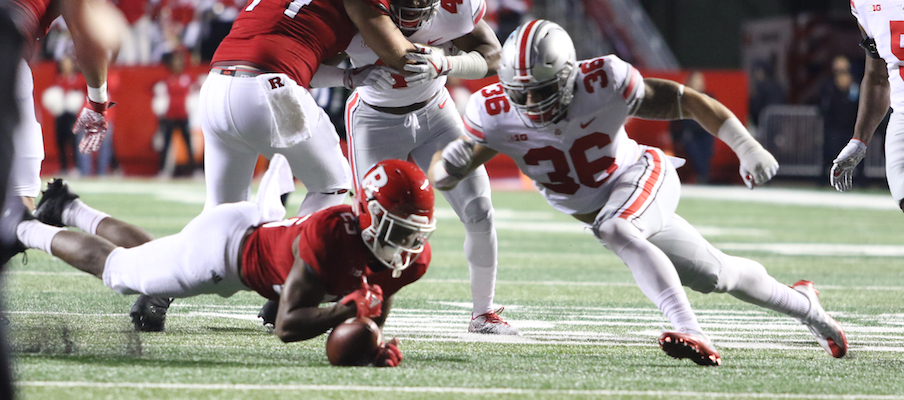 Turnure's lack of college playing time at linebacker hurts his chances of being drafted at that position, but NFL teams will take chances on players who have shown they can make plays on special teams and who offer promising athletic traits, and Turnure believes he can fit that bill.
"The biggest thing, I think, is just really proving my athleticism to the scouts and what not, and showing them that I can move, my lateral movement, my horizontal movement, all my movement can translate over to that of an NFL linebacker/special teams player," Turnure said. "I'm really trying to prove to them my athleticism, my speed along with my strength. Because I definitely think the whole package, if I can prove all of that within the testing and the position drills, they'll hopefully give me a shot with that."
If playing in the NFL doesn't work out for Turnure, he plans to pursue a career in sports business. Turnure has already begun taking online classes through Lindenwood University in pursuit of a master's degree in business administration. But after nearly giving up the opportunity to play college football five years ago, Turnure doesn't want to give up the opportunity to play professional football – no matter how long the odds might be – without giving it his best shot.
Turnure said a conversation with former Ohio State linebacker Camren Williams, who is now a scouting assistant with the Patriots, ultimately assured him that making a run at his NFL dream was a chance worth taking.
"Reaching out to him was one of the best decisions I made, 'cause even when I was on the fence about whether or not this was something I wanted to do ... he basically just told me, 'If you at all are thinking about it now, if you don't do it, you'll probably regret it,'" Turnure said. "He's like 'You have nothing to lose, you really should give it a shot,' and he just offered a lot of great insight about guys on their team and guys who have made careers out of playing on special teams. He just offered a lot of awesome insight, and it honestly really tilted my decision to really pursue this."