Michael Hill believes the world hasn't seen his best football yet.
After starting all 13 of Ohio State's games in 2016, Hill was relegated to the bench for most of 2017, playing only 61 total snaps in his final season as a Buckeye. But even though he lost his spot in the Buckeyes' regular defensive tackle rotation last season, Hill is confident he is a better player than he was two seasons ago.
"I just want to prove to people that I'm better than two years ago, and even though I didn't play that much this past year, that I still can play football very well," Hill says.
Hill had his chance to begin proving that earlier this month at the NFLPA Collegiate Bowl, an all-star game for NFL draft prospects, where he says he met with scouts from more than 20 NFL teams and believes he made a positive impression on them, demonstrating that he is worthy of being selected in the 2018 NFL draft.
"They was telling me they liked the way I moved at the practices and everything, and they liked my effort, so I felt that the scouts really showed interest in me," Hill told Eleven Warriors in an interview last week.
Through a full week of practices as well as the Jan. 20 game at the Rose Bowl in Pasadena, California – in which he recorded a tackle for loss – Hill said he wanted to prove to scouts that he is a two-way player who can both stop the run and rush the passer.
"I felt that I did pretty well at doing both," Hill said.
It was frustrating, Hill acknowledges, to spend most of his senior season as a Buckeye on the sideline after playing a much more significant role in his junior year. But Hill, who was suspended for Ohio State's first six games of last season after failing a drug test prior to Ohio State's 2016 College Football Playoff game against Clemson, said he only had himself to blame for losing his spot in the rotation.
"It was all my fault, so I just held my head high and just tried to stay positive," Hill said. "I try to look at everything in a positive light."
As Dre'Mont Jones, Tracy Sprinkle, Robert Landers and Jashon Cornell established themselves as Ohio State's top four defensive tackles during his suspension, Hill was never able to earn his old spot back on the top row the Buckeyes' depth chart at the position. But while that didn't afford Hill the opportunity to put his skills on full display for NFL scouts last season, he believes the experience of this past year made him better as a person.
"It just taught me just don't make any mistakes," Hill said. "Just even if it's one simple mistake, it can ruin everything you did correct for the past 20 years. One simple mistake, you can wash all that way. So it just taught me, just do everything right."
Hill says he wants NFL teams to know that he has a great work ethic and will go into every practice and game with a positive attitude.
"I'll wake up every day with a chip on my shoulder and try to show people that I'm trying to get better," Hill said. "And also that I've changed a lot from last year. They can drug test me all they want, and I'll pass every single one of them. I'm a completely new person, and I still got a lot of football left in me."
Hill is currently working to get better in California with renowned performance trainer Travelle Gaines, alongside fellow Ohio State draft hopeful Damon Webb, as they prepare for their next opportunity to impress scouts in pre-draft workouts.
Much like Webb said during his week at the East-West Shrine Game, Hill said his experience playing for Ohio State prepared him well for the NFLPA Bowl, as the way those practices were run in front of NFL scouts were similar to the way Urban Meyer and his staff run Ohio State's practices.
"It was damn near the same practice that we did," Hill said. "At Ohio State, they always let us know that their goal was to get us ready for the next level, and they did well doing that."
Hill says he is doing many of the same things in his strength and conditioning work now that he did while he was at Ohio State, but the one thing the 310-pound defensive tackle says he has changed is his nutrition.
"I'm just trying to eat a lot healthier, just so I get more leaner, and it makes your body feel a lot better during the workouts," Hill said.
"I'll wake up every day with a chip on my shoulder and try to show people that I'm trying to get better." – Michael Hill
Hill believes his biggest improvement since he last saw the field regularly for the Buckeyes has been his first step and his pass-rushing ability – an ability that Hill was able to demonstrate briefly in Ohio State's rivalry game this past season at Michigan, when he recorded his only tackle of the season and his second sack of his career on a quarterback takedown six yards behind the line of scrimmage – and he has continued to work on becoming a more explosive athlete in his training with Gaines.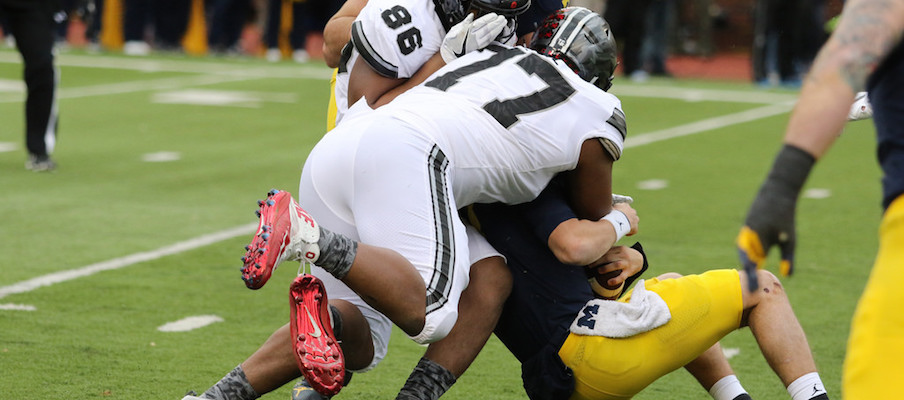 Hill hasn't yet heard whether he will be invited to the NFL Scouting Combine, but whether his next opportunity to impress scouts comes at the combine or at Ohio State's pro day, Hill believes his work with Gaines – combined with what he already learned under the tutelage of Ohio State defensive line coach Larry Johnson – will have him well-positioned to continue to improve his draft stock.
"I can prove that I'm 310 pounds, I can pass-rush, I can stop the run, I can do pretty much anything you want me to," Hill said. "I can move very well for my size."
Given that he didn't play much last season, Hill isn't likely to be selected before the late rounds in April's draft, and he recognizes that reality. Hill is determined, however, to make any team that takes a chance on him glad it did.
"I just want to show everybody that I'm a draft steal," Hill said. "I believe I'll be a draft steal. Any team that picks me up, I can add value to that team right away.
"I'm not the old Michael Hill that got in trouble. I'm completely different from that. And I can play ball. I just want a team to pick me up so I can show them that I can play ball."