The Ohio State University prides itself on the people, the tradition and the excellence of its athletics programs. Buckeye traditions and the excellence need no introduction. But how well do we know the people? Fans know players by the awe-inspiring feats they perform. Mask Off takes a closer look at those individuals as human beings.
Jalyn Holmes was an Ohio State football captain and a member of a defensive line consider by many to be the best in the country. Ohio State fans will long cherish memories of Holmes, Sam Hubbard, Tyquan Lewis, Nick Bosa, Dre'Mont Jones, Tracy Sprinkle and others swarming opponents' backfield. 
As an individual, Holmes has easygoing charm. Even with the draft approaching, he is goodnatured and warm. 
There are so many metrics of success we use to evaluate individuals on and off the football field. While Holmes is a standout by many of those measures, I came away from our conversation reminded of the most essential: "no man is a failure who has friends." It is striking how much joy Holmes takes in his friends, who seem never to be far from his mind. 
IN HIS OWN WORDS
What is your best football memory from Ohio State?
I've got two. You don't mind if I do two, because I don't think it's necessarily just one.
One of my favorite memories was getting that sack versus Penn State to close out the game. And being named team captains that summer.
Of all the guys you played, who was the toughest to tackle?
Mike Weber. He's just like a little bowling ball. He's just like a little bowling ball, man. He's already small, he's low to the ground. He's a hard dude to get down.
You talked about being named a captain. Qho is the best leader you played with?
One of the best leaders I played with is Tracy Sprinkle, honestly. Just the way he carried himself. We all were captains: me, him, Tyquan and Sam. But I felt like out of us, he could be the voice and also lead by example. He had a lot of different ways of being a leader. It wasn't like one came before the other. He was great at both different ways of leadering.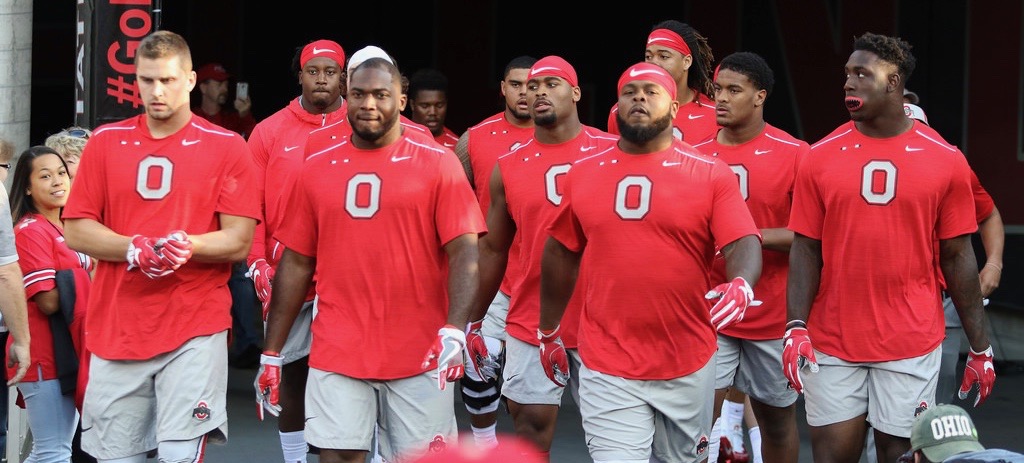 People talked so much about you, Tracy Sprinkle, Sam Hubbard, Tyquan Lewis and Nick Bosa. Are you close off the field?
Yeah. [Laughs] Yeah we're really close. It probably sounds cliché, but that's just the real deal. We do everything together.
Sam's sometimes not always around. He was deep in school just trying to finish out strong. He was really busy with school work – not saying we weren't – but Sam was trying to graduate early. He had to put in extra work to get that.
Me, Tyquan, Tracy, Worley, Sam – we do everything together – J.T. We literally do everything together. Back to summer, we had cookouts every other day. We would just kick it. Invite the newbies over. That's how the team got close.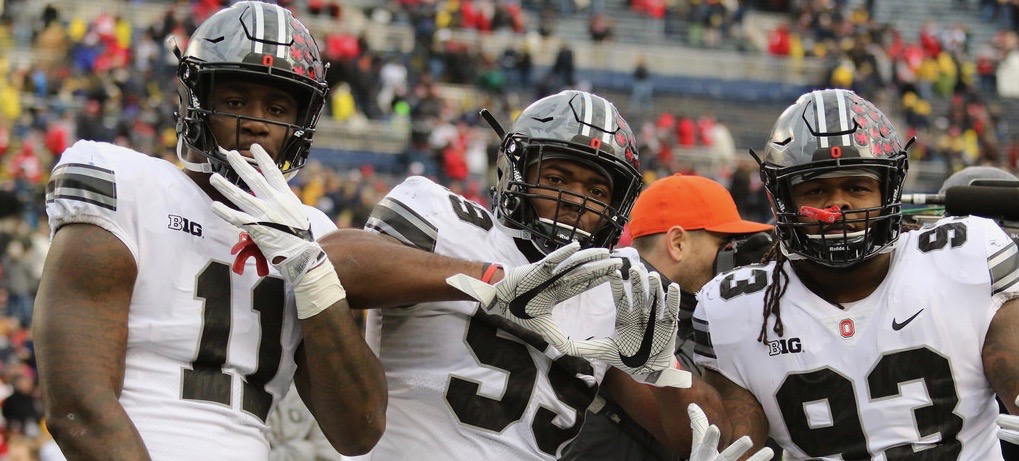 What is your best memory with those guys?
I would say, really, after the last game. After the Cotton Bowl, and we just looked at each other like, 'it's really over.' The good thing about it was we knew how far we came to get to where we were that day. Just that last moment walking away with those guys in Ohio State uniforms – that was one of my favorite moments.
If you could have dinner with any three people in the world – alive, dead, fictional characters – who would you have dinner with?
Jay-Z. Hmm… I'm thinking about some good people now. Jay-Z, Obama, and, this is going to be weird, but Trump. I say Trump because I have a lot of questions to ask… a lot of questions.
I think we would have a good, informal meeting. I think a lot of questions would get answered, and we'd try to walk out that thing in one piece.
I say Jay-Z and Barack Obama because those are two people I look up to. Jay-Z is my favorite rapper, and Barack Obama has just done so much for the United States in general. Like I said, Trump, I just got a lot of questions to ask.
You [retweeted Jourdan Lewis] complaining the other day on Twitter about people playing too much Fortnite. Are you a Fortnite player?
No. No. No. That's another thing with me, Tyquan and Tracy: we all play 2K – a lot [I laugh]. We've got our own pro-am team called "#howshegoneeat." Who was on it… me, Terry McLaurin, Marcus Baugh, Tracy, Mike Hill, Tyquan. We're all on this one team, and we've all got different positions. We play that all day. That's like our second life.
J.D. used to be on 2K with us a lot, but he fell victim to Fortnite.
[Ohio State Football posted] your thing about glacier Gartorade. Why was 'glacier' such a big thing for you?
Glacier is a D-line thing. We're the trendsetters of the team. You know what I mean? #howshegoneeat came from the D-line. Glacier – that's just a D-line thing, and they caught it on camera.
The whole D-line calls cold water – it can't be hot, and it's actually not a flavor of Gatorade – it's cold water or, you know, cold Gatorade. And we'll just say 'that's glacier' because, you know, glacier is cold. It's just something the D-line did. It's just anything that's cold.
@jayholmes_ is glacier cold on that mic... pic.twitter.com/AyAEHTPQLp

— Ohio State Football (@OhioStateFB) August 22, 2017
What's the first thing you're going to do when you get drafted?
[Sighs] I don't know man… hug my Mom. Hug my Mom, hug my Dad. I can't even describe how I'm going to be, but I know I've got to hug my loved ones.
What are you looking forward to most right now?
I'm looking forward to playing football at the highest level, of course. Being able to be a role model… Looking forward to helping my community in a different way – in a more impactful way. I feel like I have before, but the NFL is going to give me a much bigger platform to shine light on a lot of stuff that's going on in the world.
What ways do you want to make an impact?
I'm a really hands-on person, especially when it comes to community service. I feel like sometimes dudes just do a football camp and they're gone. They give out a whole bunch of free food, and be gone. I feel like I need to be in the presence of people.
You know, not just take them to the water, but show them a lot of fish too. Just be there as much as possible, and show kids there are a lot of tools to get out of that situation. It doesn't always have to be sports or music. There are a lot of different careers out here. I just want to fill that void that a lot of kids have, especially where we're from.
Link in Bio !!! And thank you to everyone who is supporting !! pic.twitter.com/b5i88ntONd

— QB KILLA (@JayHolmes_) February 20, 2018
What was that thing you said about water and fish?
So, look, it's a saying that me and my friends say. There will be a lot of dudes who give back, but they just give something. They're not showing anybody anything. If you give a homeless man five dollars, ok, you're helping him out. But eventually that five dollars is going to run out. So, instead of giving him five dollars, show him how to get five dollars. That's what I mean: taking him to the water, and also showing him how to fish.