The NFL dreams of some of Ohio State's top players from last season are just a few days away from coming true.
At least seven Buckeyes are expected to be selected in this week's NFL draft. Denzel Ward is unanimously projected to be an early-round pick, while Billy Price and Sam Hubbard are each expected to be selected in the first two rounds. Jamarco Jones, Jerome Baker, Tyquan Lewis and Jalyn Holmes are all projected to be selected between the second and fifth rounds.
Damon Webb appears fairly likely to be selected in the later rounds of the draft, while Chris Worley, Marcus Baugh and J.T. Barrett are also among the Buckeyes who should either be drafted in the late rounds or quickly signed as undrafted free agents.
Although they weren't invited to the NFL Scouting Combine, other Buckeyes who could also warrant late-round draft consideration or get a shot to compete for roster spots as undrafted free agents include Tracy Sprinkle, Michael Hill, Erick Smith and even former walk-ons Zach Turnure and Elijaah Goins.
While the draft is always difficult to predict, especially in regards to the draft's later rounds and undrafted free agent signings, I've decided to take my best shot at projecting where all of those Buckeyes will end up by the end of the weekend.
Denzel Ward, CB: Round 1, Oakland Raiders (No. 10 overall)
I know what you're probably thinking: Didn't the Raiders draft Gareon Conley last year? They did, and even though Conley missed nearly his entire season due to injury, he's expected to play a crucial role in the Raiders' secondary next season. That said, the Raiders are short on talent at the cornerback position outside of Conley, so if Denzel Ward is still on the board at the No. 10 overall pick, it shouldn't come as any surprise if the Raiders select an Ohio State cornerback in the first round for the second year in a row.
It's no sure bet that Ward will even be on the board by the 10th pick, as the three teams picking directly before the Raiders – the Tampa Bay Buccaneers, the Chicago Bears and San Francisco 49ers – could all also be in the market for a cornerback. But if Ward slides past all three of those teams, there's a good chance he'll be sitting at the top of the Raiders' draft board, and end up reunited with Conley in silver and black.
Sam Hubbard, DE/OLB: Round 1, Tennessee Titans (No. 25 overall)
There are two teams that stand out as obvious fits for Sam Hubbard in this year's draft: the Tennessee Titans and New England Patriots. The Patriots need to upgrade at defensive end, and Hubbard – from his fastest 3-cone drill time among all defensive linemen at the combine to his background playing Patriots coach Bill Belichick's other favorite sport, lacrosse – seems like a perfect fit. But if they go in another direction with their first Round 1 pick (No. 23 overall) in hopes of landing him with their second first-round pick (No. 31 overall), the Titans might jump in before they can take him.
Like the Patriots, the Titans need an edge defender, and they have a major connection to Hubbard: New Titans coach Mike Vrabel recruited Hubbard to Ohio State back when Vrabel was the Buckeyes' defensive line coach. Hubbard made a pre-draft visit to Tennessee, according to Yahoo! Sports' Jordan Schultz, and if he ends up being the best player left on the board at the Titans' biggest position of need, the Titans' Ohio State connections – which also include assistant defensive line coach Ryan Crow and secondary coach Kerry Coombs – could put Hubbard over the top as their first-round choice.
Billy Price, C/G: Round 2, New York Giants (No. 34 overall)
Considering his talent, proven reliability (starting every single game in his four playing seasons at Ohio State) and demonstrated leadership ability, Billy Price is worthy of being a first-round pick. That said, Price is currently recovering from a pectoral injury he suffered while bench pressing at the NFL Scouting Combine, and while that injury shouldn't have a major effect on his draft stock, it could still be enough to keep him out of Round 1, largely because he plays a position at which teams do not consistently invest first-round picks.
If Price does fall to the second round, however, he shouldn't have to wait long once Day 2 of the draft begins. In fact, his wait could last just two picks on the second day of the draft. The New York Giants are expected to look for an interior offensive lineman in the early rounds of the draft, and Price – who could feasibly, assuming he is fully healthy, earn a starting spot from Day 1 at either center or guard – looks like a natural fit.
Jerome Baker, LB: Round 3, Denver Broncos (No. 71 overall)
After a final season at Ohio State that didn't live up to expectations, the third round appears likely to be the sweet spot for Baker. While it became clear last season that Baker needs to improve in several areas as a linebacker, he has first-round-caliber athleticism, which makes it likely a team will take a chance on him early in Round 3 if not sooner.
Baker reportedly visited the Broncos earlier this month, according to 9News' Mike Klis, and the Broncos appear to be in the market for a linebacker; Broncos coach Vance Joseph said in March, according to the team's official website, that "that's definitely an area we have to address in the draft." So if Baker is still on the board when the Broncos pick in the early third round, he seems a likely candidate to be their choice.
Jamarco Jones, OT: Round 3, Houston Texans (No. 80 overall)
The Houston Texans have a major need to upgrade their offensive line, especially at offensive tackle, but they don't currently hold any picks in the draft's first two rounds. With three picks in the third round, the Texans will be looking for offensive linemen who are not rated as top prospects on draft boards but are still good enough to come in and compete for starting spots right away, and that's where Jamarco Jones could come in.
While Jones lacks the athleticism of a first-round offensive tackle prospect, he had two seasons of largely dominant play at Ohio State that show his ability to play the position. It's also possible he could end up moving inside to guard, but the Texans should be looking for upgrades there as well, so either way, Jones is a player who should be able to make the Texans offensive line better while also being a player they could still have a chance to draft despite having traded their top two picks to the Cleveland Browns.
Tyquan Lewis, DE: Round 3, New England Patriots (No. 95 overall)
The New England Patriots seemed clearly interested in Ohio State's defensive linemen at the Buckeyes' pro day, running them through a separate workout to get a closer look at them, so if the Patriots miss out on Hubbard in Round 1, they could look to draft one of the Buckeyes' other defensive ends in a later round.
Tyquan Lewis has been projected to be selected everywhere from the late second round to the fourth round, but if he is still on the board when the Patriots pick late in the third round, the 2016 Big Ten Defensive Lineman of the Year would seemingly be a good fit in New England. The Patriots need to upgrade their pass-rush, and Lewis – who was overshadowed by some of his Ohio State teammates last season, but tested well in the pre-draft process – is capable of providing that.
Jalyn Holmes, DE/DT: Round 4, New Orleans Saints (No. 127 overall)
The New Orleans Saints have had great success with drafting former Ohio State players in recent years, so it wouldn't come as a surprise if they dipped back into the Buckeye well again, and the Buckeye who looks like the most likely fit for the Saints in this year's draft is Jalyn Holmes.
New Orleans could be in the market for a rotational defensive lineman who can bolster its interior pass-rush, and that's exactly what Holmes could provide at the next level. Holmes' versatility to play both defensive end and defensive tackle has intrigued NFL teams, so he could be off the board by the time the Saints pick in the fourth round. But if he's there, the Saints – who reportedly met with Holmes at Ohio State's pro day, according to Draft Analyst's Tony Pauline – probably wouldn't hesitate to snap him up.
Damon Webb, FS: Round 5, Pittsburgh Steelers (No. 148 overall)
Although Damon Webb isn't unanimously projected to be selected in seven-round mock drafts, it still seems likely that he'll be drafted with a couple rounds to spare. Multiple draft analysts have gone as far as to call Webb the "best pure free safety in the draft," and he's drawn his fair share of interest from NFL teams in the weeks leading up to this one.
The Pittsburgh Steelers are among the teams that should be in the market for a safety in this year's draft, and they hold multiple fifth-round picks. So if the Steelers don't select a safety in the earlier rounds of the draft, Webb is a player they could target as a third-day value selection in hopes of continuing their own trend of success with drafting Buckeyes.
Chris Worley, LB: Round 7, Houston Texans (No. 222 overall)
The Houston Texans have shown more interest in Chris Worley than any other team leading up to the draft, so it appears likely that they will target him at some point. Worley isn't likely to be drafted before the late rounds after an underwhelming performance at the NFL Scouting Combine, but he could prove to be a value pick as an instinctive linebacker who should also be able to contribute right away on special teams. That should be enough him to get him selected in the seventh round, if not sooner.
Marcus Baugh, TE: Undrafted, New York Giants
Marcus Baugh has enough talent to be a sixth- or seventh-round pick, and the late rounds of the draft are always difficult to predict, so he could easily end up being selected. A lack of pre-draft buzz surrounding Baugh suggests he could go undrafted. If he does go undrafted, though, Baugh should have plenty of offers to sign as a free agent as soon as the draft is over.
Baugh said at the NFL Scouting Combine that the New York Giants and Dallas Cowboys were two of the teams he visited with that stood out, so either one of those teams could be at the top of the list.
J.T. Barrett, QB: Undrafted, Dallas Cowboys
Like Worley and Baugh, J.T. Barrett could end up being drafted in the sixth or seventh round, but if he is not, he should have several offers to choose from as an undrafted free agent. And if they don't select a quarterback earlier in the draft, the Dallas Cowboys would seemingly be a natural fit.
The Cowboys have an opening for a backup quarterback, and Barrett offers some similar skills to those of Cowboys starting quarterback Dak Prescott. Additional incentive for Barrett to accept an offer from the Cowboys over offers from other teams: He grew up in Wichita Falls, Texas, just a couple hours away from Dallas, and many of his family members still live in the area.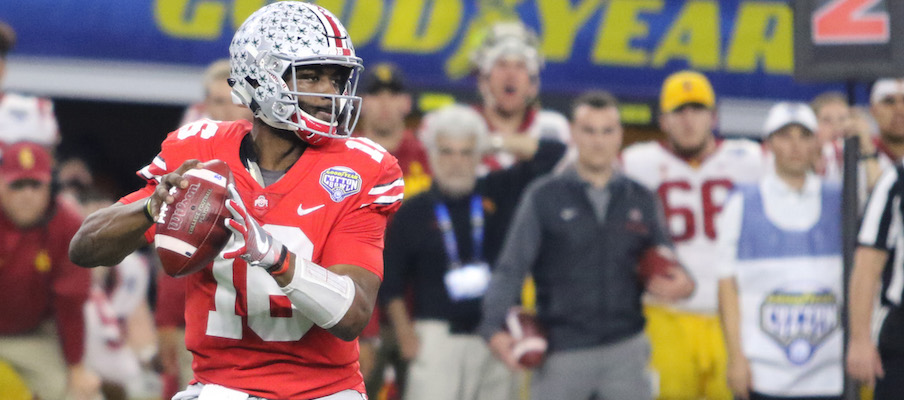 Tracy Sprinkle, DT: Undrafted, Denver Broncos
Although Tracy Sprinkle was not invited to the NFL Scouting Combine, he's drawn interest from several teams leading up to the draft and should also have an opportunity to sign with a team quickly if he is not drafted. The Denver Broncos were among the teams Sprinkle said he talked to at Ohio State's pro day, along with the Indianapolis Colts and Philadelphia Eagles, and the Broncos are a team that could be in the market for defensive tackle depth and offer Sprinkle an opportunity to earn his way onto the roster.
Michael Hill, DT: Undrafted, Carolina Panthers
Michael Hill didn't see much playing time in his senior season at Ohio State, which will likely keep him from being selected in this week's draft, but the 315-pound defensive tackle should get an opportunity to sign as an undrafted free agent. A logical landing spot for the Pendleton, South Carolina native would be the Carolina Panthers, who currently only have four total defensive tackles on their roster and could give him the opportunity to play closer to home.
Erick Smith, SS: Undrafted, New Orleans Saints
Erick Smith could face an uphill battle to make an NFL roster, but if there's any team where he should have a groundswell of support to give him a shot as an undrafted free agent, it's the Saints, who not only have five Ohio State players on their roster but also three players from Cleveland's Glenville High School, where Smith also hails from. In the secondary alone, the Saints have two of Smith's former Ohio State teammates (Vonn Bell and Marshon Lattimore) and two of his former Glenville teammates (Lattimore and Justin Hardee).
Zach Turnure, ILB: Undrafted, New England Patriots
The Patriots have shown a willingness in the past to take a chance on Ohio State players who played almost exclusively on special teams (Nate Ebner), and Turnure – like the aforementioned Hubbard – has a lacrosse background that Bill Belichick, who appeared interested in Turnure at Ohio State's pro day, should love. Of all the teams that could give Turnure a shot, the Patriots seem like an obvious candidate.
Elijaah Goins, CB: Undrafted, Arizona Cardinals
Like Turnure, Goins is a former walk-on who played almost exclusively on special teams, but he had an impressive Ohio State pro day in which he showed top-notch athleticism that should earn him an opportunity as an undrafted free agent.
Goins offers similar traits to those of former Arizona Cardinals special teams standout Justin Bethel, who left for the Atlanta Falcons this offseason. As the Cardinals will certainly be in the market this week for rookies who can help replace Bethel on special teams, Goins is a prospect who could fit the bill.