Ohio State is one of three schools, along with Alabama and Florida, that has had at least seven players selected in each of the last two NFL drafts.
That streak appears safely set to continue for the Buckeyes in this week's NFL draft.
While Denzel Ward is the only Buckeye consistently projected to be a first-round pick on Thursday, Billy Price and Sam Hubbard are both widely projected to be selected in the draft's first two rounds, while Jamarco Jones, Jerome Baker, Tyquan Lewis and Jalyn Holmes are all projected to be drafted between the second and fifth rounds.
It would be a big surprise if any of those Buckeyes went undrafted, and it's likely all of them will be drafted with at least a couple of rounds to spare. As such, it appears to be a sure bet that Ohio State will have at least many draft picks as it had in 2017, when Marshon Lattimore, Malik Hooker, Gareon Conley, Curtis Samuel, Raekwon McMillan, Pat Elflein and Noah Brown were all chosen.
Whether any other Buckeyes get drafted, however, could be the big question from an Ohio State perspective as this year's draft progresses.
The eighth-most likely Buckeye to be selected in this year's draft appears to be Damon Webb, who has drawn his fair share of praise from draft analysts in the weeks leading up to this week's event. Pro Football Focus' Steve Palazzolo and The Athletic's Ted Nguyen have both gone as far as to name Webb as the best pure free safety in the draft.
If you ask Webb himself, he isn't afraid to tell you he agrees with their evaluation.
"I feel like I am the best safety here," Webb said at last month's NFL Scouting Combine. "I'm a hybrid safety. I can play in the box, I've got post range and I can also play man-to-man."
Despite those superlatives, however, Webb isn't unanimously projected to be drafted, and most of those who are projecting him to be selected don't have him coming off the board until the late rounds. In recently published seven-round mock drafts, NFLDraftScout.com's Dane Brugler and NFL.com's Chad Reuter each project that Webb will be a sixth-round pick, but CBS Sports' R.J. White doesn't project Webb to be selected at all.
Given that any team who needs a safety and agrees with Palazzolo and Nguyen would likely be inclined to invest a draft pick in Webb, and it only takes out of 32, Webb's chances of being drafted still appear to be promising. But he could have to endure an anxious wait before hearing his name called.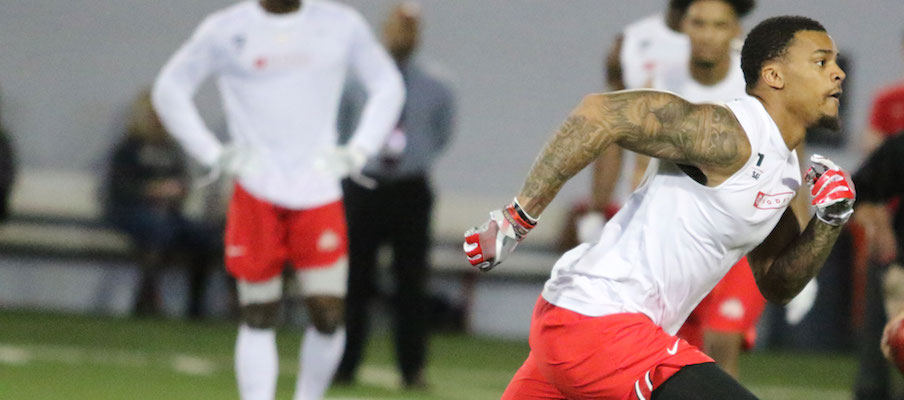 In total, Ohio State had 11 players invited to this year's NFL Scouting Combine – which is usually an indicator that a player has a good shot at being drafted – but along with Webb, three of them appear to be sitting even more squarely on the draft bubble: Marcus Baugh, J.T. Barrett and Chris Worley, none of whom were included in any of the aforementioned seven-round mock drafts.
While Baugh, Barrett and Worley were all multi-year starters for the Buckeyes, they lack the spectacular playmaking ability or physical traits to stand out among their position groups in the draft class. Still, all of them have valuable playing experience under their belts that should improve their chances of making it on NFL rosters even if they are late-round picks or undrafted free agents.
Baugh, like Webb, isn't one to sell himself short, as he believes he is the most complete prospect at his position group in this year's draft. Even though many projections don't even have him being drafted, Baugh himself believes he should be a second-round pick.
"I'm the best tight end in the draft," Baugh said at the NFL Scouting Combine. "I can block. I can run routes. I'm the best blocking tight end coming out. And I love football. I love to win. I hate to lose. I'll do whatever I can to help them win."
Worley and Barrett haven't made as bold of statements about themselves, but both of them also believe they have done enough in the draft process to show why they are worthy of being selected and can play at the next level.
"(NFL teams) love that I can play just about every linebacker position," Worley said after Ohio State's pro day. "They like versatility and durability, and I provide both."
Barrett, a four-year starter at quarterback for the Buckeyes, says he has been told by NFL teams that they have been scouting him for several teams, so he has just tried to be himself and control what he can control during the pre-draft process.
"I'm being myself, and I think at the end of the day, that's what you're going to get," Barrett said after Ohio State's pro day. "I'm striving to be great … but I'm not getting wrapped up in like I'm trying to prove doubters wrong or something."
Other Buckeyes who have set out through the pre-draft process to prove that they are worthy of consideration include Tracy Sprinkle, who started for Ohio State at defensive tackle last season but believes he can actually be a better player in the NFL, where he believes he has the athleticism to be a disruptive 3-technique tackle after playing nose tackle for the 2017 Buckeyes.
"To be honest, I think my best position's at 3-technique," Sprinkle said last month. "I feel I was able to show my quickness and burst at times, but most of the times, I was taking on double teams. So that's why I think the best football is still ahead of me."
Fellow defensive tackle Michael Hill and safety Erick Smith weren't able to have the senior seasons they needed to prove that they should be drafted, in part because both were forced to serve suspensions after failed drug tests, but each of them have also tried to demonstrate that they learned from their mistakes and that they have the skills to play at the next level during the pre-draft process.
"I believe I'll be a draft steal," Hill said in a pre-draft interview. "I'm not the old Michael Hill that got in trouble. I'm completely different from that. And I can play ball. I just want a team to pick me up so I can show them that I can play ball."
Smith will likely be knocked for his speed, after running his 40-yard dash in just 4.76 seconds at Ohio State's pro day, but he believes he makes up for it with the way he plays the game.
"I'm true to the game of football," Smith said. "I put my nose on somebody, and I go get the ball. And I'm a smart football player. I know defense."
Finally, the Buckeyes also have several former walk-ons – Zach Turnure, Elijaah Goins, Trevon Forte and Nick Seme – who have marketed themselves to NFL teams in hopes that one will take a chance on them. Turnure and Goins, who were both placed on scholarship for their senior seasons and became regular contributors on special teams, are the top candidates among them to get a shot at the next level.
All told, Ohio State is likely to have at least a dozen new players on NFL rosters by the end of the week, as many of those who go undrafted should get signed as free agents or at least get invited to participate in rookie minicamps. All of them, though, will be dreaming of hearing their names called as one of the 2018 NFL draft's 256 picks.