INDIANAPOLIS – Why should an NFL team draft Marcus Baugh?
The Ohio State tight end answers that question with confidence.
"I'm the best tight end in the draft," Baugh replied Friday during his media session at the NFL Scouting Combine. "I can block. I can run routes. I'm the best blocking tight end coming out. And I love football. I love to win. I hate to lose. I'll do whatever I can to help them win."
Baugh isn't widely considered by NFL draft analysts to be among the best tight ends in the draft – neither ESPN's Mel Kiper or Bleacher Report's Matt Miller even include him in their top 10 – but Baugh isn't letting that bring down his own faith in his abilities.
"I think I'm a second-round talent, but the Big Board doesn't say so," Baugh said. "I'll show them eventually. It doesn't really upset me. I don't really read too much into it."
While Baugh was a two-year starter for the Buckeyes, he never had spectacular production; playing in an Ohio State offense that does not have a reputation for utilizing its tight ends heavily in the passing game, Baugh had just 28 receptions for 304 yards and five touchdowns last season and 24 receptions for 269 yards and two touchdowns the year before.
Baugh doesn't think that should hurt his draft stock, though, because Baugh believes he showcased his playmaking ability as a receiver when the ball did come his way.
"I think even though I didn't get the ball, I still showed my receiving ability on tape, so I think that my talent will be seen," Baugh said.
Baugh said he has received questions from NFL scouts about the passes he dropped over the past couple seasons, but attributed those drops to a lack of concentration, which is something he has been working to rectify over the past two months leading up to the combine.
Beyond the opportunity to show his route-running and pass-catching ability in positional drills, Baugh will also look to demonstrate his overall athleticism on Saturday, when he plans to participate in a full on-field workout.
The 6-foot-3, 247-pound tight end expects to perform well in both the broad jump and vertical jump, while his goal is to run a 4.6-second 40-yard dash, but he doesn't expect scouts to be surprised by the athleticism he'll show on Saturday, because he believes his film reflects that part of his skill set, too.
"I think I've shown some pretty good athleticism on the field," Baugh said. "Not everybody watches Ohio State, so probably some regular viewers might be (surprised), but I know all the coaches and scouts have seen it."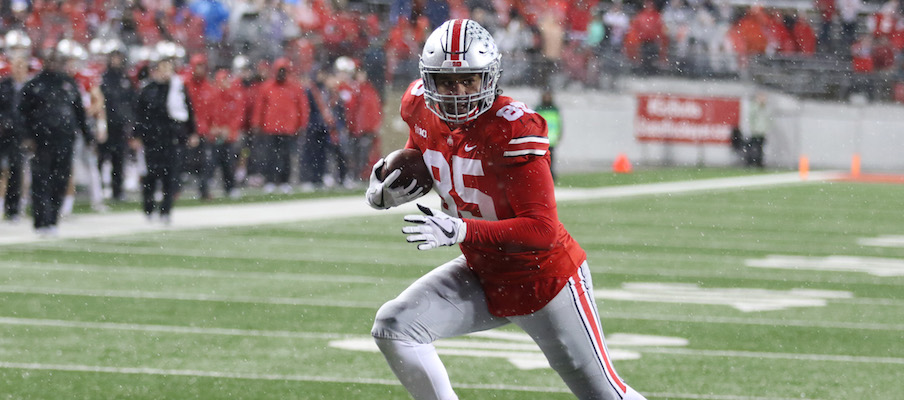 Baugh considers his versatility – having lined up as an in-line tight end, flexed out as a receiver and in the backfield in Ohio State's offense – to be one of his strengths, and says he tries to model his game after Tennessee Titans tight end Delanie Walker, a three-time consecutive Pro Bowler who is also known for his versatility.
Overall, the Riverside, California native looks back on his career at Ohio State as a success, believing that he improved every year as a Buckeye to get to where he is now, but he also believes he's far from done improving as he prepares for his chance to play in the NFL.
"I grew every year. I got better every year. I thought I had a good career at Ohio State," Baugh said. "I'm still trying to reach my potential. I don't think that'll ever happen. I'm always going to find something I can get better at."
While Baugh isn't expected to be selected before the third day of the draft, he said Friday that he has met with just about every NFL team at the combine, where he said his meetings with the Dallas Cowboys and New York Giants were among those that stood out.
Baugh thinks he is as good as any tight end in the draft, and that he should garner consideration as a potential early-round pick. Even if he is a late-round pick or undrafted free agent signing, though, Baugh expects to make an impact for whatever team gives him an opportunity.
"The real work is when you get to the team so if I get to a team, I'll show them what I can do," Baugh said.