You have probably heard prospects who prepare for the NFL Draft say that they cannot wait until the workouts and interviews are over and done with. 
Jerome Baker is not one of those prospects. 
After completing his Pro Day workout at Ohio State on Thursday, Baker said he is embracing everything that comes with preparing for the draft, because it means he is one step closer to realizing his dream of playing in the league. 
"It's been amazing. I live by the motto, 'Live my best life,' and that is exactly what I am doing," Baker said. "Everybody makes it seem like this process is so stressful and not fun. You are about to go to the next level. You might as well have fun. You got to this point because you're good at what you do. I am living my best life, I am living my dream. It is finally coming to reality, so I am having fun with it."
Baker entered the 2017 season as one of the highest projected linebackers in the upcoming draft, but after a slow start to the season, quickly began to drop on draft projection boards.
The Cleveland native said himself on numerous occasions that he was displeased with the way he played for most of the season, yet when it mattered the most down the stretch, Baker played his best football. 
In the Big Ten Championship Game win over Wisconsin, Baker tallied a career-high 16 tackles in a 27-21 victory that sent Ohio State to the Cotton Bowl. Against USC, Baker collected six tackles, including a fumble recovery and a half-sack of quarterback Sam Darnold, going out on a high note.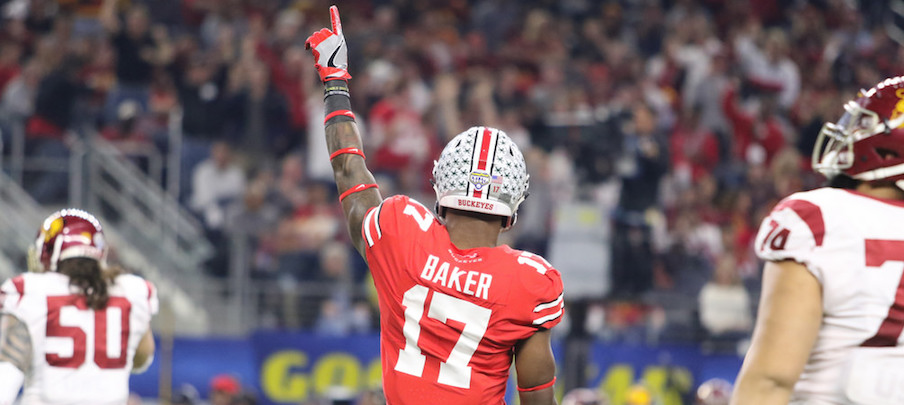 In terms of pure athleticism, Ohio State strength and conditioning coach Mickey Marotti said Baker is one of the top linebackers in the upcoming draft. 
"He is top-five percent. If you take all the athletic 'Will' linebackers and you line them all up, he is in the top-five percent athletically," Marotti said Thursday. "Running, his explosiveness, his ability to change direction, his ability to swivel his hips and be loose."
Baker's 40 time at the combine was slightly slower than the goal he set for himself. He told reporters at the combine he wanted to break the linebacker record of 4.41 seconds, but instead was clocked at 4.53. His 10-foot-6 broad jump, however, was third-best among linebackers at the combine, and his 4.53 in the 40-yard dash ended up being the fourth-best time among linebackers. 
His slower 40 time could be because Baker has put on weight since his playing days at Ohio State. Baker said he has gained around seven pounds since the beginning of his junior year in Columbus, but added he believes he is still moving as well as he did before putting on the added pounds.
"The same thing that you see on film," Baker said when asked what he thought he showed at his Pro Day. "I am fast, and I can move at the weight I am playing with right now. I weighed in today at 232 and I feel just the same."
Baker spent a good amount of time Thursday talking to Pittsburgh Steelers head coach Mike Tomlin but said wherever he goes, he is going to bring his positive, confident mindset with him.
"He is just a great coach and a great person to be around. He is always relaxed and having fun. He was just making sure I was bringing energy," Baker said of his conversation with Tomlin. "I don't care where I go. I just know I am going to ball out wherever I go.
"My skills fit any team, any defense. I can just mold my game to it. I feel like my skill set is very different from a lot of other linebackers. I can pretty much do it all ... that's just the player I am."