Whether Trevon Forte's upcoming career is within the sport of football or outside the sport of football, his time as a walk-on at Ohio State will have played a key role in preparing him for what's next.
As a member of the Ohio State football team for the past five years, Forte participated in only five games. The impact the program has had on his life, however, extended far beyond that occasional playing time.
"Coming to Ohio State turned me into a grown man, just by the values that they instilled in me," Forte told Eleven Warriors in an interview last week. "I came here as a 157-pound boy and left as a 186-pound man. They taught me to be accountable for myself, show up on time and if you want to achieve something in life, you have to work for it."
Coming out of Cardinal Mooney High School in Youngstown in 2013, Forte could have opted to attend a smaller school, where he likely could have seen much more game action on the football field. But Forte decided to take advantage of an academic scholarship and walk on at Ohio State. The 5-foot-8 cornerback's only playing time came on occasional special teams snaps in lopsided games, but he had a more significant role in practices, where he – like most walk-ons – spent most of his time on the scout team, helping prepare Ohio State's offense for each game, but also filled in on the Buckeyes' defense when necessary.
While Forte's on-field career might not be remembered or even been noticed by most Ohio State fans, he considers his career as a Buckeye to have been a success.
"All the coaches here know that I went out and I competed at a high level against the top recruits that they brought here, and I always used motivation as far as not being seen as a walk-on when I was here," Forte said. "I wanted to be able to, if a guy came in, he would not be able to decipher me as a walk-on here. So I wanted to play at that level, and I feel like I did a good job in that."
"I came here as a 157-pound boy and left as a 186-pound man."– Trevon Forte on his experience at Ohio State
With experience under his belt that included filling in for eventual first-round NFL draft picks at cornerback like Eli Apple, Gareon Conley and soon-to-be-drafted Denzel Ward, but also lining up against Ohio State wide receivers who have or could soon go on to the NFL, Forte plans to participate in Ohio State's pro day on March 22 in hopes of earning his own opportunity to play at the next level.
"I grew up playing football all my life, and I've always been a competitor, and the way I see it, if I can compete at a high level against these receivers at Ohio State who end up going to the next level, I can compete against anybody," Forte said.
Given his lack of collegiate film, Forte knows he must make a big impression at pro day to get an NFL chance, so he is currently training for pro day at Ohio State – under the guidance of Ohio State assistant strength and conditioning coach Quinn Barham – alongside fellow former Buckeye walk-ons Zach Turnure, Elijaah Goins and Nick Seme.
"I feel like I need to make myself stick out as much as possible," said Forte, who expects to put up at least 20 repetitions of 225 pounds in the bench press while also looking for fast times in the 40-yard dash, 3-cone drill and shuttle drills. "I definitely feel like I'm stronger than average. I may not be as tall as the others or as fast as the others, but I'm definitely stronger in a lot of aspects. I'm quick, so I can use those to my advantages. I use my set of skills to my advantage, to make up for the areas that I lack in."
While Forte knows it's no guarantee he will get an opportunity, he's confident he can take advantage of his opportunity if he gets one.
"I want these NFL teams to know that I believe that nothing comes easy, and just as I've done here, for them I would work my ass off, compete at the highest level I can," Forte said. "I feel like I have nothing to lose but everything to gain, and that's been my mentality. I'm going to use that to keep working hard. And I definitely feel like I can compete at the highest level, and my confidence level is what allows me to play like that."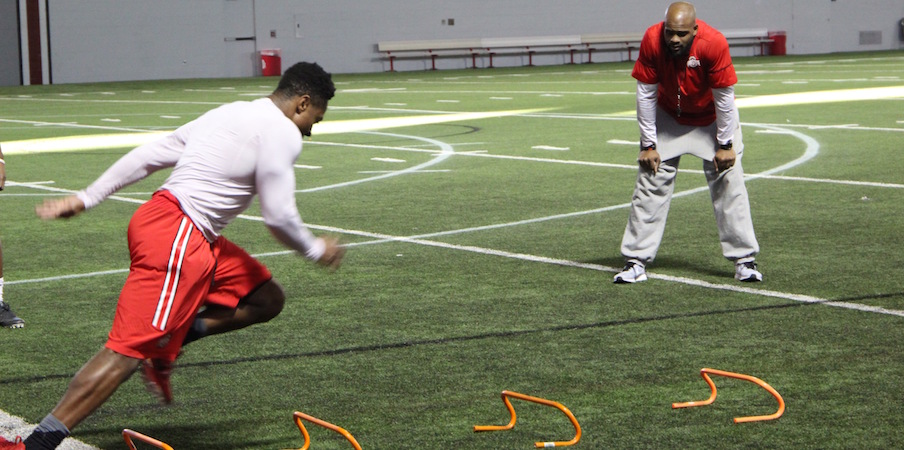 Either way, Forte will be prepared for the next phase of his life, and he credits the Ohio State football program with putting him in a position of succeed not only within the sport, but also outside of it.
While Forte is training for pro day, the 2017 Academic All-Big Ten selection – who is set to graduate at the end of this semester with a degree in sports management and marketing – is also interviewing for jobs in those fields. Forte has a resume that should impress prospective employers in the business world, too, having interned with UBS Financial in 2016 and with Goldman Sachs in 2017 – internships that came about, in part, because of Ohio State's "Real Life Wednesdays" program that helps prepare players for life after football.
"(Ohio State strength and conditioning coach Mickey Marotti) instilled a meritocracy process with us, so those who work hard are rewarded, and those who don't work hard aren't rewarded for anything. So while I was at Ohio State, I took that to even the academic field and just making myself separate from everybody else," Forte said Friday, wearing a suit as he prepared to head to a job interview later that afternoon. "It allowed me to realize that I don't have to settle. Like I can go out for these Fortune 500 companies and apply for jobs and definitely allow me to put myself to a higher standard when going about that process."
Looks like @TgiForte & @LiamMcCullough2 aren't having too tough a time at their Goldman Sachs internship in NYC... pic.twitter.com/t3uBVRLfvf

— Ohio State Football (@OhioStateFB) May 16, 2017
Regardless of what Forte ends up doing in his post-football career, Forte wants to be a positive example for current and future Ohio State walk-ons who could follow in his footsteps.
"Things may seem hard at first, but if you grind it out, it's always worth it," Forte said. "There's going to be times where you want to quit, give up, but don't give up. That's what separates you from the others – the others would give up – but as long as you stick with it, that's what you signed up for. You didn't sign up just to get the free gear or to get the free meals but to put in the time and the work, just like everybody else."
Forte also wants to set a positive example for his family.
"Coming from Youngstown, Ohio, it's not the easiest place to live, and I have four younger brothers that I wanted to be a good role model for," Forte said. "I want them to take away from (what he has accomplished) that there's always going to people who doubt you, but you should use that and turn it into a positive motivation. So you should go about all means to prove your doubters wrong, and don't ever let anybody tell you that you're not allowed to dream and that your dreams won't come true, because if you work for it hard enough, then there's always a possibility."