Nick Seme thought his football career was over when he transferred to Ohio State from Ashland University in 2014.
Three years later, however, Seme ended up having the opportunity to play for the Buckeyes, and now, he is working with Ohio State's strength and conditioning staff and training for a potential shot at the NFL.
After suffering a shoulder injury in his first year at Ashland, Seme decided to hang up his cleats and transfer to Ohio State to focus on academics. Going into his final year of NCAA eligibility, however, Seme got the itch to play football again. So when Seme saw last January on Twitter that the Buckeyes were holding open walk-on tryouts, he decided to give it a shot.
The Wadsworth, Ohio native ended up making the team, giving him the opportunity to fulfill a dream of playing for the team he grew up watching.
"It's been definitely a crazy experience," Seme told Eleven Warriors in an interview this week. "Because last year around this time, I wasn't on the team, I walked on and didn't really know what to expect from the experience and the journey. But everything from being with the guys, friendships on and off the field, trust from the coaches, respecting the coaches, it's been more than I could have dreamed of, honestly. To have myself and my family, my friends a part of it too, I think that's a big thing, to kind of live out this dream of mine. I can't really put it into words, but it's been great."
While Seme didn't see much action in actual games for the Buckeyes, playing only 12 total snaps from the back end of Ohio State's loaded defensive end depth chart last season, he nonetheless got the full experience of being an Ohio State football player – from practicing with the team every day to being honored on Senior Day – and made a significant impression on his coaches and teammates in the process.
"He's more valuable than some of our scholarship guys," Ohio State coach Urban Meyer said of Seme on his radio show last November.
Seme, who was nicknamed "51 Savage" by his Buckeye teammates (because he wore No. 51), said he knew he had earned the respect of his teammates and Ohio State defensive line coach Larry Johnson after a scrimmage last spring in which he was on the field for 30 plays in a row.
"I get off the field and Coach Johnson, I'm like trying to barely stand up, but he comes over, calls me after and we're all in the huddle together, and not that I felt like I was ever left out but I felt like I was finally kind of accepted, because he's like, 'You know what you just did, right?'" said Seme, who also recalled that Johnson would not allow him to call himself a walk-on. "And guys are watching me and going and going, and I didn't realize it in the moment, but it's definitely where guys came up to me and it was definitely kind of like a – that and getting my (black) stripe off – it was like a rite of passage."
"It's been more than I could have dreamed of, honestly."– Nick Seme on his experience as an Ohio State walk-on
Seme also made a significant impression on Ohio State's strength coaches, significant enough that he landed an internship with the strength and conditioning staff this spring, enabling Seme to remain involved with the football team while he completes his final semester at Ohio State before earning his degree in exercise science.
With a career goal of eventually becoming a physical therapist for a football team, like the role Adam Stewart currently holds for Ohio State, interning with the strength staff has been a valuable opportunity for Seme to gain behind-the-scenes experience in working with athletes and helping them prepare their bodies to play the sport.
Seme has already been accepted into the physical therapy program at the University of Dayton, where he is set to begin his graduate education this fall.
First, though, Seme plans to take his best shot at playing in the NFL, an opportunity he hopes to earn when he participates in Ohio State's pro day next month.
While Ohio State asked Seme to play defensive end, a request that he certainly didn't want to turn down, he plans to work out at pro day as a fullback, believing he would be best suited to play on the offensive side of the ball at the next level.
"I know that's kind of a position that's used sparingly in the NFL, but it's something where I definitely, I wouldn't limit myself to that, but it's something where I feel like in terms of my size and my speed and just kind of my skill set, I think that would be a great fit," said Seme, who is 6-foot-3 and is currently leaning down from 255 pounds to closer to 240 pounds.
Seme says he is confident in both his pass-catching and his blocking ability – even though he didn't get the opportunity to demonstrate either in game action as a Buckeye – while he is also working on long snapping as well, in hopes of making himself more marketable by showing the versatility to play multiple positions.
"At the end of the day, I'm not going to say no (to any position)," Seme said. "That's just kind of how I've been taught since I was young, and taught since I was here, just always be ready for whatever it is that you're asked to do."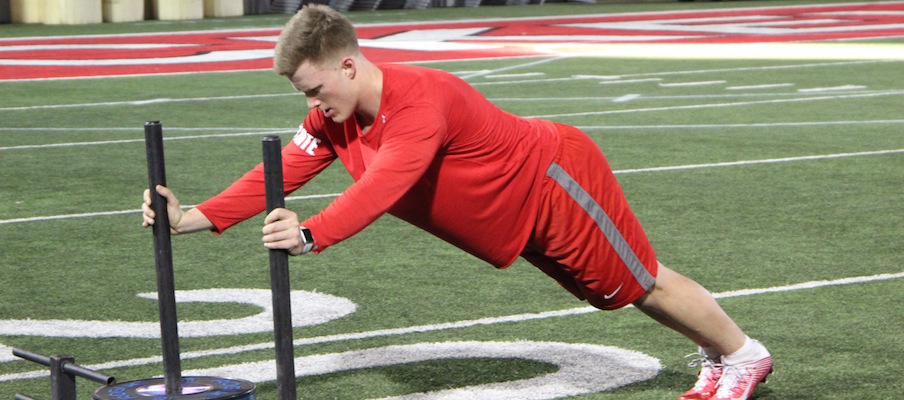 With a lack of college film for evaluators to watch, Seme recognizes he faces an uphill battle to make it in the NFL. He also recognizes, though, that he only needs to impress one team to get a shot. Achieving his dream of playing for the Buckeyes last season has motivated him to chase his dream once again.
"I understand a lot of teams might be looking a lot of other players that might have more film, but I just think the biggest thing is just a shot, just an opportunity," Seme said. "I'm not asking for it, it's just definitely something that I want to earn from them, but yeah, I just think it's something where, the hard work is what's gotten me here, and I definitely want to continue that at the next level. And whatever position that is, I'll be more than happy to do whatever it takes to win, whether it's special teams or something where I'm just kind of ready to get to work."
Seme is currently training with Ohio State assistant strength and conditioning coach Quinn Barham, alongside fellow former walk-ons Zach Turnure, Elijaah Goins and Trevon Forte, to try to put himself in the best position possible to impress at pro day. That training has not only helped Seme become faster and stronger in preparation for his NFL audition, but also provided additional education in how athletes should train, which could be beneficial to his post-playing career, as well.
"Definitely the technique behind the drills, the attention to detail, and really just kind of how the body moves through it, that's something that I'm definitely interested in, being an exercise science major," Seme said.
More than anything else, Seme wants to make sure he makes the most of his last few months at Ohio State – and takes advantage of every opportunity he can – before moving onto the next phase of his life.
"It's kind of like one last shot," Seme said. "I'll leave it out all on the field, per se, and whatever happens, I'm just kind of looking forward the experience, the connections, all the stuff like that."
Regardless of whether he plays another down of football from this point forward, Seme says he will remain grateful that Ohio State gave him the opportunity to play for one more year.
"It's definitely something where in the moment, I don't think you really realize it, but when you sit back, it's very … it's surreal," Seme said. "To think a year ago, I was sitting at home, looking on Twitter and finally going through this process somehow, I finished up a year, I was able to play a little bit here and there, and all the stuff that I've been able to take away from it – having an internship opportunity, being able to train here now for the pro day – it's definitely something where I'm definitely thankful for it, and definitely will never forget it."