One cannot cover the NFL draft without putting together a mock draft.
OK, that's not entirely true, but the NFL mock draft – as challenging as it might be to actually project the picks correctly – has become an annual rite of passage for football writers everywhere, as prognosticators take their best shot at forecasting how the draft will play out before chaos reigns as it always does when the actual draft begins Thursday night.
This year's draft is as unpredictable as ever, with rumors still abound less than two days before the draft about three different quarterbacks – USC's Sam Darnold, Oklahoma's Baker Mayfield and Wyoming's Josh Allen – all being possibilities for the Cleveland Browns at the No. 1 overall pick. From there, the draft only gets less predictable; while it's widely expected that the New York Jets will draft a quarterback with the No. 3 overall pick, after trading with the Indianapolis Colts to get that pick, it's unknown what the New York Giants will do with the No. 2 overall pick, what the Browns will do when they're back on the clock with the fourth overall pick and whether any teams will make big trades up to try to get top quarterback prospects of their own.
All of that said, one can read the tea leaves and connect the dots to make a best guess at how the draft will play out. So that's what I've done here.
After publishing my projections for every Ohio State draft prospect on Tuesday, including two projected first-round picks, here are my projections for all 32 first-round picks.
1. Cleveland Browns: Sam Darnold, QB, USC
While there have been plenty of contradictory rumors in the days leading up to the draft, it's typically dangerous to believe any rumors that suddenly spring up just before the draft – after all, they don't call it "lying season" for nothing – and Darnold has looked to be the Browns' top target all along.
Allen has the best arm of any quarterback in the draft, and Mayfield has a dynamic skill set with perhaps the most proven track record of leading teams to victories – making either one a justifiable selection at No. 1 overall. Darnold is the most well-rounded and safest pick among the quarterbacks, though, and it would be a mild surprise if he isn't ultimately the player whose name is announced first by NFL commissioner Roger Goodell on Thursday night.
2. New York Giants: Saquon Barkley, RB, Penn State
Anyone who's watched Big Ten football with any regularity over the last three years knows how dynamic a playmaker Saquon Barkley can be, making him the No. 1-ranked overall prospect on many draft boards. It's been tough to get a read on what the Giants will do with the No. 2 overall pick – they could draft a quarterback, or they could trade down to a team trying to get a quarterback – but the prevailing belief is that they stay put and draft the best player available, which makes Barkley the favorite to be the pick if Darnold is off the board.
3. New York Jets (from Indianapolis Colts): Baker Mayfield, QB, Oklahoma
If this mock draft was based solely on how players performed in games against Ohio State, Mayfield would be the No. 1 pick. Unlike Darnold and Barkley, who both lost to the Buckeyes this season, Mayfield was masterful in the Sooners' 31-16 win at Ohio Stadium on Sept. 9, putting together a performance that set the stage for a Heisman Trophy-winning season.
Mayfield hasn't been very popular in Columbus since, as he capped off the Sooners' win by attempting to plant an Oklahoma flag on the block O in the middle of the Ohio Stadium turf, but he would be a popular draft choice among fans of the Jets, who are in need of a player that can bring his level of playmaking ability to the quarterback position.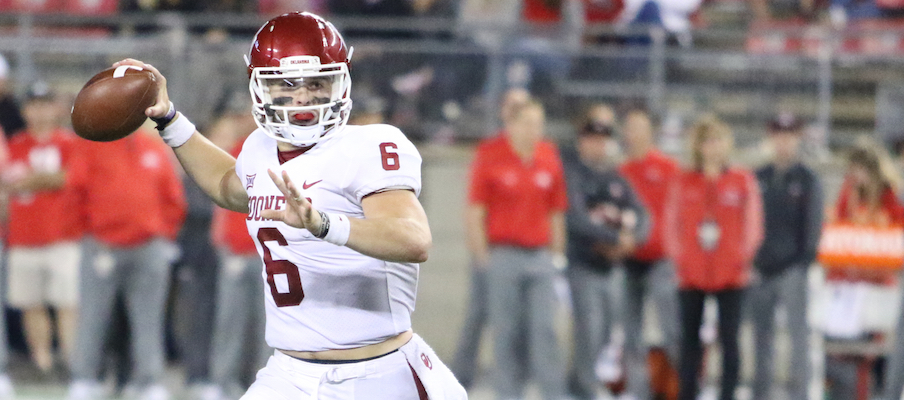 4. Cleveland Browns (from Houston Texans): Bradley Chubb, DE, N.C. State
The Browns are likely to receive phone calls for this pick from other teams trying to trade up for a quarterback, but after years of trading down and accumulating picks with few (more specifically, none last year) wins to show for it, most Browns fans would prefer to see their team stay put and use the No. 4 pick to draft the best player available. In this scenario, that would be Chubb. By pairing Chubb with 2017 No. 1 overall pick Myles Garrett, the Browns could have one of the NFL's most formidable pass-rushing tandems for years to come.
5. Denver Broncos: Josh Allen, QB, Wyoming
If Allen is still on the board at the No. 5 overall pick, it's expected that he will be the pick. Which team will make that pick, however, is in question. The Buffalo Bills, who hold two picks in each of the first three rounds, are fully expected to trade up to ensure they can draft a top quarterback, and Broncos general manager John Elway has said he is "open to trading" this pick.
The Broncos signed free-agent quarterback Case Keenum to a lucrative contract this offseason. However, they only signed Keenum for two years, leaving the door open that they could draft their quarterback of the future this year. And if Allen is still on the board, they just might do so.
*PROJECTED TRADE* 6. Buffalo Bills (from New York Jets via Indianapolis Colts): Josh Rosen, QB, UCLA
With three of the top four quarterbacks off the board, the urgency will be high for the Bills to move up and get their quarterback, so expect them to make a substantive offer – potentially including their second first-round pick (No. 22 overall) – to the Colts, who have enough needs to consider trading down again and accumulating even more picks even after already trading down once from the third overall pick. Should the Colts be willing to trade down, the Bills could move up into this spot and get their much-needed franchise quarterback in Rosen.
7. Tampa Bay Buccaneers: Derwin James, SS, Florida State
The Buccaneers have a major need to upgrade their secondary, so they are expected to choose between three defensive backs at the No. 7 overall pick. Should the Buccaneers decide to draft a cornerback, this could be the landing spot for Ohio State's Denzel Ward. Alabama's Minkah Fitzpatrick, who offers the versatility to play both safety and cornerback, is another possible pick who would make great sense for the Bucs. But the favorite for this pick appears to be James, who grew up in Haines City, Florida – just an hour away from Tampa – and is a playmaking strong safety who can line up all over the field.
8. Chicago Bears: Quenton Nelson, G, Notre Dame
The Bears shouldn't pass up the opportunity to draft Nelson if they get it. The Bears need a guard, Nelson is arguably the safest bet to be a star at his position in the entire draft and his offensive line coach at Notre Dame, Harry Hiestand, is now the Bears' offensive line coach.
9. San Francisco 49ers: Tremaine Edmunds, LB, Virginia Tech
The 49ers should be in the market for a defensive playmaker with their first pick, and they have several good options on the board in this scenario. Denzel Ward could certainly be a candidate for this pick, but a linebacker could be at the top of the list following 2017 first-round pick Reuben Foster's recent domestic violence arrest, which puts his status with the team in jeopardy. A versatile athlete with huge upside, Edmunds could potentially be a replacement for Foster at inside linebacker or complement him as an outside linebacker.
(Update: Foster's accuser recanted her allegations against the 49ers linebacker on Wednesday night.)
10. Oakland Raiders: Denzel Ward, CB, Ohio State
The Raiders already drafted one Ohio State cornerback in the first round of last year's draft, selecting Gareon Conley with the No. 24 overall pick, but they still need another cornerback to start opposite him. If they have the opportunity to draft Ward with the No. 10 overall pick this year, they shouldn't pass it up.
11. Miami Dolphins: Roquan Smith, LB, Georgia
The Dolphins upgraded at middle linebacker in last year's draft by selecting Ohio State's Raekwon McMillan with their second-round pick, but they now need another playmaker to line up next to him at outside linebacker. Smith is arguably the best player available in this scenario and could fill that need in a big way.
12. Indianapolis Colts (from Cincinnati Bengals via Buffalo Bills): Minkah Fitzpatrick, CB/S, Alabama
Should the Colts trade down from the No. 6 overall pick, they will likely be in the market for whichever one of the draft's top defensive prospects is remaining on the board, and in this scenario, that's Fitzpatrick. Pairing Fitzpatrick with former Ohio State safety Malik Hooker – their first-round pick last year – could give the Colts a tandem of young defensive backs with the ability to make game-changing plays on the back end of their defense.
13. Washington Redskins: Vita Vea, NT, Washington
Vea to the Redskins has been one of the most popular projections across all mock drafts, which Draft Analyst's Tony Pauline describing it as "the worst kept secret in the league." It makes sense, too, as the Redskins need a disruptive run-stopping nose tackle to anchor the middle of their defensive front, and that's exactly what Vea is.
14. Green Bay Packers: Josh Jackson, CB, Iowa
If Josh Jackson ends up being a first-round pick, his performance last season against Ohio State – in which he had three interceptions – will be a big reason why. The Packers have a major need to upgrade at cornerback, and with Ward and Fitzpatrick likely to be off the board, Jackson is likely to be the best cornerback available at the No. 14 overall pick.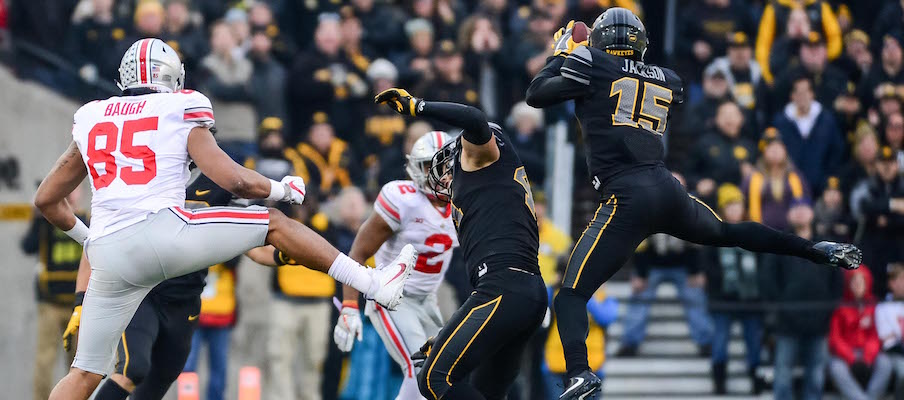 15. Arizona Cardinals: Lamar Jackson, QB, Louisville
The Cardinals should be in the market for their quarterback of the future, and this is about the point in the first round where it seems likely Jackson will come off the board. The athletic 2016 Heisman Trophy winner has the playmaking ability to be a star if he can continue to develop as a passer.
16. Baltimore Ravens: Mike McGlinchey, OT, Notre Dame
The Ravens are known for sticking to a "best player available" strategy as much as any team in the NFL, but in this case, the prospect who is arguably the best player available would also be a natural fit that fills one of the Ravens' biggest needs. The Ravens need a right tackle, McGlinchey is projected to be the draft's first offensive tackle selected and he would be reunited with former Notre Dame teammate Ronnie Stanley, who is now the Baltimore Ravens' left tackle.
17. Los Angeles Chargers: Da'Ron Payne, DT, Alabama
The Chargers have one star on their defensive line in former Ohio State defensive end Joey Bosa, but they should be in the market for an upgrade on the interior defensive line. Payne showed his star potential with a pair of dominant performances for the Crimson Tide in the College Football Playoff, making him arguably the best player available on the board at this point.
18. Seattle Seahawks: Marcus Davenport, DE, UTSA
The Seahawks are in need of defensive reinforcements after moving on from star playmakers Michael Bennett and Richard Sherman this offseason, and a great defense often starts with a great pass-rush. Davenport is a raw talent from a smaller school, but he has as much upside as any player still on the board on this scenario and has the combination of size, length and athleticism that the Seahawks typically covet in their draft picks.
19. Dallas Cowboys: Leighton Vander Esch, LB, Boise State
The Cowboys could definitely be in the first-round wide receiver after releasing Dez Bryant earlier this month, but the rumor mill suggests that the Cowboys have their sights set on drafting Vander Esch if he is available at the No. 19 overall pick. Vander Esch has drawn substantial interest in the weeks leading up to the draft, visiting 11 teams in 14 days according to Pro Football Talk's Mike Florio, and would give the Cowboys another playmaker at linebacker to team with Sean Lee and Jaylon Smith.
20. Detroit Lions: Harold Landry, DE/OLB, Boston College
The Lions appear to be looking to upgrade their defensive front seven with their first-round pick, and Landry is the last of the sure-fire first-round pass-rushers on the board. Additionally, Landry's defensive line coach at Boston College for the past two seasons – Paul Pasqualoni – is now the Lions' defensive coordinator.
21. Cincinnati Bengals (from Buffalo Bills): Frank Ragnow, C, Arkansas
While it's dangerous to trust any suddenly emerging late rumors about a team targeting a specific player, a sudden groundswell of well-connected draft analysts suggesting that a player has been overlooked – which is exactly what's happening with Ragnow – is usually an indicator that player will go higher than previously projected. And the Bengals appear to be the team that could be zeroing in on drafting him in Round 1. The Bengals could also stay in-state and draft Ohio State's Billy Price with this pick, but either way, Cincinnati looks to have its sights set on drafting a first-round offensive lineman.
22. Indianapolis Colts (from Kansas City Chiefs via Buffalo Bills): Rashaan Evans, LB, Alabama
The Colts need to upgrade at linebacker, so they could draft Roquan Smith or Tremaine Edmunds if they stay put at the No. 6 overall pick, or hope that one of them falls to them if they trade down. In this scenario, they missed out on Smith and Edmunds, but still end up with one of the draft's top linebackers by selecting Evans – arguably the top player available in this scenario – with their second first-round pick acquired from the Bills.
23. New England Patriots (from Los Angeles Rams): Kolton Miller, OT, UCLA
The Patriots need a new left tackle after losing Nate Solder to the New York Giants in free agency, and Kolton Miller is the closest thing to Solder that this year's draft has to offer. Like Solder, Miller has the tremendous length and athleticism that the Patriots covet at the position, which should give them confidence that they can develop into Tom Brady's new blindside pass protector.
24. Carolina Panthers: D.J. Moore, WR, Maryland
The Panthers should be in the market for an upgrade at wide receiver, and in this scenario, they would still have their choice of the top prospects at the position. Moore, who led the Big Ten in receptions and receiving yards last season despite Maryland's revolving door at quarterback, is projected to be one of the first two receivers selected and could give the Panthers an infusion of playmaking ability at the position.
25. Tennessee Titans: Sam Hubbard, DE/OLB, Ohio State
New Titans coach Mike Vrabel recruited Sam Hubbard to Ohio State back when he was the Buckeyes' defensive line coach, and now, Vrabel could make Hubbard his first draft pick in Tennessee. The Titans are in need of a pass-rushing upgrade, and Hubbard – who they hosted on a pre-draft visit, according to Yahoo! Sports' Jordan Schultz – is the best edge defender remaining on the board in this scenario.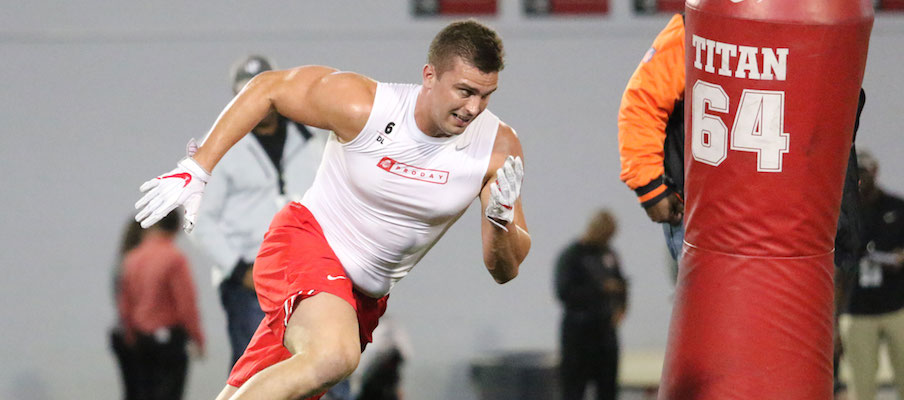 26. Atlanta Falcons: Taven Bryan, DT, Florida
The Falcons' biggest need entering the draft is a defensive tackle to pair with Grady Jarrett. Michigan's Maurice Hurst is the most talented defensive tackle remaining on the board, but it's rumored that he could fall in the draft after he was found to have a heart condition at the NFL Scouting Combine. Bryan, meanwhile, has been widely projected as a first-round pick and often linked to the Falcons, who reportedly conducted a private workout with Bryan last week, according to D. Orlando Ledbetter of the Atlanta Journal-Constitution.
27. New Orleans Saints: Lorenzo Carter, OLB, Georgia
Carter is projected as a second-round pick in most mock drafts, but if all of the other top edge defenders and linebackers come off the board in the first 25 picks – as they do in this scenario – that could propel Carter up into the late first. The Saints hosted Carter on a pre-draft visit last week, according to Nick Underhill of The Advocate, and could use a player with Carter's versatility to both bolster their pass-rush but also play off the line of scrimmage as a linebacker.
28. Pittsburgh Steelers: Jaire Alexander, CB, Louisville
The Steelers tend to target defensive players with their first-round picks – having done so in six of their last seven drafts – and adding youth reinforcements on that side of the ball remains their biggest need. Cornerback isn't their biggest area of need, but the Steelers also tend to stress drafting value over need, and Alexander is the top defensive talent remaining on the board in this scenario.
29. Jacksonville Jaguars: Calvin Ridley, WR, Alabama
The Jaguars should be in the market for a wide receiver following the departures of Allen Robinson and Allen Hurns this offseason, and Ridley is arguably the best player available in this scenario. If Ridley is still on the board at the 29th overall pick, his value should be too good for the Jaguars to pass up.
30. Minnesota Vikings: Will Hernandez, G, UTEP
The Vikings have a major need for upgrades at the guard position. As a result, one popular projection has been that the Vikings could draft Billy Price and move him back to right guard, re-creating Ohio State's 2016 pairing of Price playing alongside Pat Elflein, who is now the Vikings' center.
Given that Price's primary projection to the NFL is also as a center, however, the more highly rated guard still on the board is Hernandez, making him a favorite to be the selection here, especially with Price recovering from a pectoral injury suffered at the NFL Scouting Combine.
31. New England Patriots: Justin Reid, S, Stanford
The Patriots need a defensive end and a linebacker more than they need a safety, but all the first-round-caliber prospects at those positions are off the board in this scenario. The Patriots aren't a team to reach just to fill a need, so they could instead draft a defensive back – another position they seem keen on drafting with one of their five picks in the first three rounds – and Reid is a player that could sneak into the late first round that they appear interested in, hosting him for a pre-draft visit last week.
32. Philadelphia Eagles: Derrius Guice, RB, LSU
The reigning Super Bowl champions were able to keep the core of their title-winning team intact this offseason, leaving them with no pressing needs to addressing in the draft. They don't currently hold a second- or third-round pick, so they could look to trade down to accumulate more picks. If they stay put, though, they've shown substantial interest in Guice – hosting him for a pre-draft visit and putting him through a private workout, according to NDT Scouting's Jon Ledyard – a strong and elusive running back who could add a real spark to the Eagles' backfield.