The Ohio State University prides itself on the people, the tradition and the excellence of its athletics programs. Buckeye traditions and the excellence need no introduction. But how well do we know the people? Fans know players by the awe-inspiring feats they perform. Mask Off takes a closer look at those individuals as human beings.
Tracy Sprinkle was – and will forever be – an Ohio State football captain, a National Champion, a two-time Big Ten Champion and the owner of five pairs of Gold Pants. His on-field accomplishments speak for themselves.
Anchoring the interior of Ohio State's defensive line, Sprinkle was a Goliath on the field. In the broader context of life, however, Sprinkle more resembles the biblical David. The odds have been stacked against him since birth.
In high school in Elyria, Sprinkle struggled to stay on track. Contending with hardships, he persevered and signed as the lowest-ranked member of an Ohio State recruiting class that included names like Vonn Bell, Joey Bosa, Eli Apple and Ezekiel Elliott.
After a season with the Buckeyes, Sprinkle's football career came to an end – or so it seemed. He was dismissed from the team after being arrested and charged with crimes including drug possession and failure to disperse.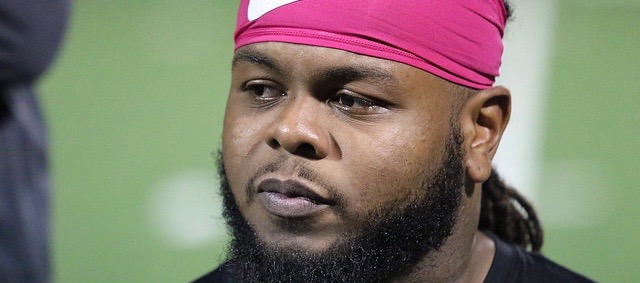 When it emerged that the charges against Sprinkle were less severe than originally reported, and that he would be cleared of drug charges, Urban Meyer decided to give him a second chance. He was reinstated and played in every game in 2015. 
In 2016, having already overcome staggering odds, Sprinkle savored walking on to the field for his first game as a starter – his proudest moment as a Buckeye. But the triumph was short-lived. During the first quarter of play, he ruptured his patellar tendon. His season was over and, likely with it, his football career. 
What followed is already Buckeye lore. Sprinkle became the heart and soul of the 2016 team from the sideline. According to defensive line coach Larry Johnson, his work ethic in rehab was legendary. He earned the respect of his teammates and his coaches in the gym and the locker room. He was elected as a captain for the 2017 season and started every game on arguably the best defensive line in school history. 
As of the publication of this piece, Sprinkle is in Miami training for the NFL draft. Despite all that Sprinkle has overcome and all he has achieved, he is not considered a top prospect. In fact, he is not projected to be drafted by any major outlets. The odds are once again stacked against Tracy Sprinkle, and he will once again battle – with the quiet confidence and steady determination of someone who has seen the bottom – to eclipse his critics. 
Whether Sprinkle is drafted will make a huge difference in his life. For all that he has overcome, he has yet to reap the financial fruits of his labor. Regardless of his performance wearing pads, though, Sprinkle is living a remarkable human life. 
"Three Things I live by are Patience, Perseverance and purpose. MY WHOLE LIFE, I'VE ALWAYS HAD MY BACK AGAINST THE WALL ... THINGS MAY BE LOOKING BAD, BUT IF YOU HAVE FAITH IN GOD, YOU CAN GET UP ALL THE TIME."
Tracy Sprinkle has a story to tell. 
In his own words
Why did you choose Ohio State?
I was born in Cleveland, Ohio and grew up in Elyria, Ohio. I've always been an Ohio guy, and I always watched Ohio sports growing up.
I kind of fell off when I was in high school – kind of fell off for a year. You know, some problems happened, but coach Urban Meyer and staff came, and I was recruited by Mike Vrabel.
It's just a love of family that you have. We kind of revved it up my five years there, and I know the guys are going to continue to do it. Just the bond they have there is ... it's outrageous, it's hard to explain. There's your family at home that you were actually born and raised with, but you got those guys that you grind and grow into a man with, so it becomes a family. It's the same bond.  
What is the biggest life lesson you learned at Ohio State that will help you after football?
It is dealing with adversity because it comes at you in different ways. You know, when I first got to college – my senior year of high school going into college – one of my family was shot and killed in the streets.
It was different things thrown at me from different angles. So that happened, then I got to college, scout team, you know, kind of got humbled a little bit. Then I got into some trouble back home. That's a different story where I was accused of something that didn't happened, but I still ended up in trouble. It ended up being on the news for something that – boom – come to find out it was false.
Get back on the team, working hard, working hard again, and end up winning a national championship that year. I was on the scout team that year, played a little bit, worked hard, become a starter, then – boom – get injured. It was like different things coming at me in different ways.
It molded me into the man I am today. I don't see how I could be where I am right now if it wasn't for those situations that happened at Ohio State – and the people around me that lifted me up, and the coaches who never gave up on me.
What is your best football memory from Ohio State?
My first year starting. Other than winning the national championship, it would be my first year starting, which was in 2016. Coming out, going through all that hard work and knowing it was going to pay off. It ended in an injury, but just going out there and seeing your name on the board for the first time starting – that was in the Shoe, in the Horseshoe—that was amazing. 
That moment when you call your family to say you've been selected captain of The Ohio State Buckeyes.

Congrats @TSprinkle93! #Testimony pic.twitter.com/fqC8k5lckN

— Ohio State Football (@OhioStateFB) August 21, 2017
What is your best non-football memory from Ohio State?
It's probably the "How she gone eat?" story. Me and all my friends – big Tyquan Lewis, Michael Hill, Jalyn Holmes, Adolphus Washington – we were going out to eat one time because we'd always meet up, and Tyquan, we asked him if he was coming out to eat with us. His girlfriend plays professional basketball—they're real close. So, he was like, "how she gone eat?" And we were like, "what you mean how she gone eat? She's a grown woman. She can find a way to eat. You can't come out to eat with us?"
We picked on him for that for a long time, then that year we turned it into a hashtag on Instagram and thousands of people were using it. That was a great memory. We might try to turn it into a brand now that we're professional.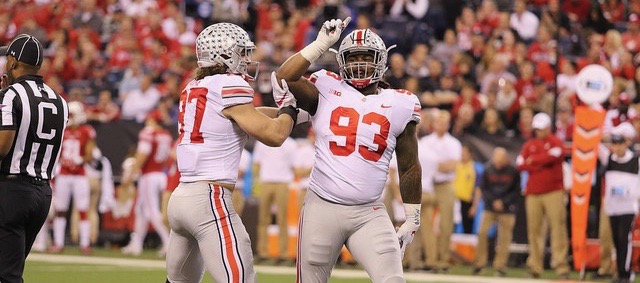 Who is your biggest role model?
That's tough. I would say, other than God, it would have to be my father. Me and him are real close. He has motivated all his children to be great. Even though all of us don't have the same mother, we're still close, and that's because of him. He's very hard working. And he's a big Christian man, so he's the one who introduced me to God, and I think that's why I'm successful now. It's because of him – the leadership that he showed and how he led me as a young man.
What can you talk about for hours?
I would say faith. I'm a man of faith, strong faith. Some of the things I've been through in my life can really help me help other people with it. Most of my time with my family and friends, I talk about faith and try to motivate them. That's the kind of person I am, so I talk about that a lot. Even if somebody is feeling down or feeling negative, that's something I can do to lift people up.
On that same line of thought, what do you think God's plan is for you?
I think it would be just to put me on the big stage to be able to represent Him in the best way possible. I'll always give God respect and credit for all the things that I have, so I think he would put me on a big stage to be able to help other people, to show regular people you can still be great in life. And I have a huge family, so I think being successful is really going to help other people in my family. Whether it's on the football field or off the football field, I think that's His plan.
Team captains @TSprinkle93 @JayHolmes_ took a visit to a local middle school to encourage them with keys to life #GoBucks pic.twitter.com/2dgk2DxwlM

— Ohio State Football (@OhioStateFB) October 3, 2017
What is your message for kids?
No matter how many times you fall, you have to get up more. Three things I live by are patience, perseverance and purpose. My whole life, I've always had my back against the wall. You know, coming from 12 siblings and having all those mouths to feed, growing up on food stamps, you know, and just all that I've been through in my life molded me into who I am right now. Sometimes things may be looking bad, but if you have faith in God, you can get up all the time.