Tracy Sprinkle has emerged as a leader of Ohio State's football team, but not before his career as a Buckeye nearly came to an end – twice.
Sprinkle was dismissed from the football team in July 2014 after he was arrested at the Grown & Sexy Lounge in Lorain, Ohio on charges of possession of drugs, drug paraphernalia and rioting/failure to disperse. He was ultimately reinstated to the team less than a month later after being cleared of drug charges, but played only sparingly during the 2014 season as he worked his way back into his coaches' good graces.
He played in all 13 of Ohio State's games in 2015 and entered the 2016 season as a starting defensive tackle. His Ohio State career was put in jeopardy once again, however, when he ruptured the patellar tendon in his right knee – an injury that is sometimes career-ending – in the Buckeyes' season opener against Bowling Green.
Sprinkle's road to where he is now hasn't been easy, but he believes the bumps along the way have made him better both on and off the field.
"My path has been so unique," Sprinkle said Monday. "All the things that I've been through off the field and on the field, and by the grace of God, I'm here now. It just feels very good to be back. When it was taken away from me last year, it was kind of a challenge, but I made sure my faith was stronger with each challenge I faced."
Defensive line coach Larry Johnson admits he thought Sprinkle's career was over when he suffered his injury last year. He believes the reason Sprinkle is back and ready to play now is because of how hard he worked over the past year.
"Tracy has been tested in his life and what he kept doing is fight back," Johnson said. "I have never seen a guy work so hard in rehab to get back to where he is right now. He shouldn't be playing, but he worked so hard to get here."
"I made sure my faith was stronger with each challenge I faced."– Tracy Sprinkle
Sprinkle has continued to develop as a football player despite overcoming adversity, and as a result, the fifth-year senior is in position to be the starting nose tackle on Ohio State's talent-loaded defensive line.
While Sprinkle might not be as well-known as Tyquan Lewis, Nick Bosa and some of the other players who line up alongside him, his fellow Ohio State defensive linemen say he is one of the unit's most important leaders.
Sprinkle was named Monday night as one of Ohio State's team captains for the 2017 season.
"That's how much he means to this team," Meyer said. "The amount of respect he has earned over the last couple of years, he works so hard and you see an injury, that's awful. It's just great to have him back, plus he's a very good player."
That moment when you call your family to say you've been selected captain of The Ohio State Buckeyes.

Congrats @TSprinkle93! #Testimony pic.twitter.com/fqC8k5lckN

— Ohio State Football (@OhioStateFB) August 21, 2017
Redshirt sophomore defensive tackle Robert Landers described Sprinkle as the "heart and soul" of the Buckeyes' defensive line. 
"He's like the glue to our room," Landers said. "He keeps everybody together. He keeps it stable. He's one of those guys that he's a true leader, a true captain.
"If you mess up, he'll rip you a little bit, but at the same time, he'll pick you up," Landers added. "He's one of those guys that if you want to come in during nap time and get some extra work, he'll sacrifice getting some sleep just to come and help you excel at your game."
Redshirt junior defensive end Sam Hubbard said Sprinkle has "given his life to this program."
"He's definitely going to give you his all," Hubbard said of Sprinkle. "He's just a great guy to be on the field with because he's very trustworthy, and I like being on the field with guys that I can trust."
Senior defensive end Jalyn Holmes said words couldn't do justice to what Sprinkle means to his unit as a leader.
"I can't even describe it," Holmes said. "His presence alone, last year, he (brought) that leadership when he wasn't even playing. He just brings heart. When you're feeling down at practice, he's the one that picks everybody up. He's the one that makes sure you're accountable. He's just a great friend, and that carries onto the field. What he do for us, I can't express with words. I'm just glad he's on my side."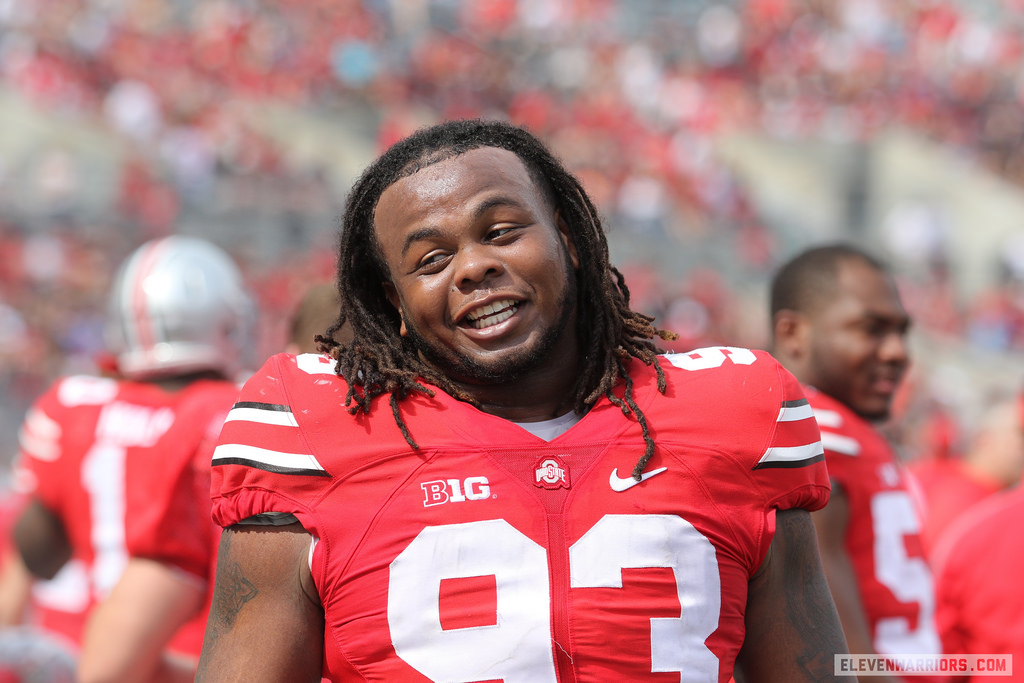 Sprinkle says it is "humbling" to be considered a team leader, but now that he is, he wants to help Ohio State's younger defensive linemen who might face adversity of their own.
"When I first came (here), I was struggling," Sprinkle said. "Started off on the scout team, so some guys that's on the scout team, I would let them know that there's still hope, that you can still play. Sometimes it's hard coming out of high school being that top guy, so me just helping guys out from the things that I've been through and letting them know that there's still hope, there's a light at the end of the tunnel."
Johnson expects Sprinkle to use his experiences to help others well beyond his time playing for the Buckeyes.
"He's got a great testimony, he really does," Johnson said. "When he's all said and done with football, he's got a story to tell. How he's overcome some really tough adversity in his life, and look where he's at right now."