In his postseason presser on Monday, Urban Meyer recapped the Buckeyes' undefeated season and also looked ahead to next season, expressing that his biggest area of concern was at the linebacker position. The Buckeyes have embodied that sentiment on the recruiting trail, chasing linebackers late in the 2013 recruiting cycle in Trey Johnson, Mike Mitchell, Christopher Worley, Skai Moore, Daniel McMillan, and James Hearns.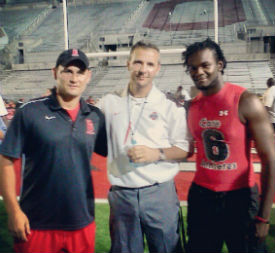 The 2014 class has no shortage of elite prospects at the linebacker position either, most specifically the "Big Three", in Raekwon McMillan, Dante Booker, and Clifton Garrett.  
Two-thirds of the "Big Three" were on campus for Ohio State's victory over Michigan. Dante Booker was the lone star of the group not in attendance as he was busy leading Akron St. Vincent-St. Mary to a state title berth.
Plainfield (IL) South linebacker Clifton Garrett, who was on hand for The Game, had been to Ohio State before, including a trip to Columbus for the Buckeyes' inaugural Friday Night Lights camp at the end of July. He did not participate in the camp but took in the experience, getting to know other recruits in his class and strengthening the relationship he has with the Buckeye coaching staff.
Garrett has had a busy visiting schedule since then. He has seen the campuses of Illinois, Michigan State, Wisconsin, Notre Dame, and Purdue. The four-star prospect is a recruit that many teams covet and hope to gain the signature of on National Signing Day 2014.
Will that team be Ohio State? Garrett was a big Ohio State fan growing up, and has said Mike Vrabel, the OSU staff member recruiting him, was one of his favorite players throughout his childhood. But will it be enough?  
Keep reading to find out what other schools are in the mix, what the Ohio State coaching staff is telling him, and when a verbal commit could likely happen.
What did you think about your first Ohio State-Michigan game?
It was a crazy atmosphere. My dad came with me and we hadn't ever seen anything like it. To the way we were treated, the fans, the stadium, the game, the atmosphere, it was just a tremendous visit. My dad enjoyed the visit a lot.
Were you able to talk to any of the OSU coaching staff?
I was able to talk to Coach Meyer for a bit and he informed me of how much they wanted me to be a Buckeye. It was real cool to have the head coach take me aside like that for a game of this magnitude.
What schools have your parents been to and what do they think about the recruiting process thus far?
My dad came with me to the Ohio State game, but they have both been to Michigan State, Notre Dame, Wisconsin, and Illinois. My dad really seems to like Michigan State and my mom likes Notre Dame at the moment.
What other schools have you been talking to that are also in the mix?
Michigan State was at the school Wednesday, and they want me to come visit for a bowl practice. I talk to them, Arizona State, Alabama, Notre Dame, Ole Miss, Wisconsin, Illinois, and Ohio State quite a bit.
Did you get a chance to talk to any of the other recruits on the visit?
I talked a lot with Raekwon McMillan and Drew Barker, and we spoke about playing together in college. As of now, that still seems to be the plan.
When do you hope to make your college choice final?
I want to announce at the 2014 U.S. Army Bowl, and when the time comes I will sit down with my parents and make the best decision for myself.
HIGHLIGHTS
Other recruiting coverage from the weekend: