The rich history of Ohio State athletics is filled with memorable years, but perhaps no year has been more tumultuous, victorious, catastrophic and memorable than 2011. For Eleven Warriors, 2011 was a transformational year: In January 11W was merely a popular Buckeye blog; by December it had become a destination site with monthly visits well into the millions.
This is part ten of an 11-part series reviewing 2011, as experienced by 11W readers and writers.
PREVIOUSLY: September | August | July | June | May | April | March | February | January
---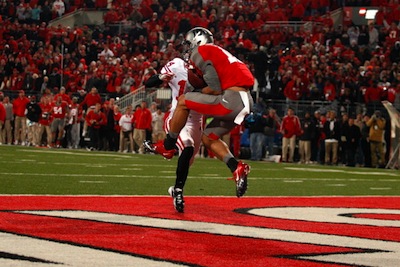 Since 2004, Ohio State had lost just one contest at home in the month of October (don't rack your brain - that loss was the 2008 night game against Penn State).
The Buckeyes matched that total on the first day of the month, losing to Michigan State in the Horseshoe for the first time since the famous 1998 upset that derailed a national championship run.
These Buckeyes looked nothing like those Buckeyes, even in defeat. Despite his mobility and athleticism, Braxton Miller was sacked all afternoon. Ohio State's offensive game plan was seemingly in the pockets of the Spartan coaches.
Though that might be too generous to Michigan State's staff: The entire stadium knew what Ohio State was trying to do offensively, as Jim Bollman telegraphed play after play right into the teeth of the Spartan defense, barely escaping being shut out at home by scoring with just ten seconds left.
All nine of the sacks, combined with the Buckeyes 35 yards rushing on 39 slow-motion, telegraphed attempts provided one positive: Time of possession. The defense really only had one bad drive and had the offense been run in any kind of a competent manner, Ohio State could have had a chance at winning.
But it wasn't. So they didn't. And the following week the suddenly-shorthanded Buckeyes went to Lincoln for the first time since Nebraska had joined the conference.
Ohio State opened the game running an offense that was varied in its playcalling and, to the amazement of everyone watching, somewhat unpredictable.
There were misdirection plays. Jake Stoneburner, forgotten man for the past handful of games, caught a touchdown pass. Eschewing predicability opened up the running game (funny how that happens) and the Buckeyes stormed out to a 27-6 lead in the third quarter. After a Nebraska touchdown, Braxton Miller went down with an ankle injury and Joe Bauserman entered the game.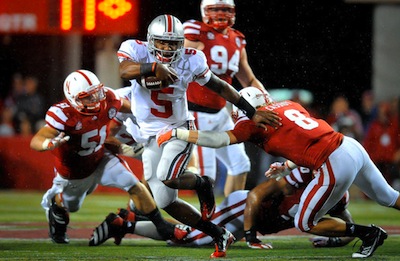 The Buckeyes ended up losing 34-27, allowing 28 unanswered points to the Huskers. It was the biggest comeback in school history.
Ohio State's times of posession after Miller went out: 3:13 (punt) 1:01 (punt) 1:06 (punt) 1:08 (punt). Nebraska scored every time.
Conceivably, had Bauserman simply just taken snaps and fallen down, Ohio State would have run enough clock to prevent Nebraska from scoring. Instead he threw nine clock-stopping incompletions, many of which floated well out of bounds. Final stat line: 1/10 with an interception.
The defense was culpable as well, but with literally a minute of clock between drives the offense did them no favors. Coming off of Michigan State loss, it was apparent that the offensive coaches had only two modes: If they weren't bad, they were lucky.
The following week the Buckeyes completed a total of one pass in Champaign, and still beat the Illini, which kept the Buckeyes undefeated in Champaign going back to the early 1990s.
And then on the final Saturday of October, the Badgers came into Ohio Stadium for the requisite night game of the year. While the Buckeyes were their usual inconsistent selves throughout the game, they never once ceased to play without the highest level of effort.
After blowing a two-score lead very late in the game, Miller improvised and found Devin Smith in the end zone for what turned out to be the game-winning touchdown with just seconds remaining.
Ohio State was 5-3 entering November and had the two Indiana bottom-dwellers, Penn State at home and an overachieving but very beatable Michigan team left. The stretch run was looking promising coming off of the Wisconsin win. Perhaps the 2011 season wouldn't be a lost year after all.
october's most popular skull sessions
october's most popular 11W stories
10/17: Office Space by Ramzy who prefers to cope with deep, searing pain by laughing at its stupid face:
[Thirty minutes later. Bob and Bob are now interviewing Jim Bollman]

(reading season play-by-play log) So...what you do is take a handful of arbitrary, predictable plays and tell the players to run them at random?

That, uh, that's right.

Well, then I gotta ask, then why can't the players just choose and run those same arbitrary plays by themselves?

Well, uh, uh, uh, oy, oy, oy because, uh, players are not good at dealing with making decisions at random.
10/24: The Oversigning Bowl by Ramzy, taking on the angle that ESPN and the rest of the national media predictably ingnored in the leadup to the (first) Alabama-LSU game:
How much competitive advantage is gained? Alabama's closest game this year was a 16-point laugher at State College. LSU has cruised past five ranked teams by an aggregate score of 192-75. And it's not just this year - at least one of these two teams has been ranked in the top five in six of the past seven meetings.

Neither seems to ever have significant holes or weaknesses, largely because they can be addressed very quickly through oversigning.

Every four years LSU, Alabama and the rest of the SEC West sign what amounts to five recruiting classes. That gives them an entire bad year's worth of mulligans for players who end up being lousier than their high school tapes might have indicated. With those second chances, oversigning schools like LSU and Alabama often find their difference makers.
10/2: Five Things: Michigan State by Chris, who summed up Ohio State football in 2011 with one single, poignant, simple, elegant and wholly accurate opening sentence:
Holy smokes this a bad football team from top to bottom.
10/30: A Star is Born by Joe, going full-Streisand in the afterglow of the unquestioned high point of the 2011 season:
Miller finished the night with 187 yards of total offense, with 2 TD's on the ground and one big one through the air. Most importantly from the standpoint of the coaching staff, he had no fumbles or interceptions. I think it's safe to say that the questions surrounding Braxton Miller have been answered. There was a bit of a flutter on his game-winning TD pass, but again if the ball gets to the right spot it makes no difference. The young freshman quarterback has definitely "stepped into manhood" with this performance, and it should be fun to watch him for the rest of the season.
10/9: The Shameless Shaming of DeVier Posey by DJ, who didn't think the crime fit the time, especially in the context that exists outside of college football:
Frankly, I don't even care if DeVier did or didn't get paid for work he did or didn't do. At the end of the day, these kids did nothing morally wrong. In a world where dictators are hiring foreign mercenaries to slaughter their own civilians, I apologize for not getting worked up over kids receiving free tattoos or cash. To do so would be ludicrous, especially considering this charade is being acted out with the backdrop of media corporations advising conferences on which teams they should pluck from weaker conferences, as they figure out the most efficient way to stack their cash. Are we still shocked kids being exploited by a system with no scruples don't respect its rules?
october's buckshots, gray boxes of doom & miscellany
COMING TOMORROW: November. The 11th day of 11W. The merciful end of the miserable end, and the wonderful beginning of the glorious beginning.