The rich history of Ohio State athletics is filled with memorable years, but perhaps no year has been more tumultuous, victorious, catastrophic and memorable than 2011. For Eleven Warriors, 2011 was a transformational year: In January 11W was merely a popular Buckeye blog; by December it had become a destination site with monthly visits well into the millions.
This is the final part of an 11-part series reviewing 2011, as experienced by 11W readers and writers.
PREVIOUSLY: October | September | August | July | June | May | April | March | February | January
---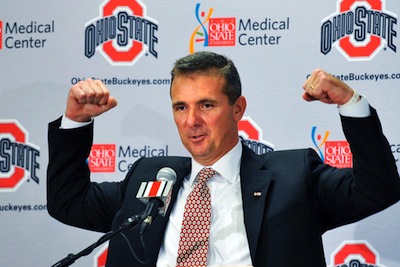 Ohio State entered November coming off of a thriling win against Wisconsin. All of a sudden, the Buckeyes had a realistic shot at the Big Ten's inaugural championship game.
The week following the game of the season with the Badgers, the Buckeyes sluggishly bat around the Indiana Hoosiers, winners of zero games against FBS teams and came away as 34-20 "winners."
It turned out to be the final victory of the season for Ohio State. At least as far as football games go.
The following week the Buckeyes found a way to lose to a bad Purdue team, in West Lafayette, again.
The following week, the Nittany Lions, whose program and university were absolutely reeling came into Columbus and won.
That left the Buckeyes sitting at 6-5 heading to Ann Arbor, where they had last lost when Braxton Miller was 10 years old. It turned out that Jim Bollman had used the first 11 games of the season as a rope-a-dope strategy and came out bombing the Wolverines secondary, surprising everyone.
It was a valiant effort, but the defense was done in by injuries and the offense couldn't capitalize on a couple of plays that would have sent Michigan home losers for the eighth* straight time. Ohio State lost 40-34, making Brady Hoke a winner in his first year at Michigan's helm.
While it had been several years since Buckeye fans were forced to digest a loss to end the season, feint memories suggested the week after losing to Michigan was normally miserable.
In 2011, that was 180 degrees from being the case: The week after Ohio State's regular season ended with a third consecutive loss was incredulously the best week of the year.
The rumors had been pervasive that Urban Meyer would be Ohio State's next coach, but those hints just seemed to make too much sense: An Ohio native and OSU alumnus who never made it a secret that coaching at Ohio State was a job that would be of interest.
The rumors gained traction and grew louder (Meyer opted out of his broadcasting duties at ESPN the weekend of the Michigan game) until they finally gained confirmation.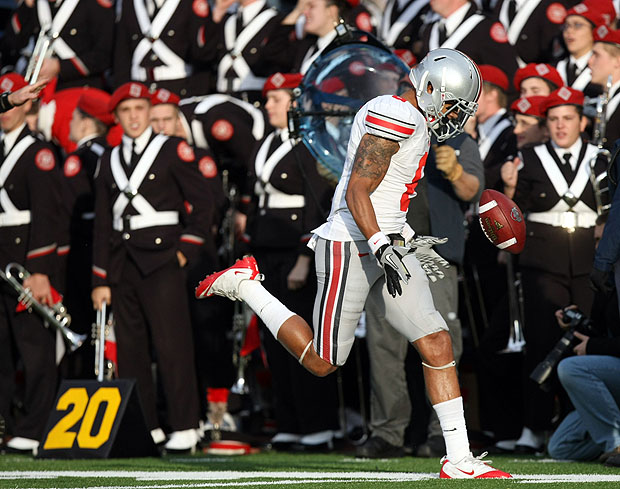 Meyer was officially introduced as Ohio State's coach on November 28, and all of a sudden the loss to Michigan was - it's still difficult to comprehend - suddenly less important.
The Buckeye football program had suffered through a .500 year in what had been anticipate to be a national title run under Jim Tressel with Terrelle Pryor a virtual lock to end up in New York City as a Heisman candidate. The future was in a fog. There was only one candidate that would have been acceptable.
Meyer has never not taken a program he's run through its ceiling: He advanced Bowling Green and Utah as far as they both could go under the current BCS structure and he guided Florida to two BCS titles (though the first one he captured in Glendale following the 2006 season is only rumored to have actually happened).
In the hours following the Meyer announcement, the basketball Buckeyes took the floor at the Schottenstein Center for their first real test of the year, facing Duke as part of the B1G-ACC Challenge.
It was a bloodbath, but all the blood spilled came from the Blue Devils.
The Buckeyes thrashed Duke 85-63 and handed the NCAA's all-time winningest coach Mike Krzyzewski one of the worst losses of his career. Ohio State was getting first-place votes and was looking like the class of the conference again.
A 1-3 November with a loss in Ann Arbor under the conditions that the football team operated under going back to the afterglow of the Sugar Bowl was an inglorious end to a pretty awful year.
December would bring the NCAA's final verdict against Ohio State, shutting the Buckeyes out of the 2012 postseason and potentially hampering Meyer's recruiting prowess for the final months of the recruitingi season.
However bad 2011 was, and regardless of the NCAA's penalties, the hiring of Meyer along with the stability of the basketball program provided the means for hope. Thad Matta's boys were going to continue to be the pain in the B1G's ass that they had been since he arrived in Columbus, and with time - probably not much, according to history - Meyer would be doing the same for the football team.
So now 2011 is finally dead for Buckeye fans, and definitely for the best. Here's to a 2012 that should have no problem whatsover making 2011 a distant memory.
november's most popular skull sessions
november's most popular 11W stories
11/7: The Smartest Guys in the Room by Ramzy, who really doesn't like ESPN or Craig James. At all:
It's in the math: There are 35 bowl games this season. ESPN owns almost 20% of all bowl games (not owns the broadcasting rights; actually owns) while having the broadcasting rights to 33 of them.

So the BCS coffers are now solidly in second place: Nobody is more invested in the bowl system than ESPN.

This means ESPN owns 95% of a college football postseason that is predetermined by matchups, not by a tournament, not by randomization and often times, not by merit but by potential television and stadium audience (cough cough cough Notre Dame cough).
11/28: Urban Outfitted by Jason, welcoming in Ohio's homegrown coach of the present and future with a crash course in his upbringing, coaching style and career:
It was at Ohio State in 1986 and 1987 that Meyer would meet coaches that would go on to play instrumental roles on his future staffs at Bowling Green, Utah and Florida. One of those coaches was strength and conditioning guy Mickey Mariotti, who coached alongside Meyer in Earle's final season of 1987.

Mariotti and Meyer would go their separate ways after '87, with Meyer coaching for Jim Heacock at Illinois State and Mariotti going to West Virginia to work under Don Nehlen, but the two would reunite as assistants at Notre Dame and continue their partnership in Gainesville. As such, don't be surprised to see Mariotti join Meyer's staff in Columbus.
11/21: Bang the Drum Slowly by Ramzy, kicking off 11W's Michigan Week with a little history, a lot of respect and a healthy dose of ingrained hatred:
It has been an utterly forgettable season, let alone a catastrophic calendar year for Ohio State football, but improbably beating Michigan on Saturday would change the entire complexion of 2011 dramatically.

High stakes and bowl implications mean nothing. Ohio State-Michigan means everything.
11/26: All Good Things... by Jason, recapping Michigan's first victory over Ohio State since standard definition TV was the norm:
Miller would go on to say that the call came from the sideline, while Fickell said it was Miller's decision. Regardless, if one play could sum up the 2011 season, that was it. Miller was intercepted on the following play, sealing the win for the Wolverines and leading to 100,000 key-rattlers storming the field.

We knew the streak wouldn't live forever, but it's still painful to see it end. Even a speech from Jim Tressel prior to the team leaving Columbus wasn't enough to get the job done. This team dealt with too much, both in the form of injuries and off-the-field stuff, but they fought until the end. You can't take that away from them.
11/27: Five Things: Michigan by Chris, on the morning after. The sun came up, incredibly:
The overthrow to Posey was a bit of deja vu as he also missed DeVier for an easy TD on Ohio State's fifth possession of the game, a badly thrown 3rd and 7 ball toward the front left pylon. The Buckeyes were forced to settle for a FG and a 16-10 deficit. He also missed Philly but that's enough of what didn't go right for #5. What did go right is enough to know he's going to be THE major factor the next three years as the Buckeyes look to bounce back in 2012 and beyond.
11/28: Lightning Crashes by Ramzy, on the morning that Urban Meyer would be formally introduced, reminding us that Jim Tressel left behind an impossible standard to uphold:
Tressel was introduced to Ohio State at a basketball game and he immediately ameliorated a fan base that had long agonized over off-the-field problems and losses to Michigan with the promise that they would like the results that occurred on his watch. That was the beginning of the beginning.

For the next 11 seasons - including the current one - that was the case most of the time. Ohio State won championships, bowls and Michigan games as its APR grew to among the very best in the country. Buckeye football under Tressel was a machine. The only thing that could stop it was Tressel himself.

When the game ended Saturday and Michigan's jubilant fans spilled out onto the field, that marked the end of the end.
november's buckshots, gray boxes of doom & miscellany
Thanks for keeping the foxhole warm with us this year, through everything. We are indebted to your support, clicks, Likes, retweets and +1s. What once felt like a quaint little community now has seven-figure metrics. We have no desire to look back - we'll continue to do everything we can to maintain your support and gain that of your reluctant friends too, Buckeyes or otherwise.
And finally: Merry Christmas to you, precious Eleven Dubtariat. We love you all.