The rich history of Ohio State athletics is filled with memorable years, but perhaps no year has been more tumultuous, victorious, catastrophic and memorable than 2011. For Eleven Warriors, 2011 was a transformational year: In January 11W was merely a popular Buckeye blog; by December it had become a destination site with monthly visits well into the millions.
This is part three of an 11-part series reviewing 2011, as experienced by 11W readers and writers.
PREVIOUSLY: February | January
---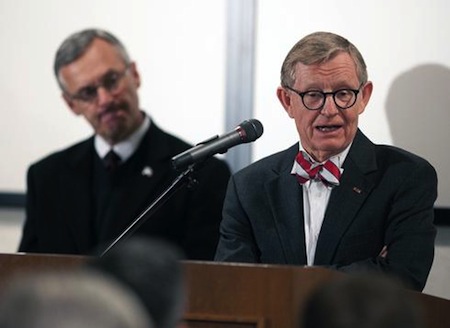 March was the month that everything came crashing down.
However, as bad as your memories tell you it was, it could not have begun in a more contrasting, awesome fashion. Remember this, right in Bo Ryan's face?
Remember when our beloved coach put on a Cat in the Hat hat and charmingly read stories to deaf children?
Remember when the NCAA was going to nail Oregon? Remember winning the Big Ten's regular season basketball title?
Remember the subsequent tournament title? That all happened in the precious, blissful opening days of March.
You don't remember though, because you think of March and you hate March. We all hated March.
Even listening to the final Eleven Dubcast before the terrible news broke, in hindsight, reveals a tone of levity that we've struggled to rediscover, even now. We're still recovering. It's going to take awhile.
March was, of course, the month that we found out Jim Tressel had known about Tatgate since last *$&% April. When the Tatgate news originally broke in December, he appeared stunned and disappointed.
We now knew why he really looked that way at that press conference: It was only a matter of time before his name was called.
The rules that the Tatgate players broke were petty (selling your own stuff?) not unlike 35 MPH speed limits through cornfields or No Shirt No Shoes No Service. But they exist, and they broke them, and what was infinitely worse was that Tressel didn't report them and created proof he knew all along of the violations.
Tressel's coverup meant that the severity of the broken rules did not matter. The coverup is almost always worse than the crime. Tressel wasn't in hot water; he was in hot lava.
Thankfully, Ohio State's leadership diligently put a plan together once the news had leaked that Tressel withheld knowledge of the violations and swiftly addressed the matter openly and honestly. Just kidding - it was the worst press conference in university history.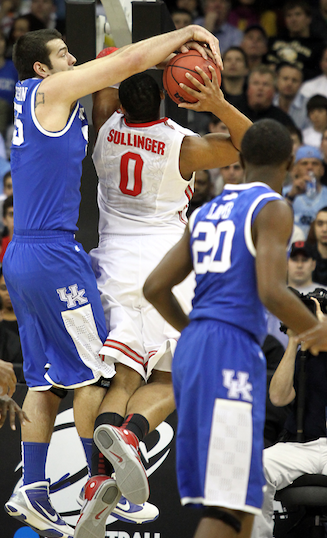 Gene Smith acknowledged the violations while Tressel barely veered from his traditional postgame talk-a-lot-without-saying-anything strategy. Gordon Gee provided a soundbyte for the ages, barely three months after bringing Sisters of the Poor into national prominence by way of his foot kicking his tonsils.
The national media seized on the opportunity. There had to be more to the story. There must have been more violations. The tales of Tressel's past, dating back over 20 years to his days at Youngstown, were dusted off once again, repackaged and inserted into the updated narrative - this time, with prima facie evidence against him.
The waiting game began. Tressel would definitely be suspended - just suspended; Gee assured everyone his job was safe - but the damage would definitely smudge Ohio State's figurative mascara.
Meanwhile, the overall number one seed in the NCAA tournament plowed into March like a lion but bowed out shy of the Elite Eight with an erratic, inconsistent and wholly disappointing loss to eventual Final Four participant Kentucky, in Newark.
Following the Big Ten tournament title, every week brought bad news: If it wasn't the terrible presser, it was that Kentucky game. On St. Patrick's Day he asked for and received a matching five-game suspension; the same as the Tatgate players received.
On March 25 news broke that Tressel had shared his exchanges with Chris Cicero - the attorney who informed him of Tatgate - with Pennsylvania businessman Ted Sarniak, who was known as Terrelle Pryor's "mentor" and friend; quotation marks added around mentor to overtly express shadiness.
The month that began with so much promise concluded with an excess of disappointment, anguish and anxiety about what would be next.
march: most popular skull sessions
march: most popular 11W stories
3/25: The Case for Regicide by Ramzy, openly questioning if Tressel should continue to remain as Ohio State's head coach:
This isn't Monday morning quarterbacking.  You don't need hindsight to know not to do what Tressel did.  No 58-year old requires a lesson in morals to understand that lying is wrong, and he doesn't need a lecture on semantics to suddenly discover that lying by omission is called lying. 

He also didn't need a refresher course on what constitutes cheating - whether selling one's own possessions or lying about it - is as far as the NCAA is concerned.  This is a cover-up rivaled in sloppiness by a lazy fifth-grader plagiarizing by lifting directly from Martin Luther King or Abraham Lincoln.
3/15: Paradise Lost by Ramzy, looking at how Tressel's scandal and Kirk Herbstreit's unceremonious relocation out of Columbus both overshadowed the Buckeye basketball team's #1 overall seed:
Had (Herbstreit) apologized for stupidly dropping the Buckeyes three spots in his final AP ballot after Ohio State beat Arkansas, certainly he would have been forgiven.  Had he uttered one peep in defense of his most beloved university while his network committed full-blown character assassination on virtually every element of his football program for the entire second half of the 2004 Alamo Bowl, or had he simply apologized for staying quiet, he wouldn't be widely viewed as a traitor or a sellout.
3/25: Another Early Tournament Exit by Chris, noting that the Buckeyes' third loss of the season (against 34 wins) significantly devalued an otherwise stellar, but underachieving campaign:
The Buckeye defense wasn't terrible as they held Kentucky to 46% and played them even on the glass (31-30) while forcing 12 turnovers. Craft held Knight to 3/10 shooting and Lighty did the same to Terrence Jones. The problem was Josh Harrellson getting off early and finishing with 17 points on 7/9 shooting (w/ 10 reb) and Diebler struggling in a quickness/length mismatch with Liggins who stepped up big time with 15 points and six boards.
3/6: Dealt With. by Chris, on the hellacious beat-down delivered to the Badgers courtesy of Thad's boys:
The first half spanking saw OSU outscore the Badgers 20-8 in the paint and control the glass 16-10. The 68% shooting effort was keyed by 4/6 from Diebler (16 pts) and 5/7 from Sullinger (12 pts).

Interestingly, the 47-32 score was the same exact score the Buckeyes had in Madison before the wheels fell off. There would be no déjà vu this time around though Wisconsin tried to make it interesting for about seven minutes. Sideshow Bob, aka Mike Bruesewitz, converted an and-1 to cut the lead to 59-48 at the 12:48 mark but the Buckeyes answered with a 16-2 onslaught to take a 75-50 lead with 7:14 to play. Game over.
3/10: Five Guys by Ramzy, on the Jalen Rose produced Fab Five documentary that was set to debut as part of ESPN's excellent 30 for 30 series:
Following the well-documented downfall of Michigan basketball that began with multiple Wolverine players cited as beneficiaries of Ed Martin's illegal gambling and money laundering activities, Webber lost his place on the 1993 All-America team. He was then suspended by the NBA after the verdict and the Michigan High School Athletic Association even requested that his high school vacate its three titles won during his tenure.

NCAA infractions chairman Tom Yeager called Michigan's case "one of the three or four most egregious violations of NCAA bylaws in the history of the association." So yes, this story is terrific documentary material.
March: buckshots, gray boxes of doom & miscellany
Coming Tomorrow: Remembering April. We were hopeful that everything would get better and be okay soon. Ohio State could still go 5-0 without Tressel and Pryor, right? That sixth game of the season was going to be awesome.