The rich history of Ohio State athletics is filled with memorable years, but perhaps no year has been more tumultuous, victorious, catastrophic and memorable than 2011. For Eleven Warriors, 2011 was a transformational year: In January 11W was merely a popular Buckeye blog; by December it had become a destination site with monthly visits well into the millions.
This is part six of an 11-part series reviewing 2011, as experienced by 11W readers and writers.
PREVIOUSLY: May | April | March | February | January
---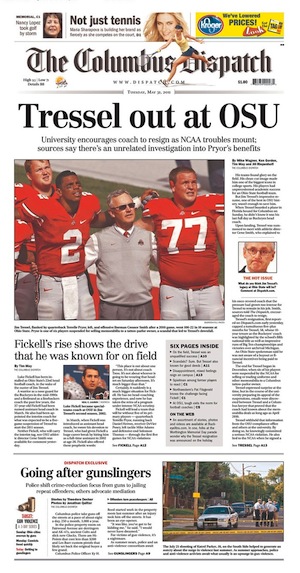 Jim Tressel had about $21MM left in guaranteed money coming to him from Ohio State when the Board of Trustees asked him to resign.
He did so, and was issued a final $52,000 paycheck, which CBS Sports' Dennis Dodd called, "a golden parachute." That check amounted to roughly one-third of one percent of what Tressel previously had coming to him.
This was the kind of attention to detail by which Tatgate will forever be remembered by Ohio State fans: Too many reporters consistently framing the story to their own liking or bias, just as Dodd did with his insanely stupid remark about Tressel's compensation.
Tressel had cheated and he was caught by his employer and it cost him his job. That just wasn't enough for much of the media.
Both Ohio State and the NCAA were investigating every detail of the football program well before March, when it was revealed that Tressel had known for five months leading into the season that five of his star players should have been ineligible for improper benefits.
He had admitted in January that he knew about Tatgate. In late February it leaked that this was the case, and in early March Ohio State went public with the fact that there was a full investigation that had uncovered this and was ongoing.
Ask a casual observer and you'll probably hear that Ohio State covered up everything only to be undone by Yahoo! Sports, or Sports Illustrated, or "whoever wrote that article."
Regardless, Tressel was gone for good. Luke Fickell was elevated to head coach and the 2011 season was going to have to carry on in haste while the matter of attracting high school players for the future was practically at a dead spot during a time of year in which Ohio State normally populated the bulk of its recruiting class.
In the wake of his "resignation" we were once again left wondering how a man whose success was defined in part by his attention to detail and prudent risk-taking could allow his legacy to be undone by such sloppiness by way of a terribly reckless decision.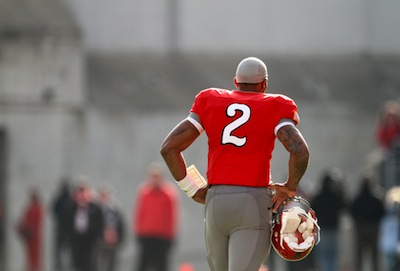 The finality of Tressel's departure turned attention to who else might be lost to the scandal. Terrelle Pryor was at the center of it all; if it wasn't his blase attitude toward being seen in public in various loaner vehicles while his own car was being "fixed" it was his propensity for getting pulled over while in said loaners.
His license was suspended, and then reinstated. His godfather said that he would be staying at Ohio State, and then days later, like Tressel, he "left" the university.
Despite no end in sight to the NCAA investigation that had already claimed its coach and its Heisman candidate quarterback, the aftershocks continued in haste: Ejuan Price asked to be released from his letter of intent.
A recruiting season that had begun with much promise was suddenly in question: Lifelong Buckeye fan Kyle Dodson suddenly committed to Wisconsin. More defections were certain.
There was plenty of pre-emptive, fake outrage from all of the usual places, suggesting that whatever punishment awaited Ohio State was not going to be enough.
The inevitable comparison of Tressel's controversial departure to that of Woody Hayes was made, and amidst the sadness, scandal, outrage and departures, Ohio State was going to have to quickly figure out both short-term and longer-term solutions to a badly damaged brand and a significantly fragmented football program.
In the meantime, however, Ohio State was under full-time surveillance by the media. It would not be allowed to have a bowel movement in peace without a "breaking" news report that followed.
This was the university's new reality, and there did not appear to be a light at the end of the tunnel: The NCAA Committee on Infractions wasn't even scheduled to meet with Ohio State until mid-August. August.
june's most popular skull sessions
june's most popular 11W stories
5/31: The Man Who Wasn't There by Ramzy, with a eulogy for the newly-finished Tressel era:
When Ohio State turned in its highest APR ever and graduated more football players than ever before, Tressel wasn't there.  When players used that shady tattoo parlor as a personal ATM for years, Tressel wasn't there.  He put his players in position to make decisions and was willfully ignorant to the likely prospects that some of them would choose poorly.

He put his own standards ahead of the NCAA's.  He wrote The Winner's Manual and played by his own rules.  Tressel never had eminent domain over college football; the NCAA does.  It's not his game, it's theirs.  They have their own manual, and as far as they're concerned, it's the only manual.  Plausible deniability and willful ignorance have successfully maneuvered around that manual for years.  Tressel operated like this for years, up until last April.
6/8: Everybody Leaves by Ramzy, with a eulogy for the newly-finished Pryor era:
Pryor was not abruptly groomed into the brazen, entitled campus big shot that he was every day of his three years in Columbus.  This was a kid who had his own action figure in high school.  As a teenager he was friends with and employed by Ted Sarniak, one of the wealthier residents if not the wealthiest of Jeanette, who finds his name in the news with Pryor's predictable forfeiture of his final season of collegiate eligibility.

He arrived in Columbus entitled, and remained that way up until he announced his departure, seemingly oblivious or deliberately ignorant to the consequences of his actions all along the way.

If Pryor was going to be injected with the necessary humility and grace to be a successful adult on a stage with millions of dollars at stake, it was going to have to be off the field.  Perhaps from the one coach who was closer to him than anyone else.
6/5: Jim Tressel's Facebook Moment by Jason, riffing on the social media-driven walk and rally at Tressel's home in Upper Arlington:
Further capturing the moment was what we believe to be the first cursing of any type on the record for Jim Tressel (the Sugar Bowl halftime speech, which featued some colorful language, was leaked).

It was as if he had decided that he was going to just go ahead and be a villain since the national press was accusing him of being one, anyway. But an "ass" here and there in place of an "and so forth" is as far as he's willing to go. And that's why we like him.
6/12: Sweating the Unknown by Jason discussing the galactically misguided yet pervasive USC comparison:
USC ultimately received a Lack of Institutional Control charge, but that was for major violations spanning three sports. Ohio State's problem is strictly on the football side of the house. I believe the Buckeyes will avoid a similar charge based on that fact and the self-report and cooperation that just wasn't there for USC.

As of right now, I have a hard time seeing the Buckeyes get hit with something worse than the Trojans received, though the penalty could be similar.
6/21: Now Watch This Drive by Ramzy helping frustrated Buckeye fans understand why Ohio State seemed to be singled out by an unrelenting media amidst other scandals:
The intrepid Dr. Saturday recently pointed out just how grossly underreported the scandal at North Carolina has been.  Don't get worked up over it.  You don't care about UNC football.  Nobody does.  UNC fans barely do.  Football is how they pass the time until basketball season begins.

If a deadbeat, sketchy former roommate of North Carolina's "star" quarterback (you have no idea what his name is and neither does anyone else) announced that his ex-roommate made $20-40K selling memorabilia, you might raise your eyebrows, but you'd definitely move on quickly because it's UNC football.
6/1: The Anxiety of Next by Chris, bridging that squeamish feeling following John Cooper's firing with the current nausea:
Fast forward to today and that anxious feeling is starting all over again. It may be slighty tempered knowing the school is a long way from hiring Tressel's successor (can't bring myself to type "replacement" yet) but that is somewhat offset by realizing the worst case scenario that our rival just suffered through can easily be reality if the wrong guy is given the keys the the Chrysler 300C Dodge Charger kingdom.

Oh, and there's the notion that while an official search won't be underway for some time, that doesn't mean the media, myself and all of you won't be creating our own little wish lists.
6/4: Turning the Page by Chris, channeling Bob Seger and anticipating premature life without either JT or TP:
It's a risky move but made less so by examining an offense line replacing three starters for at least five games and at least two starters after that. The result could be a sometimes pourous pass pro offset by Miller's ability to create in space, or at the very least, avoid as many sacks as Bauserman is likely to surrender.
june's buckshots, gray boxes of doom & miscellany
Coming tomorrow: Remembering July. Normally the quietest month of the dreadfully long offseason. Normally.