A trip through the Eleven Warriors archive tells the story of Binjimen Victor.
Prepare to repeatedly read "potential," "consistency" or some variation of those words. 
On Jan. 18, 2016, the day he committed to Ohio State, he was labeled a "pretty raw athlete" with "a ton of upside." Before arriving on campus, Victor told Eleven Warriors he was trying to gain weight and muscle to play immediately. During his radio show on Sept. 29, 2016, Urban Meyer said, "Damn, I want to play him," referring to the then-freshman receiver. Victor caught his first touchdown, a 25-yard grab, against Maryland on Nov. 12, 2016.
Year 1: four catches, 64 yards, one touchdown
While taking part in 2017 spring practices, Victor was named as a potential deep threat. On April 12, 2017, an article was published about him needing to "scale (a) mountain of inconsistency," which included Urban Meyer saying he "wasn't a go-hard player all the time" as a freshman. The rising sophomore was named a breakout candidate on July 20, 2017. His increased size and confidence were noted just weeks before the season began. An article published on Oct. 11 mentioned Victor could become the "next Buckeye great" if his progress continued, and it included a quote from Meyer likening his ability to go up and get a ball to that of Cris Carter and Michael Thomas.
Year 2: 23 catches, 349 yards, seven touchdowns
Victor caught five passes for 91 yards and a touchdown as a rising junior in the 2018 spring game, prompting an article about him flashing his potential. After the game, Meyer called him "one of the most talented receivers we have ever had." He was named as someone who should be a go-to receiver by Eleven Warriors in June 2018. Victor's crowning moment of his career to this date came with what Ryan Day called one of the best plays he has seen live, a miraculous 47-yard touchdown that led to a comeback win against Penn State. After the game, Day said that was just one catch, noting Victor has to "keep building from there." The next week, he had a 30-yard touchdown catch, which Parris Campbell said gave him "chills." Victor had one touchdown in the remaining eight games.
Year 3: 21 catches, 354 yards, four touchdowns
The narrative continued into this spring.
He, along with Austin Mack, has to figure out a legacy to leave behind. The ever-present question of whether he can reach his potential was asked in March. On April 1, he was named as a breakout candidate. Victor went ahead and caught a 98-yard pass from Justin Fields in the 2019 spring game that gave the Buckeye faithful a lasting memory entering the summer.
More than anything, though, it left Ohio State fans wondering the same question that has been asked since he committed four-and-a-half years ago: will he reach his potential and consistently impact games?
Maybe, after such a long time and so much evidence, it's worth reconsidering expectations for Victor as he prepares for his final season as a Buckeye.
Yes, the 6-foot-4, 199-pound receiver has the look of a potentially dominant receiver with a blend of size and speed that imposes matchup problems for defenses. Someone with his physical gifts can become a dominant receiver. He has shown flashes of greatness throughout his career. It's not unheard of for a wide receiver to take a significant leap as a senior. 
But if Victor doesn't consistently reach that next gear or become the primary receiver so many people throughout the years have thought he could develop into, it's fine to feel that Ohio State will be OK with who he is as a player.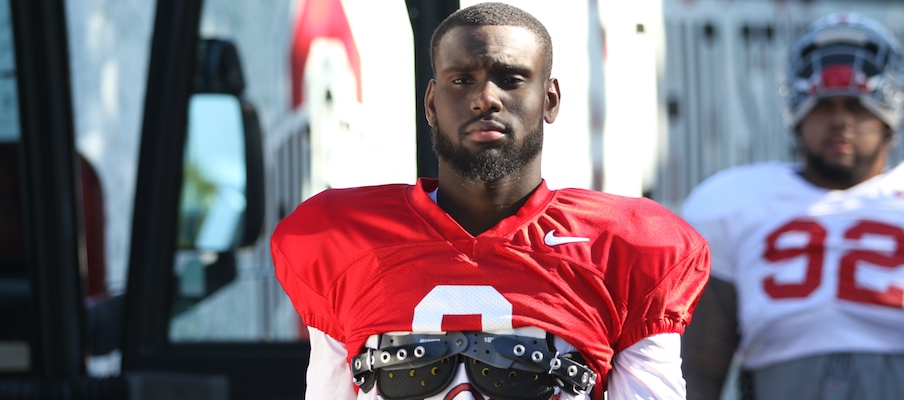 Victor can serve as a red-zone threat with a combination of a 6-foot-4 frame, long wingspan and impressive hops. He's able to be a downfield threat who, even though he won't blow defensive backs away with his speed, has a large enough catch radius to reel in passes. Most noteworthy, he has rare game-breaking ability at receiver, even when compared to his fellow Ohio State receivers.
Without Terry McLaurin, Parris Campbell and Johnnie Dixon, all of whom ran out of college eligibility and are now in the NFL, the Buckeyes need players to step up who can make big plays in the receiving game. Victor showed that type of skill set with his 47-yard touchdown catch-and-run against Penn State last fall. 
Remember the comments made by his coaches and quarterback after that game.
Day: "I think when Ben made that play, there were guys on the sideline saying, 'We're going to win this game right now.'"
Dwayne Haskins: "Ben does that all the time in practice. He's a freaky athlete."
Meyer: "Biggest play of anybody's career, that one."
Nobody is under any disillusion about Victor's natural talents – he does things others simply can't, even if those moments haven't come in every game.
At the time, Day called the play against Penn State a "defining moment." He was right, but not for the reasons he hoped. Day wanted Victor to translate that into becoming a consistent weapon for Haskins and the offense. Instead, after Victor snagged a remarkable back-of-the-end zone diving touchdown catch against Indiana the following week, he cooled down, catching just 11 passes and one touchdown the rest of the season. Even increased playing time after Mack's season-ending injury didn't allow Victor to find a groove.
Surely, Ohio State wants Victor to play with more consistency than someone who has only caught more than three passes in three games over three years. But that hasn't happened.
As of now, Victor's modus operandi has been to pull off the big play or the unexpected play. That has defined him, and the Buckeyes need those moments to define him even more this fall with so many game-changing receivers gone.