So, who is going to make plays down the field this season among Ohio State's wide receivers?

"We're still trying to figure that out," Terry McLaurin said on Monday. "We got some guys will some really high percentages, completion-wise. This is when you really start determining that in the spring."
Thing is, Ohio State's 2017 edition of spring practice is nearly over. It ends Saturday with the program's annual Spring Game, scheduled to kick off at 12:30 p.m. at Ohio Stadium. Zach Smith's wide receivers room had plenty of room for growth after it lost its three most productive contributors in Curtis Samuel, Noah Brown and Dontre Wilson from the 2016 season.
And the fact is, there hasn't really been a deep threat in the program since Devin Smith graduated after the 2014 national championship run. Ohio State only recorded four plays of 40 yards or more from its passing attack during its run to the College Football Playoff last season.
"We had an unusual number of non-big plays, Urban Meyer said last week. "We weren't a very big play team and we have been for as long as I can remember dating way back before Ohio State."
"Coach uses the term we're not going to swing and miss. We have the talent, but talent isn't anything if we can't put it all together. "– Terry McLaurin
McLaurin is considered an old head now in Smith's room, a redshirt junior just like Parris Campbell and Johnnie Dixon. K.J. Hill (redshirt), Austin Mack and Binjimen Victor are sophomores. The team decided to move Eric Glover-Williams, a true junior, from defensive back to wide receiver this winter in an effort to establish more depth at H-back.
Freshman Brendon White enrolled in January and has worked out this spring. Trevon Grimes, Jaylen Harris and Elijah Gardiner are on their way this summer. Of the guys currently in Columbus, however, Smith singled out four names as potential deep threats on Monday.
"Terry's done a great job this spring doing it. Parris has done a great job doing it. Johnnie at times has done a great job. Ben Victor has a chance to," Smith said. "We'll see who's the most dynamic deep threat come fall."
The question won't quit being asked until the Buckeyes show some semblance of an ability to connect on passes down the field. Do so slowly went away in 2015 and then all but disappeared a year ago.
Smith, Campbell, McLaurin and Hill on Monday all refused to point the blame on one specific thing of the offense as to why that happened. J.T. Barrett, the offensive line, predictable play-calling, inconsistent receiver play — everything played a part.
"You can't identify one thing and say, 'That's the problem. They didn't get separation or oh, man, J.T. can't throw the deep ball.' None of that's true," Smith said. "It's all partially true to make the whole thing true was we didn't hit deep balls when we needed to."
Added Campbell: "I don't think there's any finger pointing; I think it was kind of an offensive whole thing. Whether it was the receivers, quarterbacks, offensive line, I don't think it really matters I think it was the whole thing. The whole offense, we just weren't converting those plays when they needed to be made."
Smith laid out a plan for what he wanted his receivers to get out of spring practice, as he often does between phases of a calendar year. Hill said his position coach made it clear he plans to take a bit of a different approach to manufacture more explosive plays. Whether that results in more big hits that open up the rest of the offense is a story for another day, likely one where the 2017 season is near its end. By then we will have a full slate of games to dissect.
But if you ask the players themselves as spring winds down, there are multiple options to be that deep threat. Even though none of them have done it yet on Saturdays — though Hill did have one long catch on Ohio State's first scoring play last season.
"I feel like a lot of us can go deep, it's just getting that consistency and bridging that gap with the quarterbacks to make sure we're all consistent if we get that opportunity," McLaurin said. "We have some guys that have some pretty good percentages right now. I'm up there, Parris, Ben, Johnnie has had a really good spring doing deep balls. Everybody has to be prepared for if that deep ball comes to you, H, X or Z."
"Terry, Parris, me in the slot, Johnnie, Ben, Austin," Hill added of the options. "Everybody really."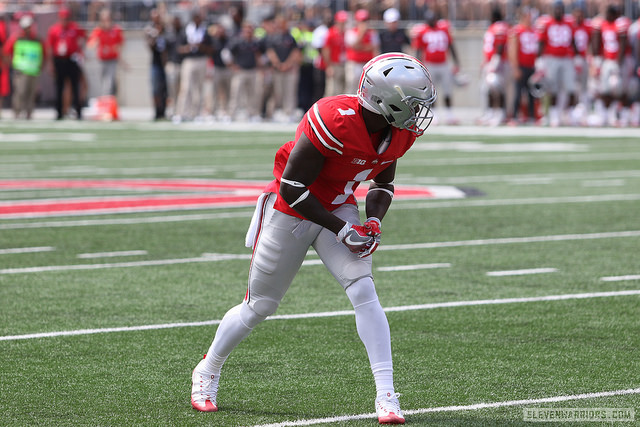 Campbell said his unit's practice usually starts with deep ball drills with the quarterbacks. The first three periods all revolve around throwing it deep, refining timing and reeling in passes down the field.
"They're working on throwing the deep ball, putting it in the right spot. They've worked an enormous amount of time at it," Campbell said. "We're working on high pointing the ball and we've spent crazy time on that. The emphasis is very — you can see the emphasis. It's crazy time."
Saturday is the first public showing of this deep ball intensive offense guided by the fervent minds of Kevin Wilson and Ryan Day. It is unknown how much Barrett or other presumed starters will play at this point but Meyer said at the start of spring practice that the quarterback will be full-go.
Chucking the ball deep in the intrasquad scrimmage will be what most fans look for in the Spring Game, whether they watch on television or in the stands. According to Smith, Hill, McLaurin and Campbell, pretty much any player from the unit could be on the receiving end. No matter who throws it.
"The biggest difference I've seen going into my fourth year is we're meeting with the quarterbacks every day working on the deep ball alone, just percentages. We're not leaving any stone unturned this year," McLaurin said. "Coach uses the term we're not going to swing and miss. We have the talent, but talent isn't anything if we can't put it all together. That's just our goal, to keep getting better and take that step forward."