Six weeks from today, Ohio State will take the field in Bloomington, Indiana, for its 2017 season-opener.
The offseason moved quickly, didn't it?
The Buckeyes will be represented at Big Ten Media Days beginning Monday and then fall camp opens shortly after that. Many have already turned the page from the bitter end to the 2016 season — a 31-0 blowout loss to Clemson in the Fiesta Bowl — but the annual trip to Chicago with the rest of the Big Ten players and coaches usually marks the unofficial beginning of the next season.
Ohio State has a lot of familiar faces returning from last year's group. J.T. Barrett, Mike Weber and Billy Price are among them on offense. Tyquan Lewis, Sam Hubbard and Jerome Baker are a few household names in Columbus on defense.
There will undoubtedly be some new names emerge in 2017, though, and everybody has a guess as to who those players will be. What follows is a selection of one guy on offense and defense who will become a breakout star for the Buckeyes on the field this fall.
Binjimen Victor — Sophomore Wide Receiver
All aboard the Binjimen Victor hype train.
Many people already are and you can count me as one of those people enamored by the potential of the 6-foot-4 sophomore wide receiver.
Victor played sparingly last season as a true freshman and finished the year with just four catches for 64 yards and a touchdown as a result. He caught his first-career score against Maryland and hauled in a 21-yard catch in the Fiesta Bowl against the Tigers.
Like most freshmen, Victor needed time to adjust to the college level. His inconsistencies — like most freshmen have — held him back last season. However, there's no denying Urban Meyer gushes about Victor's potential.
"He's as talented as any [receiver] I've ever coached," Meyer said this spring. 
Meyer often hates to use the word potential, though, because if it's never realized then a player never becomes as good as he should.
But with no proven wide receivers and an offense expected to improve significantly led by a new coordinator and fifth-year quarterback, there is a strong chance Victor emerges into a superstar at wide receiver in 2017.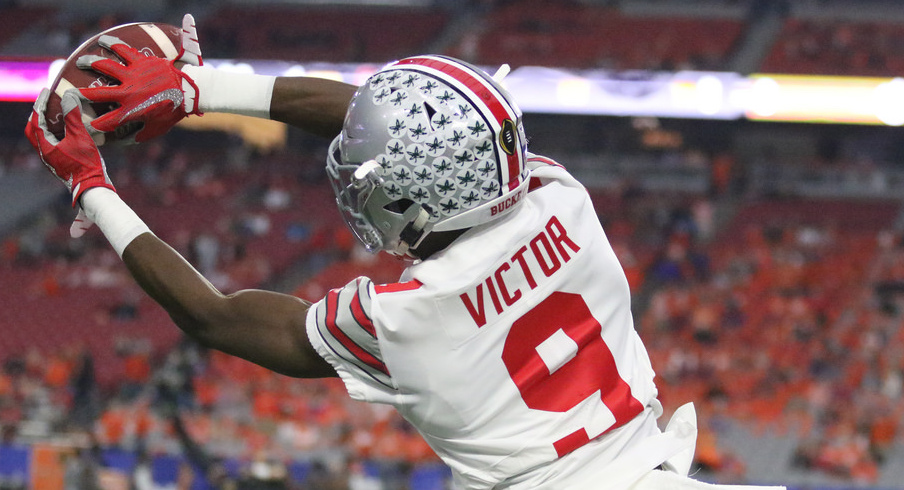 Dante Booker — Redshirt Junior Linebacker
Speaking of potential, we've heard about Dante Booker's for years. After three seasons, though, Booker just hasn't had the chance to showcase it.
He had a shot at the beginning of last season as one of Ohio State's starting outside linebackers, but an injury in the first game of the year sidelined him for several weeks. Baker stepped in and became a star; the decision was then made to shut Booker down for the season and take a redshirt.
Now healthy entering his fourth season with the Buckeyes, Booker is in line to get another crack at things. He spent all spring as Ohio State's starting SAM linebacker with Baker playing the WILL and Chris Worley at the MIKE spot.
Booker impressed new linebackers coach Billy Davis during spring ball.
"I'm excited about Dante," Davis said. "Dante is a special athlete and we've got him out in space because he's got a lot of speed, quickness and ability to change directions."
"We're excited to see how Book grows out there."
A former top-50 prospect and the rare Mr. Football winner in the state of Ohio as a defensive player, Booker came to Columbus from Akron St. Vincent-St. Mary High School with massive expectations. He played behind a three-year starter in Joshua Perry at the beginning of his career, though, and then got hurt when he got his first chance last season.
He's now got another crack at things and there's a chance he blossoms into another one of those Ohio State one-year wonders.