A few weeks ago, our own Dan Hope discussed whether or not Ohio State should rotate as many receivers as they have in recent years. 
Spoiler alert: They shouldn't. 
Yes, it is more than ideal to have as many as six or even seven receivers that you trust to play meaningful reps in a game, but when you are entering a season with a new quarterback for the first time in four years, continuity is key. Reps on air during the summer at the Woody Hayes Athletic Center have their place, but they are not substitutes for game reps. 
When Dwayne Haskins steps onto the field as Ohio State's starter against Oregon State, he will have two games to establish a rhythm with the receivers before the Buckeyes face their first true test against TCU. The debate surrounding which receivers those will be though, remains to be seen. 
Veterans such as Terry McLaurin, Parris Campbell and Johnnie Dixon figure to once again get the first crack, but the trio could be on borrowed time with the plethora of not-so-young talent behind them. 
Binjimen Victor and Austin Mack are entering their junior campaigns, but accounted for just 47 of Ohio State's 287 completions a season ago. Victor has been called "one of the most talented receivers" Urban Meyer has ever had, and Mack has established himself as one of the best perimeter blocking receivers on Ohio State's roster. 
K.J. Hill led the team in receptions last season, but was consistently behind Campbell on the depth chart at the H-back spot. Not to mention Demario McCall, who could very well be the most explosive athlete on the team with the ball in his hands. 
With such a loaded receiver unit, I give you my picks for who should be starting at each position, and who I would give the bulk of the reps at each position. 
"Z" Receiver – Austin Mack
As previously mentioned, Mack is Ohio State's best blocking receiver, but has also shown the ability to go up and make the big catch. He has proven to be a physical outside receiver, while also showing top-end speed at times. 

The "Z" position was largely occupied by both Johnnie Dixon and Terry McLaurin last season. McLaurin ended up getting the bulk of the reps after Dixon continued to battle with knee injuries, and finished with 29 receptions. His value as a leader in Zach Smith's unit is invaluable, but McLaurin could be on the verge of getting passed up if Mack takes a step forward in 2018. Mack has proven he can make the big catch in crunch time, with less chances. McLaurin needs to prove he can do the same. 
Dixon, on the other hand, has proven he can make the big play when healthy. His two touchdown catches against Penn State were key in Ohio State's victory. However, questions surrounding Dixon's health remain and if he cannot stay healthy, Mack could pass him up as well. 
"X" Receiver – Binjimen Victor
I have long been an advocate that Victor should never come off the field because of his game-breaking ability on the outside. 

Victor's biggest weakness is, well, his physical weakness. His long, athletic frame has the potential to help make him one of the biggest weapons in the Big Ten, but he has yet to fill out that frame with the strength in Mickey Marotti's weight room. 
Victor has shown flashes of his big play ability. He was second on the team in receiving touchdowns a year ago, thanks in large part to his ability to high-point the football and win 50-50 balls in the air. He is the ultimate red-zone weapon when used properly. 
In addition to his red-zone production, Victor has shown he can be a downfield threat as well. His long strides give him an advantage over shorter corners and his wingspan helps him to win those 50-50 balls. That skill set fits right in with Dwayne Haskins' big arm and if used properly, the duo could be the best QB/WR combo in the Big Ten. 
H-back – K.J. Hill
If you lead the teams in receptions as a "backup," you probably deserve more time. Hill was listed as the second-string H-back for most of the season, but ended up leading all Ohio State wide receivers in receptions and game reps a season ago, thanks in large part to injuries suffered by Campbell.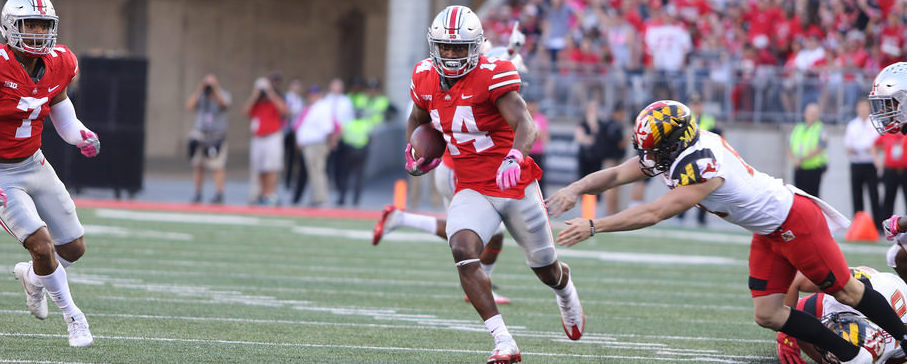 When given the opportunity, Hill took advantage. He showed precision route-running and breakaway speed on crossing routes, which is exactly what you want from your H-back. Meanwhile, Campbell struggled for most of the season to catch down-field passes, an area he has struggled in during his Ohio State career. 
Campbell is a great weapon in space, but his hands are still a major question mark which is why Hill is my choice. 
---
If I had to set a depth chart for Ohio State's wide receivers, these are the guys that would be at the top. Add in Luke Farrell at tight end, either Mike Weber or J.K. Dobbins at running back, and you have one of the most athletic offenses in the conference.
The depth Ohio State has at receiver is unmatched in the Big Ten, but the production has been lacking. The first two games could almost act as tryouts. After that, I would highly consider shortening the rotation in order to develop continuity with a first-year quarterback that relies more on his arm than his predecessor.