With spring football set to begin at Ohio State on March 6, Eleven Warriors is taking a position-by-position look at how the Buckeyes' roster is shaping up entering the year's first practice.
Ohio State has a new coaching staff, but it'll have many of the same players returning for the 2019 season who played a large role in 2018's 13-1 record, Big Ten title and Rose Bowl win.
More than a dozen starters will be back, and most will start again, but some players already have their jobs locked up while others will have to fend off some less experienced counterparts angling to take their starting spots.
Let's take a look at which players have to compete this spring to remain starters and which are locks to keep their jobs.
Safe
J.K. Dobbins
2018 stats: 230 carries, 1,076 rushing yards, 4.6 yards per carry, 10 rushing touchdowns, 26 receptions, 263 receiving yards, 2 receiving touchdowns
Analysis: With Mike Weber gone to the NFL, Dobbins has no one to split the load with. Unless Master Teague or Demario McCall make significant leaps, Dobbins will be a workhorse back, and either way, he'll be the starter and get the vast majority of carries. Behind him, Teague, McCall and Marcus Crowley will compete for snaps.
Thayer Munford
2018 stats: N/A
Analysis: With four starters on the offensive line gone, Munford is the only returning starter, and his job is completely safe. He surprised some people by becoming the starter in just his second year in the program last season. Despite injuries that hindered him at times and eventually held him out of the Rose Bowl, Munford had a successful season and will once again protect the blind side of an Ohio State quarterback. Joshua Alabi, Branden Bowen and Nicholas Petit-Frere will compete to become the starting right tackle, and whichever of them does not win will likely back up Munford.
K.J. Hill
2018 stats: 70 receptions, 885 receiving yards, 6 receiving touchdowns
Analysis: With Parris Campbell headed to the NFL, Hill will undoubtedly start at H-back. He had a breakout 2018 campaign, including scoring the game-winning touchdown versus Penn State, and he should have an even more integral part in the offense with Campbell, Johnnie Dixon and Terry McLaurin gone. Jaelen Gill, a former four-star prospect who redshirted as a freshman in the fall, and former walk-on C.J. Saunders are the most likely candidates to back up Hill.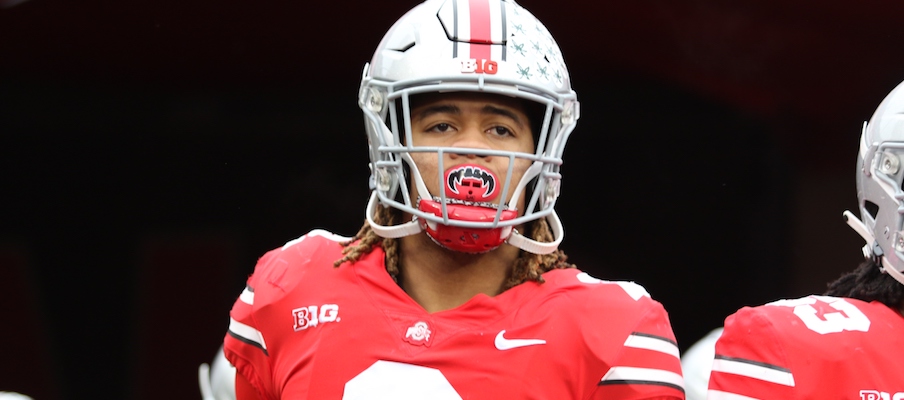 Chase Young
2018 stats: 34 tackles (25 solo), 15.5 tackles for loss, 10.5 sacks, 5 pass break-ups, 9 quarterback hurries, 2 forced fumbles
Analysis: In his second year at Ohio State, Young broke out with double-digit sacks even though he had a month-long stretch when he played through a pair of sprained ankles. In what will almost certainly be his final year of college football before turning pro, Young will start and be the most feared defensive linemen on the team.
Malik Harrison
2018 stats: 81 tackles (55 solo), 8.5 tackles for loss, 2.5 sacks, 1 interception, 4 pass break-ups, 3 quarterback hurries, 1 fumble recovery
Analysis: Though Harrison considered turning pro and received and evaluation from the NFL, he opted to return for one more season. The 6-foot-3, 245-pound linebacker will start for the second year in a row under first-year linebackers coach Al Washington. Though the linebackers didn't play well at times last year, Harrison was often a bright spot, and he's one of the more naturally gifted players on the team.
Jordan Fuller
2018 stats: 81 tackles (61 solo), 2.5 tackles for loss, 1 interception, 4 pass break-ups, 3 quarterback hurries, 1 fumble recovery
Analysis: For a while in 2018, Ohio State couldn't figure out who to play next to Fuller in the secondary. It tried Isaiah Pryor and Jahsen Wint before settling on Brendon White midway through the season. During that time, Fuller's spot was never in doubt. The team captain will return for a third season as a starter in 2019. He said he thought he "just played OK" in 2018, but that doesn't mean his starting spot will be in doubt, whatsoever.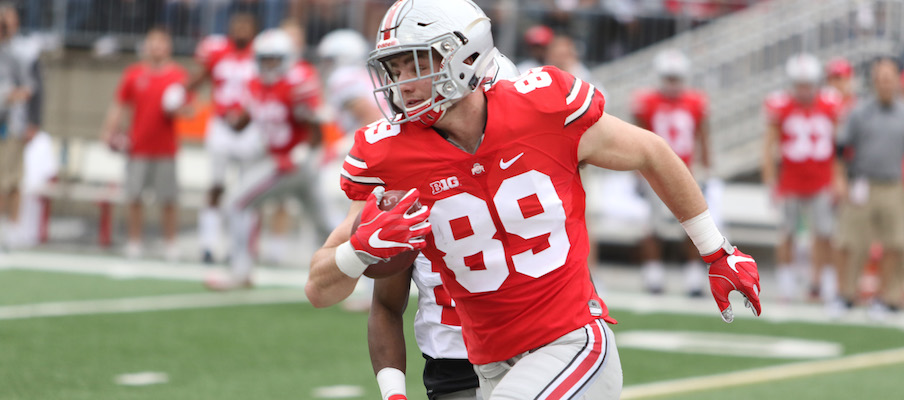 Mostly Safe
Luke Farrell
2018 stats: 20 receptions, 205 receiving yards, 1 receiving touchdown
Farrell's main competition: Rashod Berry, Jeremy Ruckert
Analysis: Farrell and Berry played nearly equal snaps for the first half of the 2018 season, but by the end of the year, Farrell had clearly laid claim to the starting position and majority of reps. Berry had more snaps than him in four games, but didn't out-snap him after the sixth game of the season.
Farrell enters the spring as the presumed start, but he'll have to hold off Berry and Ruckert to maintain the job. He's a prototypical tight end who has impressive size (6-foot-6, 250 pounds), and though he's not an explosive athlete, he can both block and be a threat in the passing game. Berry is one of the best athletes on the team, yet battled inconsistency and penalties last season.
Ruckert has the potential to be one of the better pass-catches on the team but played more than 500 fewer snaps than Farrell in 2018. If Ruckert can take the next step in his development, he might cut into Farrell's reps, but he likely won't supplant him as starter.
Austin Mack and Binjimen Victor
2018 stats: Mack – 26 receptions, 331 receiving yards, 1 receiving touchdown; Victor – 21 receptions, 354 receiving yards, 4 receiving touchdowns.
Mack and Victor's main competition: Garrett Wilson, Kamryn Babb, Blue Smith, Jaylen Harris, Ellijah Gardiner
Analysis: Both Mack and Victor are expected to split snaps at the X-receiver position as seniors, but there's an opportunity for one of them to lose their spot if one of the less-experienced players rises up with a strong spring.
Chris Olave and a younger wideout – Wilson, Babb, Smith, Harris or Gardiner – will split time at the Z-receiver spot. But whichever players doesn't enter the two-deep at Z-receiver could push Victor or Mack for the spots. Victor has had an inconsistent career, and Mack is returning from an injury. Both rising senior should start, but there's an opportunity for someone to make Brian Hartline's decision more difficult.
Jonathon Cooper
2018 stats: 25 tackles (14 solo), 6.5 tackles for loss, 2.5 sacks, 2 quarterback hurries, 1 fumble recovery, 1 blocked kick
Cooper's main competition: Jashon Cornell, Tyreke Smith, Tyler Friday
Analysis: In his first year as a starter, Cooper had a solid year, but with only 2.5 sacks and two hurries, he didn't make a significant impact as a pass rusher. Still, he played the vast majority of snaps across the line from Young.
Cooper will likely start again, but Jashon Cornell – a senior along with Cooper – will continue to play a role in the rotation. Plus, Smith and Friday have a year of experience and could push for more snaps. Zach Harrison and Noah Potter could also factor into the rotation, but neither player will start.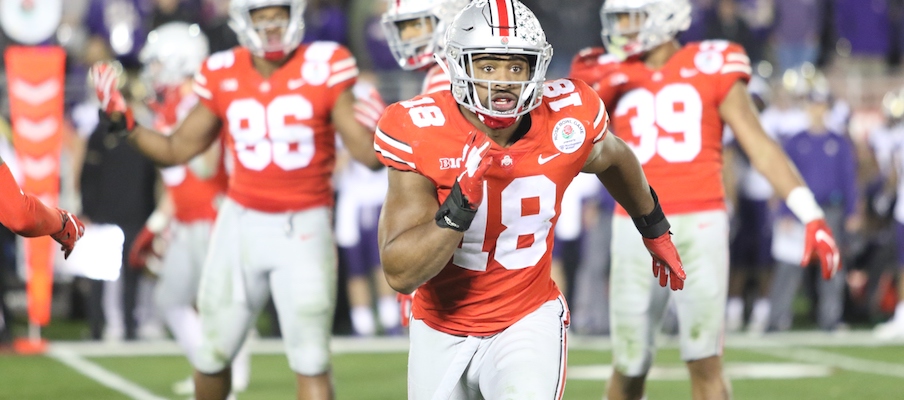 Robert Landers
2018 stats: 25 tackles (14 solo), 5 tackles for loss, 1 sack, 2 quarterback hurries
Landers' main competition: Davon Hamilton
Analysis: Unless Landers is again hit with injuries that minimized his impact in 2018, he will likely start at nose tackle. His quickness and ability to penetrate up the middle will be assets to Larry Johnson and the Buckeyes. 
Hamilton played well when Landers was out with injuries, so he could create a competition with the returning starter, but it's unlikely. Plus, with Dre'Mont Jones gone to the NFL, Hamilton could also see snaps at three-technique. Tommy Togiai will likely have a role at nose tackle, but Landers isn't in danger of losing his job to the rising sophomore.
Spring Previews
Brendon White
2018 stats: 46 tackles (27 solo), 4 tackles for loss, 1 interception, 2 pass break-ups
White's main competition: Josh Proctor, Isaiah Pryor, Amir Riep
Analysis: Despite not even playing on defense for the majority of the first half of the 2018 season, White took advantage of an opportunity and won a starting spot at safety beside Fuller. He's the likely candidate to start again at safety, but with a year in the program, Proctor could make that a tougher decision for Jeff Hafley and Matt Barnes. 
Plus, it's worth noting that Greg Mattison employed a hybrid linebacker/safety at Michigan for a position called a "viper." He did not confirm whether he would or would not bring that position to Ohio State, but he referenced there are two inside linebackers and "sometimes an outside linebacker, which is a different position." If the Buckeyes employ the "viper," Brendon White is a candidate to play the hybrid position, which would open up a starting job at safety for Proctor, Pryor and Riep to compete for.
Damon Arnette and Jeffrey Okudah
2018 stats: Arnette – 40 tackles (31 solo), 1 interception, 6 pass break-ups; Okudah – 34 tackles (26 solo), 8 pass break-ups, 1 fumble recovery.
Arnette's main competition: Shaun Wade, Sevyn Banks
Analysis: Given Arnette's experience and Okudah's high level of play at the end of the season, they're both expected to start in the fall. But given Wade's year at nickelback and Banks' emergence in bowl practices, they'll have to play at a high level to stave off competition in the spring.
If Hafley and Barnes choose to rotate Wade with Arnette and Okudah, then there won't be as much of a battle to start. But if they want to start two players at cornerback and one at nickelback, competition could be fierce.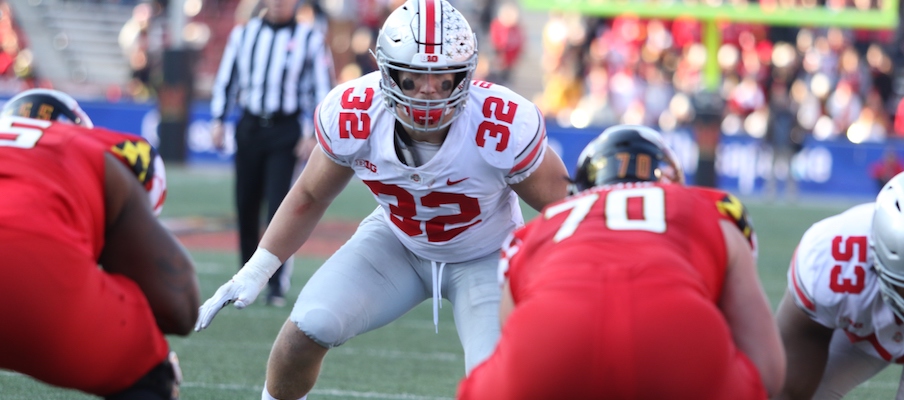 Not Safe
Tuf Borland
2018 stats: 67 tackles (33 solo), 9 tackles for loss, 3 sacks, 1 pass break-up, 1 quarterback hurry, 2 forced fumbles
Borland's main competition: Teradja Mitchell, Baron Browning
Analysis: Beyond Harrison, not much is – or should be – safe at linebacker. Nearly a month ago, Washington said he didn't know the players enough to say there would or would not be an open competition at linebacker.
"You've got to give the kids a chance to prove themselves to you during the spring, right, I mean, workouts." Washington said on Feb. 6. "So my take has always been to evaluate the body of work that you have, so you look at some things about last year, and then consider what you're doing this year. And then give them a chance to show you if they can execute and do the things that you need them to do."
Borland has an edge because he has nearly two full seasons of starts at middle linebacker and was a team captain as a redshirt sophomore. But given that he's not overly fast, he sometimes got beat on outside runs and in coverage. 
Provided Washington takes long looks at last year's backup linebackers, both Mitchell and Browning will likely be in consideration to either start or split snaps with Borland. Mitchell spent most of his freshman season on special teams, but was the No. 2 inside linebacker in his recruiting class and could be in line for a larger role. Browning's future likely exists as an outside linebacker, but he spelled Borland at times and represents a more athletic option at middle linebacker if Washington decides that's what Ohio State needs.
Pete Werner
2018 stats: 58 tackles (38 solo), 7.5 tackles for loss, 3 sacks, 7 pass break-ups, 1 quarterback hurry, 2 forced fumbles
Werner's main competition: Baron Browning, Justin Hilliard, Dallas Gant
Analysis: Werner surprised many people by becoming a starter as a true sophomore last season and came fewer than 40 snaps from Harrison, who played the most snaps of any linebacker.
However, given his his struggles and Browning's talent, he'll have to have a strong spring to maintain his hold on the starting position. Browning was the top outside linebacker in his recruiting class, yet hasn't broken out in his two years at Ohio State. However, he's supremely athletic and will be a player to watch this spring. 
Both Hilliard (injuries) and Gant (inexperience) are longshots to push Werner for his starting job, but they could factor in to the rotation, too.