Every time Jordan Fuller reflected on his season between the Big Ten championship and the Rose Bowl, he was quick to interject with a comment on Ohio State's successful season.
Fuller, a team captain and two-time Academic All-American majoring in business marketing, couched every answer about himself with the team's achievements. But it wasn't overly difficult to understand that he hoped for a better season from himself.
"To be honest, I have not reflected too much about how I've done," Fuller said on Dec. 12. "I've focused on the team and the defense really and just getting us right and getting better every week. As far as me, I think I did OK. It wasn't the season I wanted to have. But that's not really important. We won a Big Ten championship. I really couldn't ask for much else, to be honest."
About two weeks later, he gave a similar answer, noting what was missing from his season.
"To be honest, I feel like I just played OK," Fuller said on Dec. 26. "I played solid, but I haven't made the elite plays I want to make. Like, game-changing plays. I was kind of bummed out about that. But I can't really complain. We won the Big Ten championship and we're at the Rose Bowl. Team goals come first."
Considering the opportunity for Fuller to get his degree and the thought that he "just played OK," it wasn't a shock that he announced he would return for his senior season on Thursday.
His return bolsters next season's secondary and eliminated the daunting question of which safety would be able to replace him in the fall.
As a freshman, Fuller played behind Malik Hooker and Damon Webb and watched as Hooker had arguably the best season by a safety in Ohio State history.
Hooker, a unanimous All-American who entered the NFL draft following his one season as a starter and was picked 15th overall, had two interceptions in his first start. Fuller hasn't had more than two interceptions in a season during his career. He picked off two passes in 2017 and one pass in 2018. He had interceptions against Michigan in both seasons, including the pick to seal the 2017 win against the Wolverines.
Fuller tied with Malik Harrison for a team-high 81 tackles this season, but his one interception and four pass break-ups weren't enough in his mind.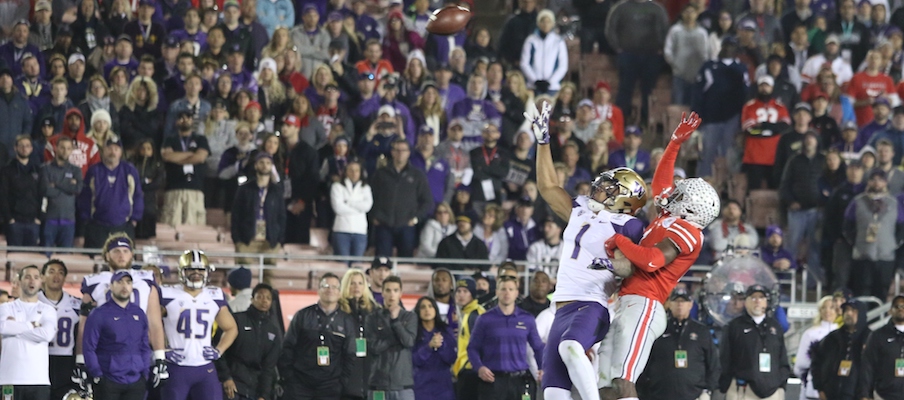 Having a Hooker-like season is about as high of a goal as possible for a safety at Ohio State. But Fuller saw it happen firsthand, and the plays he watched Hooker make are the same plays he wants to make, which would dramatically improve his NFL draft stock in the spring of 2020.
"It's definitely a standard, and it's very tough," Fuller said. "I think he had like seven interceptions in one year and returned like four of them to the house. That standard is so high. Sometimes it feels like unreachable, but that's what you come to Ohio State for. Just to be challenged on and off the field, just in every facet of your life. I feel like that's what Ohio State is."
Finally, Fuller has some long-term clarity, which should help his readiness entering his senior season.
At the beginning of the 2016 season, Jordan Fuller was entrenched in a competition with Erick Smith and didn't know whether he'd start. They split snaps for the first four weeks of the season before Fuller took over the safety spot opposite Damon Webb when Smith was suspended for the fifth and sixth weeks of the season.
When the 2017 season started, there wasn't a set safety starter opposite Fuller. Isaiah Pryor and Jahsen Wint traded series until Fuller was ejected for targeting and Pryor was out with an injury against Nebraska, opening up an opportunity for Brendon White, who played exclusively beside Fuller for the final five games of the season.
"I know we've had different guys next to me all season, but we finally found somebody in Brendon White, and just everybody in their role contributed tremendously," Fuller said on Dec. 30.
With his decision to return for his senior season, Fuller knows he will start, and he knows who will play beside him. Sure, he'll have his third safeties coach in three years since Alex Grinch left to become Oklahoma's defensive coordinator, but at least he knows that White will be back. They'll have the chance to build chemistry throughout spring practice, during workouts in the summer and in fall camp. Plus, they have the added benefit of starting beside each other and practicing together for months.
For the first time since Vonn Bell and Tyvis Powell returned from Ohio State's national championship-winning 2014 season for the 2015 season, the Buckeyes return a pair of starting safeties.
The combination of Fuller and White is intriguing, for both are athletic, high-football IQ players. With his partner in the defensive backfield set, Fuller can focus on making the plays he thought were missing from his junior season.