In the weeks leading up to Ohio State's final game of the 2018 season, new Buckeyes head coach Ryan Day appeared to be attempting to recruit Michael Jordan to stay in Columbus for his senior season.
During his early signing period press conference on Dec. 19, Day said that the Buckeyes were "hoping Mike stays," saying "that would be a huge part of this next year" as Ohio State evaluated its offensive line depth chart for the 2019 season.
Then, on Dec. 29 in an interview session days before the Rose Bowl, Day said that he had discussions with Jordan and his family about his future, saying at the time that the plan would be to move Jordan back to his natural position of guard and slide Josh Myers into the starting role at center if Jordan returned for his senior year.
"That would be a nice move for us, to move Josh to center and then Mike over to guard," Day said.
Unlike his recruiting pitches that lured Zach Harrison and Justin Fields to Ohio State in his first month as the Buckeyes' coach, Day's recruiting pitch to Jordan fell short. Jordan announced Friday that he would forgo his final season of collegiate eligibility and enter the 2019 NFL draft.
As a result, Ohio State's offensive line looks to be the team's most glaring area of concern entering the 2019 season.
With Jordan's departure, the Buckeyes are losing four of their starting offensive linemen from this past season's lineup, including left guard Malcolm Pridgeon, right guard Demetrius Knox and right tackle Isaiah Prince.
That leaves the Buckeyes with many question marks up front.
The only returning starter on Ohio State's offensive line next season will be left tackle Thayer Munford, who had a solid first season in the starting lineup, but will now become the Buckeyes' most experienced offensive lineman with just one year as a starter under his belt.
Every other starting spot could be open for competition this summer, as none of the Buckeyes' other offensive linemen have made more than six career starts.
Myers will get the first shot to lock down the starting center job, while Wyatt Davis – who started the final two games of this season at right guard with Knox injured – should be the frontrunner to start at one guard spot. Both of them were highly touted prospects who, entering their third seasons, have the potential to emerge as breakout stars.
Davis has a great combination of power and quickness and has shown glimpses of his ability to be dominant, but now he needs to show he can be consistent. Myers is also physically gifted, but he's entirely unproven at this point, having yet to start a game for the Buckeyes.
Outside of Munford, the most experienced returning offensive linemen in terms of games started is Branden Bowen, who started the first six games of the 2017 season at right guard before breaking his leg. He hasn't played in a game since then, undergoing three surgeries since his injury. But if he can make a full recovery, the fifth-year senior should be among the top candidates to fill out next season's starting lineup.
When Bowen was able to practice this past season, he worked primarily as the backup right tackle, so he could be a candidate to replace Prince at that spot. Guard, however, would appear to be the spot where Bowen could help the Buckeyes most, as they have two other candidates to potentially start opposite Munford at tackle.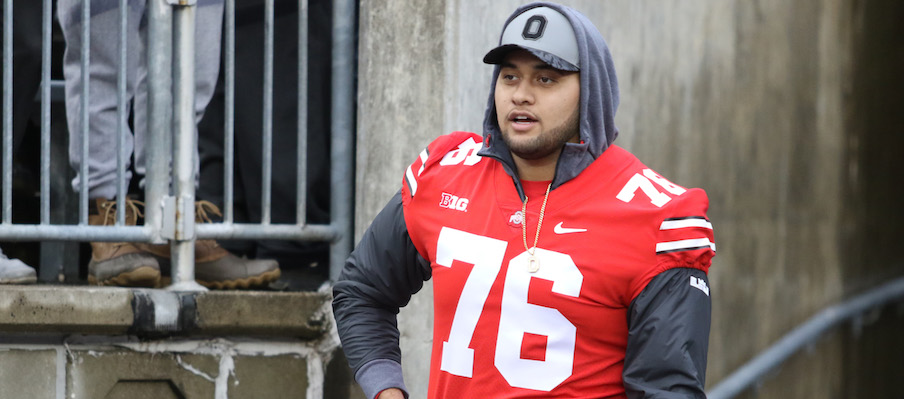 Joshua Alabi could be the frontrunner to start at right tackle after a solid showing in his first career start at left tackle in the Rose Bowl, which Munford missed due to injury. Like Bowen, Alabi will be a fifth-year senior next season, and playing Alabi at right tackle while moving Bowen to left or right guard could be a way for the Buckeyes to get their two most veteran offensive linemen on the field.
The other potential candidate to start at tackle is Nicholas Petit-Frere. While he only played in three games this past season, he was the No. 7 overall recruit in the class of 2018. He still needs to bulk up this offseason, so it's uncertain whether he'll be ready to play a significant role in 2019, and he still has four remaining seasons of eligibility. He has as much upside as any offensive lineman on the team, though, with an elite combination of athleticism and length, so he should get a real shot to win a starting job.
An offensive line consisting of Myers at center, Bowen and Davis at guard and Munford and either Alabi or Petit-Frere at tackle has the potential to be superb, but it's one that would be relying on a lot of unproven players. And if the Buckeyes have any injuries up front next season, they could be in real trouble, because the depth behind their projected starters is an even bigger concern.
The only other scholarship lineman on Ohio State's roster with any playing experience is redshirt junior guard Gavin Cupp, who has played only sparingly in his first three years as a Buckeye.
In total, the Buckeyes currently have just 11 offensive linemen on scholarship for 2019. Redshirt freshmen Matthew Jones and Max Wray were four-star recruits in 2018 who should see their first playing time in 2019, but the Buckeyes probably won't want to have to count on them to play significant roles on offense next season. The same will be true for true freshmen Harry Miller and Ryan Jacoby, who signed with the Buckeyes in December.
Projected Offensive Line Two-Deep for 2019

| Left Tackle | Left Guard | Center | Right Guard | Right Tackle |
| --- | --- | --- | --- | --- |
| THAYER MUNFORD | BRANDEN BOWEN | JOSH MYERS | WYATT DAVIS | JOSHUA ALABI |
| NICHOLAS PETIT-FRERE | GAVIN CUPP | MATTHEW JONES | HARRY MILLER | MAX WRAY |
Ohio State would prefer to have closer to 15 offensive linemen on scholarship, so the Buckeyes need to add a couple more offensive linemen to their 2019 recruiting class on National Signing Day next month. Signing four-star West Virginia guard Doug Nester, who is committed to Ohio State but did not sign with the Buckeyes in December, remains the top priority, but the Buckeyes need to consider other offensive linemen who remain unsigned, as well. On Friday, just hours after Jordan announced he would enter the 2019 draft, the Buckeyes extended an offer to Enokk Vimahi, a four-star guard from Hawaii.
Given the low numbers at the position right now, there's no question that recruiting offensive linemen will be a top priority for the Buckeyes in their recruiting class of 2020.
"We've got to do a really good job obviously in the 2020 class," Day said during the Buckeyes' early signing period press conference on Dec. 19. "We're a little bit down in the O-line, so we've got to do a great job moving forward to get that addressed."
Given the lack of veteran linemen on the roster, another avenue that could be worth exploring this offseason is the graduate transfer market. While it's uncertain whether there are any offensive linemen looking to transfer who could come to Ohio State and be an immediate upgrade to the lineup, the Buckeyes could at least use another veteran with some playing experience to shore up their depth.
As of now, it's unclear whether Greg Studrawa will be retained as Ohio State's offensive line coach or whether he will be replaced (Studrawa said at last week's Rose Bowl media day that he expected to be back for the 2019 season, but Day has not commented on whether he will retain Studrawa). Whoever holds that job, though, will have his work cut out for him next season, as the Buckeyes need both unproven players to establish themselves as quality starters and players with no experience to be ready to play on the two-deep.