Just one month after being named Ohio State's new head coach, Ryan Day has already eliminated any doubts about his ability to recruit top talent to play for the Buckeyes.
In his first 31 days on the job as Ohio State's new lead recruiter, Day locked up two players who were ranked among the top five overall prospects in their respective recruiting classes.
Day's first big coup on the recruiting trail came on the first day of the early signing period, Dec. 19 – just 15 days after Ohio State announced that he would succeed Urban Meyer as head coach – when five-star defensive end Zach Harrison, the No. 4 overall recruit in the class of 2019, announced that he would sign with the Buckeyes over Michigan and Penn State.
A product of Olentangy Orange High School in Lewis Center and this year's top prospect from the state of Ohio, Harrison was the Buckeyes' top target for the 2019 recruiting cycle from the beginning, yet there was always speculation that Harrison might ultimately spurn the hometown school in favor of getting away. At the time Meyer retired, with just two weeks to go until the early signing period, it remained as unclear as ever where Harrison was leaning.
Because Harrison kept his recruitment notoriously quiet, it's hard to know whether he actually leaned toward Ohio State all along or if a late push from Day and the Buckeyes changed his mind. Either way, Day knew he had to make landing Harrison a priority as soon as he became head coach, and he ultimately closed the deal to sign one of the nation's most coveted prospects.
"It was really important to sit down in the home and talk to the family about the direction of the program, and having some communication just on some of the leadership changes obviously that comes with the change in the head coach," Day said on Dec. 19. "And that communication stayed all the way until last night."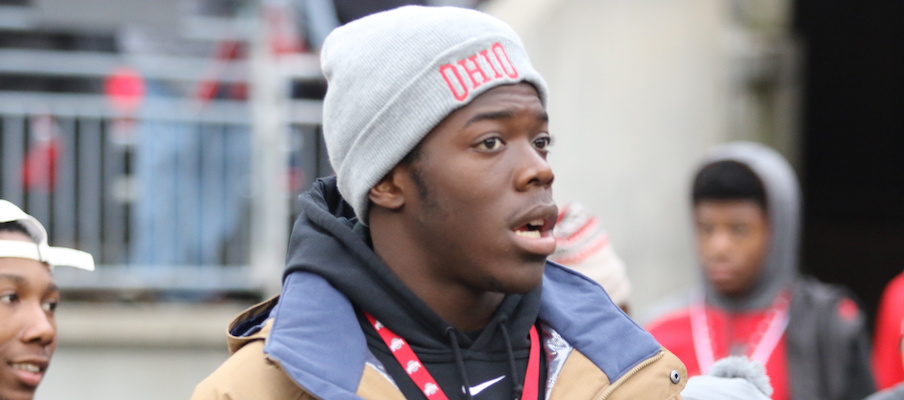 Ohio State defensive line coach Larry Johnson led the way on Harrison's recruitment from start to finish, so he's the one who probably deserves the most credit for convincing Harrison to become a Buckeye. Ultimately, though, Day had just two weeks as head coach to build trust with Harrison and his family and sell them on his vision for the program before Harrison made his final decision and signed his name on the dotted line – and Day got the job done.
Day also landed two additional signees, four-star linebacker Tommy Eichenberg and three-star defensive tackle Jaden McKenzie, before the end of the early signing period. He landed a commitment from four-star wide receiver Gee Scott Jr., the No. 70 overall recruit in the class of 2020, on Christmas.  
Then, on Friday, Day reeled in what might have been his biggest win on the recruiting trail yet, when Georgia quarterback Justin Fields – the No. 2 overall recruit among all prospects in the class of 2018 – announced he is transferring to Ohio State.
While it's unclear how much influence Day had in Harrison's decision to come to Ohio State, or whether the ball was already rolling in that direction when Day was named head coach, there's no question that Day played the leading role in Fields' decision to become a Buckeye.
That all started with the work Day did in his previous role as Ohio State's offensive coordinator and quarterbacks coach, in which he helped Dwayne Haskins – a friend of Fields – become a Heisman Trophy finalist and a likely future first-round NFL draft pick in his first (and probably only) season as Ohio State's starting quarterback.
With a good word from Haskins – as well as Quincy Avery, a quarterback coach who has trained both Fields and Haskins – Fields set his sights on becoming a Buckeye after deciding to transfer from Georgia last month, and Day was once again able to close the deal, in time for Fields to enroll at Ohio State before the spring semester begins on Monday.
If I had a son who played Quarterback I would 100% want him to play for Ryan Day...

— Quincy Avery (@Quincy_Avery) December 4, 2018
Fields is the highest-rated recruit that Ohio State has ever landed, and he has the potential to be the Buckeyes' next star quarterback, which they could be looking for this season if Haskins opts to enter the 2019 NFL draft.
Day still has a lot to prove as he begins his first year as a head coach at any level. The Buckeyes still have a few spots to fill in their 2019 recruiting class, particularly on the offensive line, so Day needs to finish strong – all the while assembling his coaching staff – and land a few commitments before National Signing Day on Feb. 6.
Then, he'll need to prepare for the program for spring practice – which could now feature a fierce quarterback competition between Fields, Tate Martell and Matthew Baldwin – and lead the development of the Buckeyes' roster through the offseason.
Come September, of course, Day will be judged on whether he can win games at the same rate as Meyer, who won more than 90 percent (83-of-92) of his games as Ohio State's head coach.
Recruiting, though, is the lifeblood of a college football program; just ask Meyer, who constantly preached the importance of recruiting during his seven seasons as the Buckeyes' head coach, and who says that will need to be Day's top priority, as well, to be successful.
"This recruiting gig, that's all laser lights have to be on that, 100 percent," Meyer said on Dec. 4. "And I know he's, first of all, he's a great recruiter. And I think the way that things are set up here, there can be full-time energy on that and not some other stuff."
By landing two truly elite recruits in just one month, Day has already proven that he can compete with college football's best of the best in one of the most important areas of building a successful program.
If he can continue to recruit at that level, Day will have the pieces he needs to keep Ohio State among college football's elite and compete for the conference and national titles that the Buckeyes and their fans expect.