After nearly a month of rumors, Ohio State officially added Justin Fields to its quarterback room Friday night.
What's more impressive than Ryan Day helping secure the commitment of five-star defensive end Zach Harrison just two weeks after being announced as the 25th head coach in program history? How about landing a transfer quarterback who was the No. 2 overall recruit in the 2018 recruiting cycle who might be able to replace Dwayne Haskins, a Heisman Trophy finalist, without a significant drop-off?
That'll do.
Fields, a one-time Penn State commit, enrolled at Georgia with the hope of beating out Jake Fromm for the starting spot as a true freshman. He couldn't supplant the returning starter, though, and completed 27 of 39 passes for 328 yards and four touchdowns. He threw passes in nine games, never tossing more than eight passes in a game and never completing more than two touchdowns in a game.
With Fromm being just a sophomore, he was expected to start in 2019 whether Fields stayed or transferred. So, Fields opted to head to Ohio State to compete for a starting job with the hope that he will be able to play in the fall without sitting out a season. Haskins is expected to leave for the NFL, which will open up next season's starting spot.
The eligibility question
In order for Fields to play for Ohio State in 2019, he must receive a hardship waiver from the NCAA. If his bid for the waiver fails, he will not be eligible to play in the fall. Interestingly, he has to transfer before applying for and learning the result of the waiver. So, he will enroll in classes at Ohio State without knowing whether he can play in the upcoming season.
Fields has reportedly retained Tom Mars, an Atlanta-based attorney, to help his eligibility case. Mars most recently worked with Shea Patterson and successfully had his waiver approved, which allowed Patterson to play for Michigan without sitting out a season after transferring from Mississippi. Patterson claimed his former school misled him about the scope of an NCAA investigation by former head coach Hugh Freeze.
Fields' case will be built around an incident this past fall in which a Georgia baseball player directed a racial slur toward Fields, Pat Forde of Yahoo! Sports reported on Friday. Analysts, including Sports Illustrated's Andy Staples and CBS Sports' Dennis Dodd, have been optimistic about Fields' chances to play in the fall.
Patterson did not learn of his immediate eligibility until late April, which is about a month after Ohio State's spring practice ends. There is no timetable for a decision on Fields' waiver.
The spring competition
Competition is good, even if the competitors aren't best friends. And if Fields joins Martell in the quarterbacks room, they won't be best buds. Not after what Martell said about Fields.
"This dude hasn't put a single second into Ohio State football," Martell said on Sunday at Rose Bowl media day. "I don't know why somebody would think that the grass is greener on the other side, but I guess he's kind of looking at it like a fantasy way, I guess."
No matter the outcome, Ohio State will enter 2019 with a talented quarterback. Unless unforeseen circumstances change things, that's a given.
Fields, Martell and Matthew Baldwin will compete for next season's starting quarterback spot, and since none of them will be seniors, the winner will likely be a multi-year starter at Ohio State. There are some major implications no matter which quarterback earns the starting spot, and two people will walk away from the competition disappointed.
Each of the three candidates has a different wrinkle.
Fields is tied for the eighth-highest-rated overall recruit since 2000 by 247Sports. Among quarterbacks, only Vince Young and Trevor Lawrence were ranked better than him by the recruiting service. He has the ability to run, but had an arm that was deemed special when he was in high school. If his waiver is successful, Fields will be viewed by many as the favorite to start despite him needing to learn a new system.
Martell is the type of classic dual-threat quarterback that succeeded under Urban Meyer for so many years. He is undersized, and more questions exist about his arm than those he's competing against, but there's no disputing his electrifying running.
Baldwin was hand-picked by Day in last year's recruiting cycle, but it would be surprising for him to win the job since he was a relatively lower-rated recruit who spent most of the past year recovering from a torn ACL.
By the end of spring camp, there will likely be a winner, considering the future of the runner-ups could be at stake. Meyer gave Joe Burrow an answer at the end of spring camp last year, and Day will likely work on a similar timeline, though Fields' eligibility could complicate matters.
What if Justin Fields wins the job?
Fields starting isn't a scenario Martell is willing to envision, though many people view it as the most likely possibility.
Martell guaranteed he will be Ohio State's quarterback in 2019, provided Dwayne Haskins leaves for the NFL. He said he was "100 percent" sure he will start, even if Georgia's Justin Fields transfers to compete with him for the job. Martell also said he will not transfer.
"There's no reason I should (transfer)," Martell said on Sunday. "I know what kind of quarterback I am. I'm an elite quarterback. I know that after two years of being here, I run our offense at a very efficient level, and I know once we put the zone read back in, it will be very fun for me."
If Martell's guarantee falls short, he'll be put in a precarious position. He has stuck with the program for two years, fighting off persistent transfer rumors, so falling short of the starting spot to someone who transferred eight months before the next season wouldn't be easy for him to take.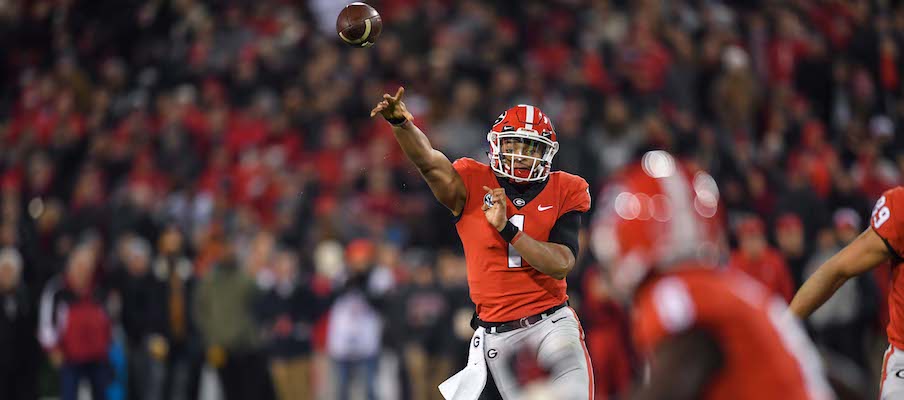 Despite what Martell said about not transferring, it's hard to imagine him sticking around much longer as Fields' backup. Fields would likely start for two – if not three – years if he wins the job. Martell has waited his turn, and he rightly believes he can start right now.
"All my guys in my class, I'd do anything for them. They know that, too," Martell said on Sunday. "My whole team knows that. That's why I'm still here at this point. Because there's probably a ton of other schools that I could be starting for right now. Just look at what Joe (Burrow) did. The fact that at one point there was J.T. (Barrett), Joe, Dwayne and me in the same room, it's kind of crazy to look at it like that. Joe leaves, only gets one summer with a team and there he is, a starting quarterback for a top SEC program. It just kind of shows what we have."
Martell has put in his time, and if he doesn't see a path to starting at Ohio State, no one could fault him transferring. He's talented enough to start at major programs.
What if Tate Martell wins the job?
There's two ways this could happen.
First, the most likely scenario: if Fields isn't eligible to play in 2019, the battle to start would be between Martell and Baldwin. With more experience, Martell would be the favorite. Though Day's offense is trending away from run-first quarterbacks, the newly hired head coach has coached under Chip Kelly and has experience with quarterbacks who prefer to tuck the ball and run. Martell winning the job while Fields sits out would put off the quarterback competition for one more year, giving him the edge in starting experience.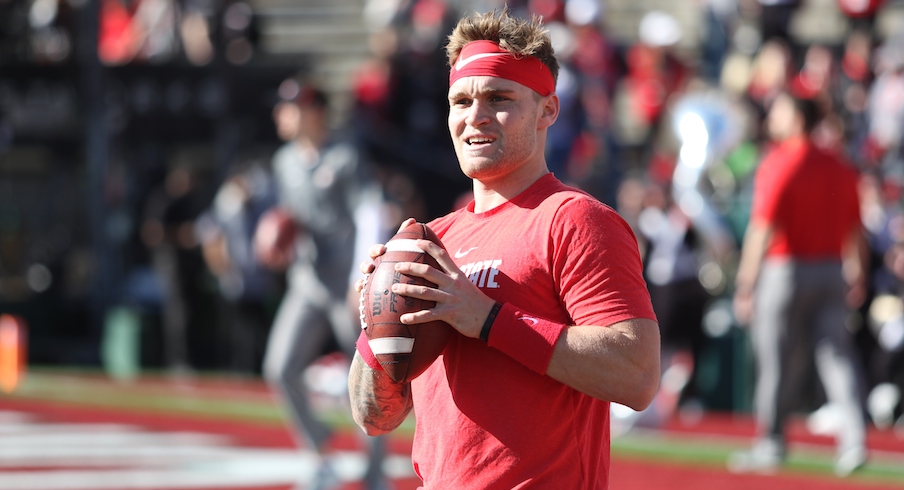 If Fields' petition for immediate eligibility is approved, Martell would have to beat out the former five-star quarterback along with Baldwin. It's possible, though a daunting task. No one knows what would happen to Fields if that happened. Presumably, he's heading to Ohio State with the idea that he will start, not even considering the alternative. Would he stick around as a backup? Maybe. But it's far, far too early to know.
How does this affect Matthew Baldwin?
Baldwin's chances of starting largely hinge on Fields' eligibility. Even then, his odds are slim.
If Fields is eligible and starts, Baldwin would be relegated to being the backup. If Fields isn't eligible, he would compete with Martell for the starting spot.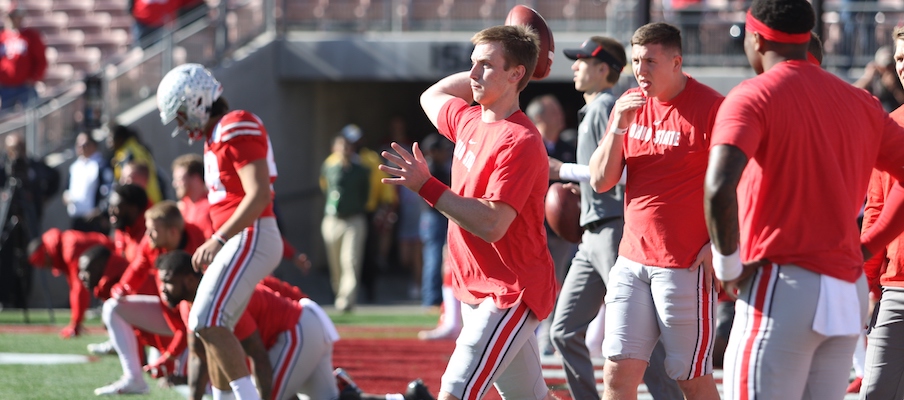 The most likely scenario, another year or two of development, might not be viewed negatively by Baldwin, though it might be tough for him to know he likely wouldn't have a chance until at least 2021. He wasn't fully healthy for the vast majority of this past season. Time as the backup would ease his transition for when he eventually gets on the field.
Any more additions to the quarterback room?
Ohio State always wants to have four quarterbacks on its roster.
"We always want to have four guys on our roster," Day said on Dec. 19. "It's always a process of one guy is on the field, and it's hard to get two and three guys in the game. It's never going to change. We're going to always look to have four guys on the roster, and just like anything else, after Dwayne makes the decision, we'll go from there."
When the Fields transfer is finalized, that would give the Buckeyes four scholarship quarterbacks – Fields, Martell, Baldwin and Chris Chugunov. For now, they have the exact amount they aim for. If something unforeseen happens in the future and one of them leaves the program, that could change.
But with the Fields transfer, Ohio State will have Day's optimal amount of quarterbacks.
How the transfer affects the future?
Whichever quarterback wins the 2019 starting spot will likely start for either the next two or three years. Fields and Martell have three more seasons of eligibility, and Baldwin has four season of eligibility remaining.
Jack Miller, a four-star 2020 Arizonian, is the only quarterback currently committed to Ohio State. Fields' transfer doesn't do much to block his path. As most freshmen do, he likely would either play sparingly or redshirt in 2020, then compete for the starting spot in 2021 or 2022.
Regardless of who starts in the fall, Ohio State will be pleased. Day has his choice between the eighth-ranked recruit since 2000 (Fields), the second-ranked dual-threat quarterback in his class (Martell) and the single-caller he hand-picked late in the recruiting cycle last year (Baldwin). It's an enviable position for a first-time head coach.