Wyatt Davis, Greg Studrawa and Urban Meyer were each waiting for the same thing. They knew it would come eventually, but there's no set timetable. It differs with each person.
They all wanted to see Davis take the leap, a tough-to-describe transition that offensive linemen make when they're finally ready to play at the collegiate level. Offensive line coaches know when they see it, and offensive linemen know when they've made it.
Greg Studrawa first saw it during Ohio State's off week in late October. Urban Meyer noticed it in mid-October. Wyatt Davis felt it during spring camp.
The jump. It happened. Just in time, too.
Demetrius Knox, the Buckeyes' starting right guard, suffered a Lisfranc injury in the final two minutes of his team's 62-39 win against Michigan, which left him unable to play in the Big Ten championship against Northwestern on Dec. 1. Meyer and Studrawa slid Davis, a redshirt freshman, into Knox's starting spot, which left him with just one week to prepare for his first career start on one of the biggest possible stages.
"That whole week of practice, I knew what it meant, and I knew what it meant to (Knox)," Davis said after the Big Ten championship. "Unfortunately, the way he got hurt was very unfortunate. I just felt like that was the best thing I could do was fill in and do what I'm assigned and get him a ring."
Knox got his ring, and so did Davis.
Taking a step back and looking at Davis' start in such a high-profile environment from a long-term perspective, Studrawa struggled to even explain how beneficial it could be.
"I can't tell you," Studrawa said after the Big Ten championship. "I couldn't even come close to telling you how much that would advance him for spring ball. It will give him confidence. It will give him an attitude going into the winter that 'I'm the guy now. I can start going.' So, I can't tell you what that will do for him."
A year ago, Davis wasn't ready to play for the Buckeyes, and two years ago, he wasn't even close.
That wasn't a sign that anyone should begin to worry, though. True freshman offensive linemen aren't expected to start. In nearly every case, they shouldn't be on the field, yet. Michael Jordan started in 2016 out of necessity, not because Ohio State wanted to start a fresh-out-of-high school offensive lineman. The Buckeyes afforded Davis with nearly two full years of development before he stepped on the field for a meaningful offensive snap, and he needed that investment of time.
As a high schooler, Davis weighed 345 pounds. A few extra pounds don't hurt someone who multiple recruiting services ranked as the top guard in the 2017 recruiting cycle. He dominated up front regardless of who he faced.
"He's caught up to the speed of the game. He realizes that the preparation and the technique and those things are just as important as being tough, and now he's figured that out."– Greg Studrawa
Things quickly changed when Davis enrolled at Ohio State in the summer of 2017. The program had already put him on a weight program that dropped him to 319 pounds before he stepped foot on campus, but it couldn't fully prepare him.
"Playing in the spring game was when I realized, yeah, this is a whole different – even practice, alone," Davis said. "Just the tempo of practice. Being that heavy, yeah, you're going to come out for the first couple plays and do well, but can you do that the entire practice? Once I understood that, that conditioning is very important, I just got committed, did what our nutritionist told me to eat. I feel better ever since."
Meyer said Davis has always shown toughness, but was a "little lost in the weeds" as a freshman. Studrawa said he "didn't know what he didn't know last year."
"He thought that you could just run out there and be tough and win because that's how it is in high school. You're tougher than that guy, you knock him down, you win," Studrawa said. "Now, when you've got to go against Dre'Mont (Jones) and (Robert Landers) and those guys in practice, and all of a sudden you have to use technique because, all of a sudden, you're just not better than him any more, that was Wyatt's biggest change. And now, he's caught up to the speed of the game. He realizes that the preparation and the technique and those things are just as important as being tough, and now he's figured that out."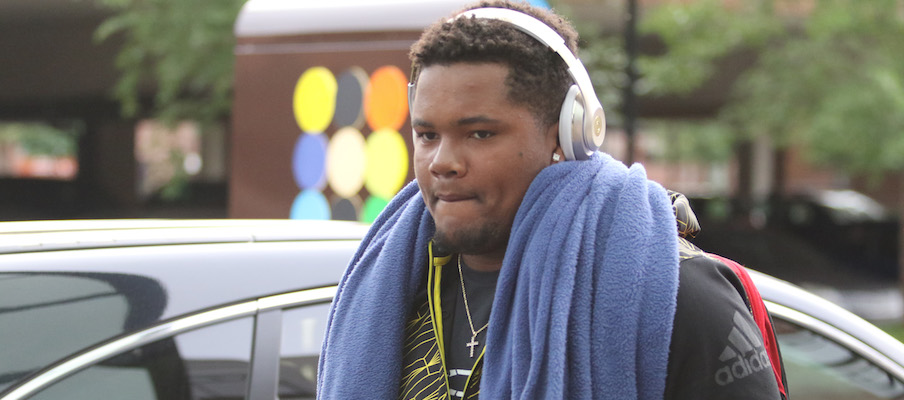 Davis said he felt ready for game action at the beginning of the season after redshirting his first year.
He earned 18 offensive snaps against Oregon State in the season opener, 26 offensive snaps the next week against Rutgers, then 28 snaps in Week 4 versus Tulane. After that, though, he sat. And sat. And continued to sit. Davis has held a spot on the field-goal unit since the beginning of the season, but for a four-game stretch, that's the only time he left the bench.
Then, during the bye week in late October, the coaching staff began to take notice of both Davis and Josh Myers, a fellow redshirt freshman coming into his own. Davis played a few snaps as a tight end in the "Wyatt 13" formation in order to get him on the field. He deserved the reps, in the coaches' minds.
"See, there comes a time with offensive linemen," Studrawa said. "They know that you have to learn – there's a learning curve. There also comes a time when the light goes on in your head and goes, 'I'm sick and tired of sitting. I don't want to sit any more. I don't want to watch him play any more.' So, you know, that switch went off in both of those kids."
Had Ohio State needed Davis a year ago, Meyer said the team "would have a problem." But the Buckeyes got through the entirety of last season and most of this season without needing him.
Then, when they turned to Davis, he responded affirmatively. His future is bright, and he's just getting started.
The Good
Wyatt Davis wasted no time picking up his first pancake as a starter.
On Ohio State's first designed run of the Big Ten championship game, Davis and Isaiah Prince teed off on one of Northwestern's defensive tackles. The duo on the right side of the line experienced a wide range of highs and lows in their first action beside each other, but they got started with J.K. Dobbins picking up seven yards behind their combo block. Davis buried the lineman in the ground, and Prince picked his head up and found a linebacker. 
There's nothing overly special about this pull across the line of scrimmage by Davis, but he kicks out Northwestern's defensive tackle who took outside contain. 
Usually, Davis would be blocking the defensive end, but Northwestern's end sat at the line of scrimmage, and Davis knocked the defensive tackle, allowing Prince to take care of the defensive end. This led to a seven-yard run for Dobbins, who patiently waited for a hole to materialize. 
This was nearly perfection. It doesn't get much better than this combo block by Davis and Prince.
The right guard and right tackle were charged with blocking both the defensive lineman lined up in the gap between them, Alex Miller, and the linebacker in the box on their side. Davis and Prince blew Miller off the ball, pushing him back into the linebacker who runs face-first into Miller's back and bounces backward. Davis correctly comes off the block of Miller, leaving Prince with him one-on-one, and gets his hands on the linebacker. 
Dobbins runs for 11 yards to move the chains on first down. 
Faced with an aggressive bull rush up the middle, Davis stymied the Northwestern defensive tackle after initially being pushed back.
The Wildcats didn't pose too many threats to the Buckeyes with their pass rush, but this was a positive play by Davis. He not only stuffed the pass rush, but twisted the off-balance lineman and tossed him to the ground, where he laid on top of him.
The run-pass option play didn't end up going toward him, but Davis took care of his job. 
Davis and Michael Jordan teamed up to put the defensive tackle lined up over them on the ground. It ended up being inconsequential, but the ball could just as easily have been handed off to Mike Weber.
The Bad
Davis' first start wasn't expected to come without hiccups, and he had his fair share, as expected.
Davis and Prince hit the Northwestern defensive lineman they were tasked with blocking, Jordan Thompson, with a strong initial punch, which temporarily knocked him to one knee. But Davis quickly moved on to the linebacker he and Prince were responsible for, leaving an off-balance Prince unable to finish the block. Davis also whiffed at the second level, leading to just a three-yard rush from Weber.
A minor theme of Davis' slip-ups was miscommunication with Prince. The two starters on the right side of the line had a few moments where it was obvious they had never played a full game before, including this play.
Neither Prince nor Davis fully got their hands on Northwestern's pass-rushing defensive tackle. At one point, both Davis and Prince were left looking back at the Wildcat lineman who got past both of them.
Davis simply got beat on this play. He, along with the rest of the line, is lucky to have Dwayne Haskins as quarterback.
A Northwestern lineman beat Davis with an inside rip move to pressure Haskins up the middle. However, Haskins quickly got rid of the ball to pick up the first down in a third-and-long situation.
The Ugly
This was arguably Davis' worst play of his first career start.
Northwestern didn't twist its defensive linemen very much in the Big Ten title game, but it did early in the game near the goal line, and Davis was too slow moving off the defensive tackle to pick up Earnest Brown IV, a hard-charging defensive end who tackled Dobbins for a three-yard loss in a red-zone situation. These are the kinds of plays that Davis will pick up quicker with more experience.
Davis and Prince had another moment of miscommunication at an ill-timed point in the Big Ten title game.
With their team driving with a chance to turn a three-point lead into a two-score advantage, Davis and Prince allowed Thompson to split their double team and force Weber to fumble. The right-side duo got a good push off the ball, but they both moved on to the second level at the exact same time, leaving Thompson free. They also both whiffed when attempting to block the linebacker.
The Verdict
Davis' lack of experience that led to some mistakes against Northwestern certainly didn't fully mask his potential. 
He's a strong, sturdy interior lineman who likes to finish his blocks. Standing 6-foot-4, 313 pounds, Davis has a moldable frame that will only become sturdier.
"I feel like overall as an offensive line, I feel like we played pretty good," Davis said. "Obviously for me, personally, I feel like there's still stuff that I can fix, and now I've got some game experience and know what the game's like. I feel like the only thing I can do now is get better and watch film and learn from my mistakes."
Davis' 89 snaps in the Big Ten title game more than doubled his career offensive snaps, giving him plenty of film of himself to learn from. He had issues with miscommunication with Prince and got beat a few times in key moments, but he also showed off why many people believe he'll be a successful multi-year starter for Ohio State.