When Demetrius Knox stops smiling, something bad must have happened. Something really, really bad.
So when he fell to the ground in pain in the final two minutes of Ohio State's final regular season game of the season, a 62-39 win against Michigan, it wasn't too difficult to see something was wrong.
He knew. Everyone knew. That really, really bad thing had happened.
"Everybody as an athlete, they get that feeling when something's not right," Knox said early Sunday morning.
Knox rode out of the stadium on the back of a cart with a grimace on his face. He raised his hands above his head in the form of an "O" and an "H" as applause and cheers rained down from the Ohio Stadium stands. Soon, Knox learned a Lisfranc injury in his foot cut short his senior day and likely ended collegiate career.
But it wasn't long until the gregarious right guard began smiling again. On Saturday, he had no reason not to be happy. Sure, he would have preferred to be out on the field finishing the season with his teammates, but he watched from the sidelines as the Buckeyes knocked off Northwestern with a 45-24 win to clinch the Big Ten championship.
"Well, you know, I've got a nice ring on the way, so I think very well."– Demetrius Knox on how he's dealing with the pain
Most people in his situation would have been at home on their couch watching the game. Once he learned surgery would be necessary, Knox talked to the doctors. He had to let them know that he wasn't willing to go under the knife if it required him missing the conference title game.
"I kind of told them the date," Knox said, throwing his head back with laughter. "You know, I said this is the day of the Big Ten championship, so I'm going to have to push it back into the following week."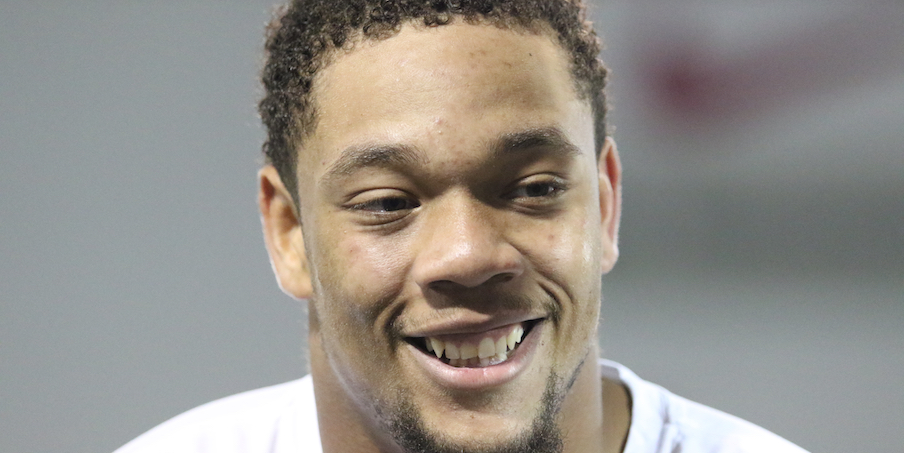 The doctors told Knox his request wasn't particularly normal. Most people accept surgery on the earliest possible date, if for no other reason than to deal with the pain that comes with rolling around on a scooter.
That was a small sacrifice for Knox, though.
"They asked me if I could deal with the pain or whatever like that," Knox said. "And I was like, 'You know, it'll be all worth it. I've got to see my boys get this win.'"
Once the doctors let him know that delaying the surgery would not harm his career negatively in the future, and after he convinced them that he could deal with the pain, Knox was back to his affable, smiling self.
He showed up to each practice leading up to the Big Ten title game to help redshirt freshman Wyatt Davis prepare for his first career start, which happened to come in a high-stakes moment.
Demetrius Knoxs season is over, but he still made the trip to Indianapolis for tonights Big Ten championship game. pic.twitter.com/fKwMgXHU4W

— Colin Hass-Hill (@chasshill) December 1, 2018
"They really asked for me to be there for everything, honestly, whether it be practice, film, just if Wyatt needed any tips, anything like that," Knox said. "I tried to be there as much as I could to help."
Knox mainly helped Davis – whom he called his "little brother" – with the "simple stuff" that players learn as they mature and gain experience.
Twice during his career, circumstances forced Knox into immediate action, similarly to Davis. First, he played a few dozen snaps in the Fiesta Bowl loss to Clemson in emergency duty. Then, last year, he replaced Branden Bowen after the starting guard suffered a broken leg and started eight games.
Against the Wolverines, Knox found himself on the other side of the injury replacement situation, though.
"It's tough, you know. But injuries are a part of the game of football," Knox said. "We always have to take that into consideration. But at the end of the day, me, myself having playing well, my teammates playing well and getting a fifth pair of gold pants. You can't ask for any more."
Well, he actually could ask for a little bit more. And Saturday night, he got it.
So, how's Knox dealing with the pain?
"Well, you know, I've got a nice ring on the way, so I think very well," said Knox, of course, with a smile.