Demetrius Knox arguably shouldn't have even been in the game.
With less than two minutes remaining in Saturday's 62-39 beatdown of Michigan, Ohio State's right guard and the rest of the starting lineup stayed in the game with the result already determined. The only unknown left was how many points the Buckeyes would score. Urban Meyer wanted another touchdown.
But on the final play before Ohio State began kneeling to run out the clock, Knox fell to the ground, clearly injured. He stayed down, teammates came by to wish him well and a cart took Knox, a redshirt senior, back to the locker room. On Sunday's Big Ten championship coaches teleconference, Meyer said Knox had a "Lisfranc issue with his foot" that will keep him out of Saturday's Big Ten championship and will likely end his collegiate career.
"It's a tough injury," Meyer said. "He's done so much for this team in his career here, so it's a tough loss for us. We've got to regroup and put together that position."
It was a rough, abrupt ending to the season – and possibly career – for Knox, who twice did what Ohio State will now need Wyatt Davis to do.
In the 2016 Fiesta Bowl, Knox entered the game in emergency duty and played 23 snaps. The following season, he spent the first few games on the bench, then replaced Branden Bowen when the starter went down with a broken leg. Knox looked lost against Clemson during his snaps in the Fiesta Bowl, but filled in admirably last season for Bowen. He played so well in his eight starts that he locked up a starting spot this season.
Ohio State certainly hopes Davis, redshirt freshman, is more prepared than Knox was when he was unexpectedly tossed into the game. Meyer seems confident in the readiness of Davis, whom he reiterated on Monday will start the title game.
"He's had a tremendous couple months of practice for us, so we're confident he'll be ready," Meyer said.
"First of all, he's that good of a person from great people, which is a great place to start. And very talented. He's a tough guy. Those are all characteristics of people that have nice careers here."– Urban Meyer on Wyatt Davis
Davis was a big-time addition to Ohio State's 2017 recruiting class. He was one of five five-star prospects pulled in by Meyer in 2017 and was ranked as the No. 1 guard in the class. Davis entered the competition to earn a starting spot in the offseason, but wasn't deemed ready to play.
Meyer said Davis was a "little lost in the weeds" as a freshman. Like any "typical lineman," when he got fatigued, his level of play dropped. Plus, he had to take time to understand defensive fronts, Meyer said.
"He's always had a little bit of (toughness)," Meyer said. "But like I said, conditioning. Typical big dudes, when they get here, it takes them a minute, and it took him a long minute to fight the fatigue factor. And once he did, he's always been a tough guy, but now, I mean, he's a finisher now. It's fun to watch him play."
Davis, a native of Bellflower, California, lived in the neighborhood of coaches on USC's staff. However, he chose to traverse the country as a Buckeye rather than remain in his home state as a Trojan. Meyer called his experience reeling in Davis "one of the most enjoyable recruiting experiences I've ever had."
In his first year in the program, Davis needed time to adjust. But he began standing out during practices this season, Meyer said, especially in the past five weeks.
Kevin Wilson named him as someone who had impressed during practice in late October." On Oct. 31, Meyer said Davis is the "next one in. That weekend, he earned a few snaps against Nebraska.
Now, he's been forced into the starting lineup. Meyer called Davis' potential "unlimited."
"First of all, he's that good of a person from great people, which is a great place to start," Meyer said. "And very talented. He's a tough guy. Those are all characteristics of people that have nice careers here."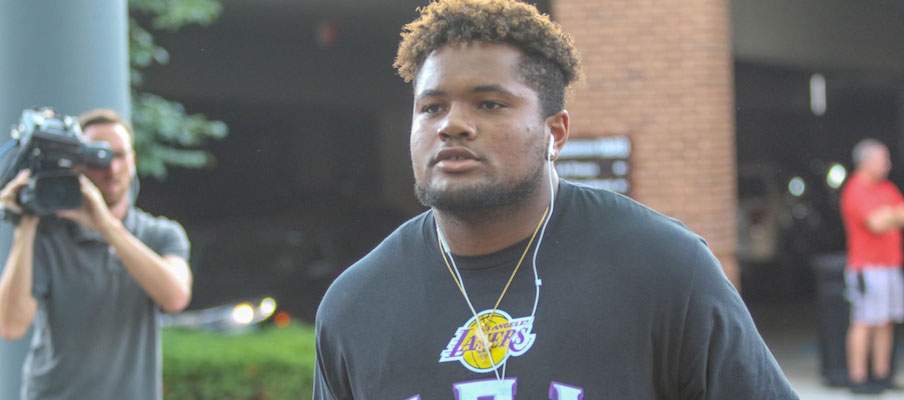 Just a month ago, Meyer decried the depth of the offensive line. But with Davis coming on, along with Branden Bowen and Brady Taylor returning to full health, the Knox injury didn't hurt the team as badly as it might have earlier this season.
"Josh Myers is so close," Meyer said. "He's had a great month-and-a-half of practices. And Branden Bowen was the starting right guard before he got hurt. He's back to almost what he was. So this is a big week for all three of those guys. And the other guy is Josh Alabi."
On Saturday, Ohio State played its most complete game this season, which included up front. All five linemen graded out as "champions," and Dwayne Haskins wasn't even pressured a single time, let alone sacked.
Knox's injury shakes up the continuity of the line heading into the Big Ten championship, which is an inopportune time for anyone to get their first-ever start.
"You've got a big guy now missing, Demetrius Knox, which was a big hit," Meyer said. "But I have seen the consistency. We've all seen consistency start – I can't give you the exact time, but they're playing very well right now. That was their best – that was one of the best I've seen."
While the unexpected injury is terrible for Knox, since it likely ends his collegiate career, Ohio State has been itching to play Davis. The Buckeyes just didn't expect to insert him under these circumstances.
Now, Davis has a chance to show why he was once the top guard in his class and why he has been on the cusp of playing for so long, and with a conference title and a possible College Football Playoff spot on the line, the stakes couldn't be higher.