Ryan Day's coaching experience is solely on the offensive side of things but as the new head man at Ohio State, he must concern himself with all aspects of Buckeye football and there may be no greater concern than the current state of the rushing defense. 
With a leaky rushing defense paving the way, last season's unit gave up the most points in program history, the most yards per carry, the most rushing touchdowns and the third-most rushing yards, among other horrifying numbers. 
OSU DEFENSE YPC LAST 7 YEARS
YEAR
YPC
NATL RK
2018
4.52
79
2017
2.94
4
2016
3.35
12
2015
3.38
14
2014
3.95
43
2013
3.29
12
2012
3.55

 

21
In fact, with the defense giving up 26 rushing touchdowns, last year marked the first time in 30 years an Ohio State squad finished with more rushing touchdowns allowed than its offense created (23). 
Giving up long runs was a huge issue as the Buckeyes ranked 124th nationally giving up eight rushes of 50+ yards. For comparison, last year's defense gave up just two such plays. 
The Buckeyes also ranked 114th surrendering 15 runs of 30+ yards. Similarly, last year's defense gave up about half that (8). 
It wasn't just the big plays, and of course those do inflate this next metric, but on a down-by-down basis, Greg Schiano's defense yielded 4.52 yards per carry – good for 79th nationally – which also set a new historical low for the program and was well off last year's pace when the 2017 defense allowed just 2.84 yards per rushing attempt. 
If you're wondering, the previous record of 4.4 yards per carry allowed stood since 1989. 
Looking ahead to next year and how Day and his staff stop the bleeding, the good news is veterans like Chase Young, Johnathon Cooper, Robert Landers, Jashon Cornell and Davon Hamilton will be back along the defensive line. 
Additionally, last year's freshmen to see action up front – names like Tommy Togiai, Haskell Garrett, Tyreke Smith and Tyler Friday, among others, will have a year of seasoning under their belts. And of course true freshman Zach Harrison could potentially work himself into the rotation (or even Noah Potter). 
Bottom line, there appears to be talent across the defensive front and they will surely receive elite coaching from savant Larry Johnson.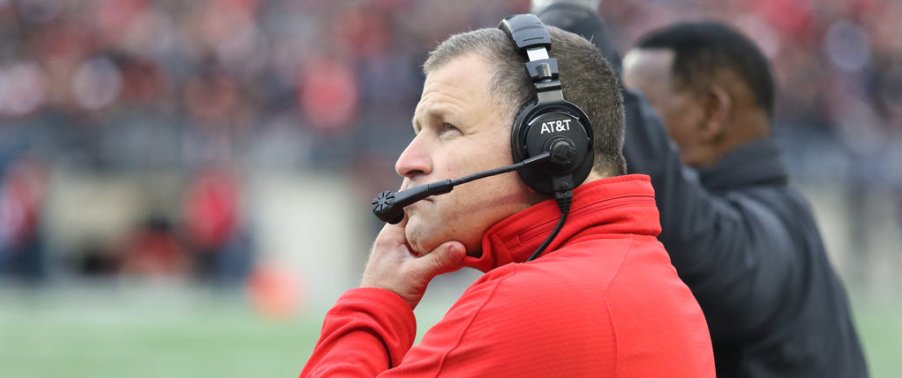 Things get a little trickier at the second level which, combined with the overall scheme, drew the most criticism for last year's lackluster results. 
Malik Harrison had himself a pretty solid year but Tuf Borland and Pete Werner appeared to lack speed and disciplined angles at times in run support. How much of the root cause for the linebacking corps shortcomings fall on scheme versus talent/experience is an argument worth having and one Day will need to reconcile as he determines how to move forward.
Mike linebacker Baron Browing never quite made the leap many were expecting and for next year's rush defense to be better, it feels mandatory that Browning is exponentially better too. It certainly feels like he has the skill set to make such a leap.
But what about the younger guys? Can this year's freshmen like Teradja Mitchell who made some noise on special teams, and Dallas Gant or K'Vaughn Pope, make strides into roles beyond special teams next year? Again, it feels like the talent is there, particularly with Mitchell, to carve out a role if a solid spring earns increased trust and by extension the chance at more meaningful reps. 
Finally, along the back line, things look to be fairly solid with Jordan Fuller and Brendon While both returning. Looking back, it feels criminal that Alex Grinch and staff didn't realize White was the second-best safety on the team until it had no choice but to find out when Fuller was ejected in the second quarter against Nebraska in game nine after two other guys were unsuccessful.
Regardless, the last line of the rush defense should be in solid hands next year. Day will just need to refine some serviceable depth behind the Fuller/White tandem. 
So while the player personnel situation is fairly clear, what Day decides to do about who will actually lead the rushing defense to improved performance remains to be seen. 
MOST RUSH TD ALLOWED IN OSU HISTORY

| YEAR | TOTAL |
| --- | --- |
| 2018 | 26 |
| 2014 | 24 |
| 1953 | 21 |
| 1988 | 20 |
We know that Grinch is out and Johnson is back but that's about it. Day has to decide if Schiano is the right man to run the entire defense or if there's a better option. Similarly, plenty of rumors have circulated in the last few weeks about potential replacements for linebackers coach Bill Davis and cornerbacks coach Taver Johnson. 
It's easy as fans to sit back and say who should be fired without worrying about the next steps but Day's responsibility is a little more complicated in that he has to navigate those decisions with an eye on both player development and recruiting while finding replacements that would be definitive upgrades. 
Sure, this is Ohio State so top-flight coaching talent will be interested but for a first-year head coach with an offensive background, it's paramount Day gets any changes on the defensive side right if he wants to keep the Buckeyes winning at the 90% clip Urban Meyer managed for the last seven years.