The rich history of Ohio State athletics is filled with memorable years, but perhaps no year has been more tumultuous, victorious, catastrophic and memorable than 2011. For Eleven Warriors, 2011 was a transformational year: In January 11W was merely a popular Buckeye blog; by December it had become a destination site with monthly visits well into the millions.
This is part eight of an 11-part series reviewing 2011, as experienced by 11W readers and writers.
PREVIOUSLY: July | June | May | April | March | February | January
---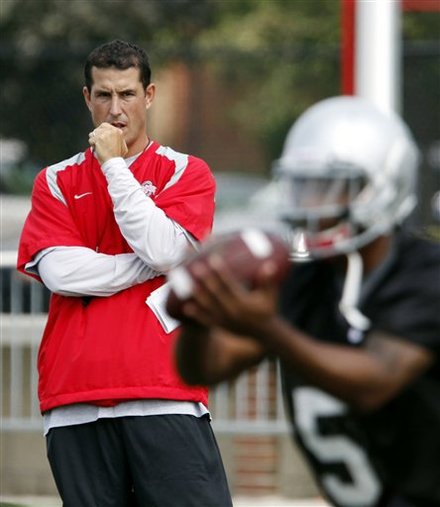 August is highly anticipated every single year because of its position as college football season's doorstep.
In 2011 this was no different. For Buckeye fans, it couldn't come soon enough.
On Friday the 12th, Ohio State went before the NCAA's Committee on Infractions to hash out the Tatgate case that led to Jim Tressel's departure as well as Terrelle Pryor's withdrawl from school for the NFL's supplemental draft.
The meeting finished very quickly - in time for lunch, actually - which was a sign that things were proceeding according to plan with Ohio State and the COI on the same page (by contrast, Boise State's hearing that eventually found the AD guilty of LOIC and Tennessee's for Bruce Pearl and Lane Kiffin cases took days).
While some in the media immediately switched their narrative of "Ohio State should get hammered" to "Will the NCAA let Ohio State off the hook?" the hearing in August, combined with the clarity of football finally returning to our lives led some to finally speak in sane terms about exactly what Ohio State had already endured.
That said, this was back in August: Ohio State was only facing on NOA at the time. Ah, the salad days.
Beyond that COI hearing, football was back, baby! At least it was almost back, and that was definitely good enough - especially in 2011.
The Big Ten Kickoff Luncheon and media days in Chicago welcomed Nebraska, Brady Hoke and Jerry Kill; celebrated Wisconsin and Michigan State and were largely quiet when it came to discussing Ohio State's troubles. The technical term is "keeping it in the family."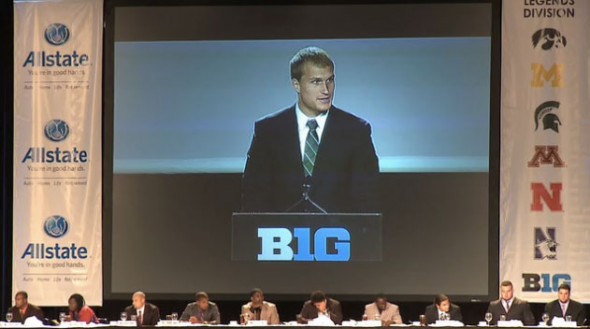 Once the formalities in Chicago were over, life almost seemed normal again.
Football was back, which meant we had new faces to learn and predictions galore and jersey scrimmages and more jersey scrimmages and depth charts and QB battles and game week press conferences and...oh, right - five backups would would have to be starters for five games, plus one lucky quarterback who would be filling the shoes that were previously scheduled for Terrelle Pryor's Heisman campaign.
For the first time all year, the scandal-loving eyes of the college football world shifted away from Columbus. It took eight months for that to happen.
The University of Miami redefined what scandal really was, and while many in the media briefly had the audacity to actually compare and equate Tatgate with all that went down at Miami, you could feel some of the anger toward Ohio State tempering in light of this new-found context.
True to form, the Worldwide Leader in Sports was absolutely the last media entity on the planet to acknowledge the Miami scandal that dwarfed in scope what it had been touting as the crime of the century in Columbus.
ESPN's curious ignorance was very similiar to how it allowed Yahoo's attribution to get in the way of acknowledging the USC scandal that it ignored reporting on for years.
Unfortunately for Ohio State, Miami was unavoidably on the schedule, so keeping Tatgate at the forefront was understandably quite natural. Regardless, football was finally returning, and rarely in history have Buckeyes been so happy to wish the summertime good riddance.
August's most popular skull sessions
august's most popular 11W stories
8/29: One Day in September by Ramzy telling the inspiring and tragic story of Ohio State graduate Kris Hughes:
The moment that the Spartans ended the game, two things happened in Marysville and Manhattan simultaneously: Matt hurled his television remote control in disgust across the room, causing it to shatter into pieces.

 

At the exact same time, Kris threw his phone against the wall, permanently breaking it and ending the call as abruptly as Ohio State's national title hopes.

One crushing loss.  Two broken appliances.  Six hundred miles apart.
8/10: Kirk Cousins & Privilege by DJ, who was far less impressed with the MSU quarterback's B1G Kickoff Luncheon speech than the national media was:
Third, reading between the lines of Cousins' speech, where he used the word "privilege" 23 times, I think it's pretty easy to discern what he's actually saying: "DEAR NCAA & OLD PEOPLE, FORGET THESE SCANDALS. WE GET PAID LIKE PRINCES. HONESTLY. COLLEGE FOOTBALL IS JUST AS PURE AS YOU SO DESPERATELY WANT IT TO BE. AND YES, OHIO STATE, MY TROLL GAZE, WHICH IS MASTERFULLY CLOAKED IN POLISHED PROSE, IS TRANSFIXED DIRECTLY INTO YOUR GREEDY SOULS RIGHT NOW."
8/3: The Impending Moral Quandry of OSU Football by DJ, looking into the future beyond the very temporary-feeling 2011 OSU coaching staff:
Urban Meyer will be sitting there for the taking in 2012. His Ohio State roots are well known. If there is any college in the country which has enough gold bricks in its reservoirs to meet Meyer's demands, it's The Ohio State University.

Meyer's pedigree is undeniable--he's won two national titles and has proven he has what it takes to topple the fat kingpins of the SEC currently residing over the sport. With that, though, comes Meyer's willingness to push on envelopes... in a manner which is/was less discreet than Tressel's methods. Sure, Meyer and Florida escaped any punitive damage during his tenure; but what could've happened if, say, Channing Crowder had sold a jersey to a drug dealer targeted by the Feds, and not Jacksonville businessmen?
8/8: Fall Camp Notes: Day One by Alex HOORAY FOOTBALL IS BACK HOORAY HOORAY HOORAY!
We know quarterback is the position you are all anxious to hear about, but don't get too excited yet. Reps were pretty much split between all four players and were given by seniority (Bauserman, Guiton, Graham, Miller) in terms of order the players went under center. None of the players looked too sharp in terms of consistency, all looking like they could be the next starter at times, while at other times looking like they didn't belong on a high school field.

Guiton and Graham each threw an interception today, which doesn't necessarily mean much, but doesn't help either. My money is still on Bauserman and Braxton to open the season in some sort of QB rotation.
8/11: QB Battle Rages & Other Camp Notes by Danny FOOTBALL REAL FOOTBALL NO TATTOOS JUST FOOTBALL
While the offense had its moments, the defense shined today. The offensive line had a lot of trouble containing the defense whether it came down to pass protection or run blocking. The defense is going to have to be the heart of this team this year because of the offense's lack of experience. But without a doubt the defense has some great talent.

Dionte Allen is looking like a guy who can make some plays; he was typically the one drawing the assignment of Posey. Doran Grant was also playing very physical and tough in the passing game, at one point even knocking down big-bodied T.Y. Williams.
8/2: The Beautiful People by Ramzy, kicking down the facade of infallability selectively applied to several coaching legends:
There's a reason the Bear's legacy isn't defined by having multiple assistants on the NCAA's naughty list or having the justice hammer come down on his famous A&M squad: It shouldn't be. If you think Tressel's Youngstown connections or Ted Sarniak always seemed shady, you don't know much about Texas oil men or southern boosters today, let alone during the relative lawlessness of Bryant's era.

Bryant won a whole bunch of national championships and was successful everywhere he coached. At each of his stops where he coached he's considered the best coach in school history. Sounds familiar?
august's buckshots, gray boxes of doom & miscellany
Coming tomorrow: Remembering September. That first of three glorious months when Saturdays are made for football, and weekdays are made for thinking about Saturdays.